California Hires Border Wall Contractors to Screen, Vaccinate Migrants
The California Department of Public Health (CDPH) confirmed Friday that it hired Sullivan Land Services Co. (SLS) to offer COVID-related services to migrants who are crossing California's southern border.
The company will provide medical screening, COVID testing and vaccination against the virus to immigrants, as part of a $350 million contract with the state, a spokesperson for the state health department told Newsweek.
"The state established hubs at the southern border to support newly arriving migrants and border communities through a robust model for the nation of dignified care and services involving the state, non-governmental organizations and local government," the spokesperson said.
SLS was previously assigned to build the border wall under the Donald Trump administration, but now it is expected to work with the health department to also offer migrants prescription services and transportation for "safe onward travel."
Newsweek contacted SLS for comment but was referred to CDPH for comment without further details.
However, the company's spokesperson told CapRadio that SLS was "honored" to work with the department and that the company's "role is to supply staff of varying skill sets and staff types" to be part of COVID response across California including five locations along the border.
When asked why SLS was chosen for vaccination efforts in California, the state health department spokesperson said: "Contractors have played a vital role in the nation's response to the COVID-19 pandemic. CDPH relies on willing and able health care contractors such as SLS Health Services as well as others to respond timely to requests to enable health systems to care for patients and support local health jurisdictions to carry out their vaccination and testing plans."
"SLS Health Services has historically been the largest supplier of bilingual staff to California on the vaccine side and was useful in the state's equity campaign that resulted in more Californians in underserved communities getting vaccinated," the spokesperson added.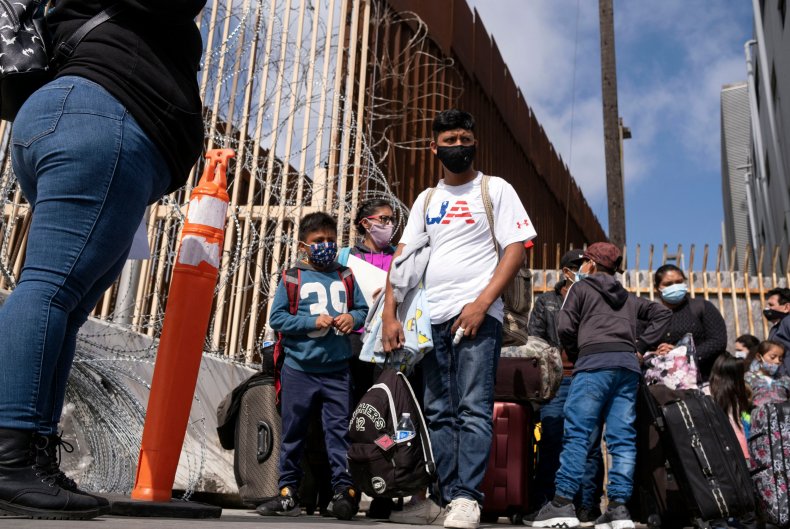 According to CapRadio, SLS staff has previously provided COVID-related services to around 60,000 migrants and helped health organizations that offer those services to farmworkers and undocumented immigrants.
The agreement between the company and California's health department has been criticized by a number of advocates who argued that other companies could have offered the same services and called the partnership "disheartening."
"We put our patients and underserved folks at the center of everything we do," said Britta Guerrero, CEO of the Sacramento Native American Health Center, according to CapRadio. "We would have never considered a partnership like that." Guerrero's organization helps out-of-reach communities have access to the COVID vaccine.
According to CapRadio, Pedro Rios, director of the American Friends Service Committee's U.S./Mexico Border Program (AFSC) also criticized the agreement. Rios said that "a number of companies could have provided the same type of services.
Newsweek contacted AFSC and California Governor Gavin Newsom's office for comment but didn't hear back in time for publication.