California Home to 3 of 10 Worst Cities for Retail Crime as Smash and Grabs Plague State
Organized retail crime is on the rise this holiday season, with three cities in California on high alert.
According to the National Retail Federation, three California cities are among the 10 most-affected cities for organized retail crime. Los Angeles, San Francisco and Sacramento are bracing for a difficult holiday shopping season as robberies known as "smash-and-grabs" have increased around the state.
As a result of the robberies, police departments in these cities are stepping up their security measures. The Roseville Police Department, the unit located in the Sacramento metropolitan area, detailed their upcoming moves to local news station CBS 13. Spokesman Rob Baquera told reporters that they will be "adding extra officers on the streets in marked vehicles, doing patrols around our big retail centers and our small mom and pop centers including undercover officers."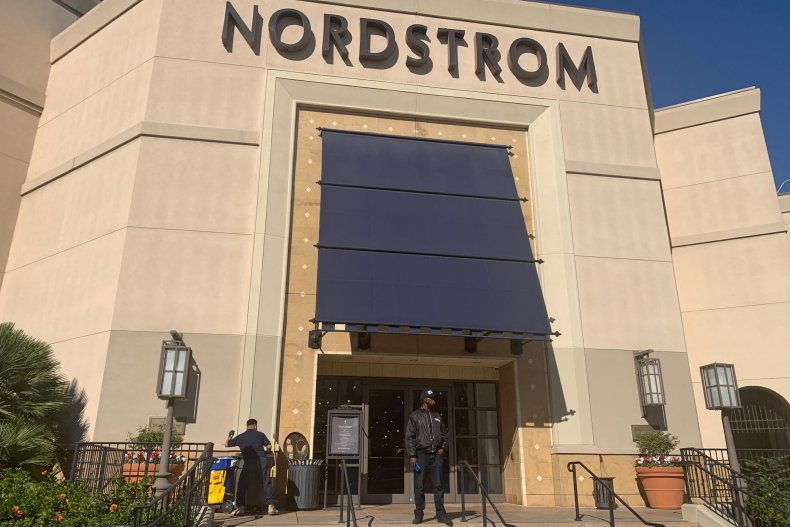 The Los Angeles Police Department is planning on implementing similar measures. Newsweek previously reported that Chief Michel Moore discussed the recent rise in smash-and-grabs to local news outlets. He said that around 20 to 30 flash-mob-style robberies were attempted in the past few days.
"We're going to have added uniform patrols, they are already out in the retail market areas, into the malls to ensure the safety of everyone involved, to ensure a prosperous and happy holiday season," said Moore.
The problem has gotten so bad across the state that Governor Gavin Newsom has spoken out about it. The California governor held a news conference on Monday with the California Retailers Association condemning the attacks.
"I have no sympathy, no empathy whatsoever with people smashing, grabbing, stealing people's items, creating havoc and terror in our streets," said Newsom. "None."
He continued his harsh words for robbers participating in the spike, citing that his wine shop was broken into three times in 2021. Newsom also pledged his support for law enforcement investigating the robberies.
"We have been working with cities up and down the state, including San Francisco, Walnut Creek and others that were impacted over this weekend by these organized retail theft operations," Newsom explained. "We are going to be more aggressive still in this space to help support cities and the prosecution of folks."
California might not be the only state seeing an increase in smash-and-grab robberies. Former Philadelphia Police Commissioner Charles Ramsey told CNN that there's "no question" that California's woes will spread to other parts of the country.
"This is something now that I really, unfortunately, think is going to spread," he said. "Right now it's in California, but it will spread, there's no question about it."
Malls affected by the recent smash-and-grabs include The Grove LA and Westfield Topanga & The Village.
Newsweek reached out to both malls for comment.