California Homeless Camp Cleanup Finds 250 Tons of Trash and 5,000 Needles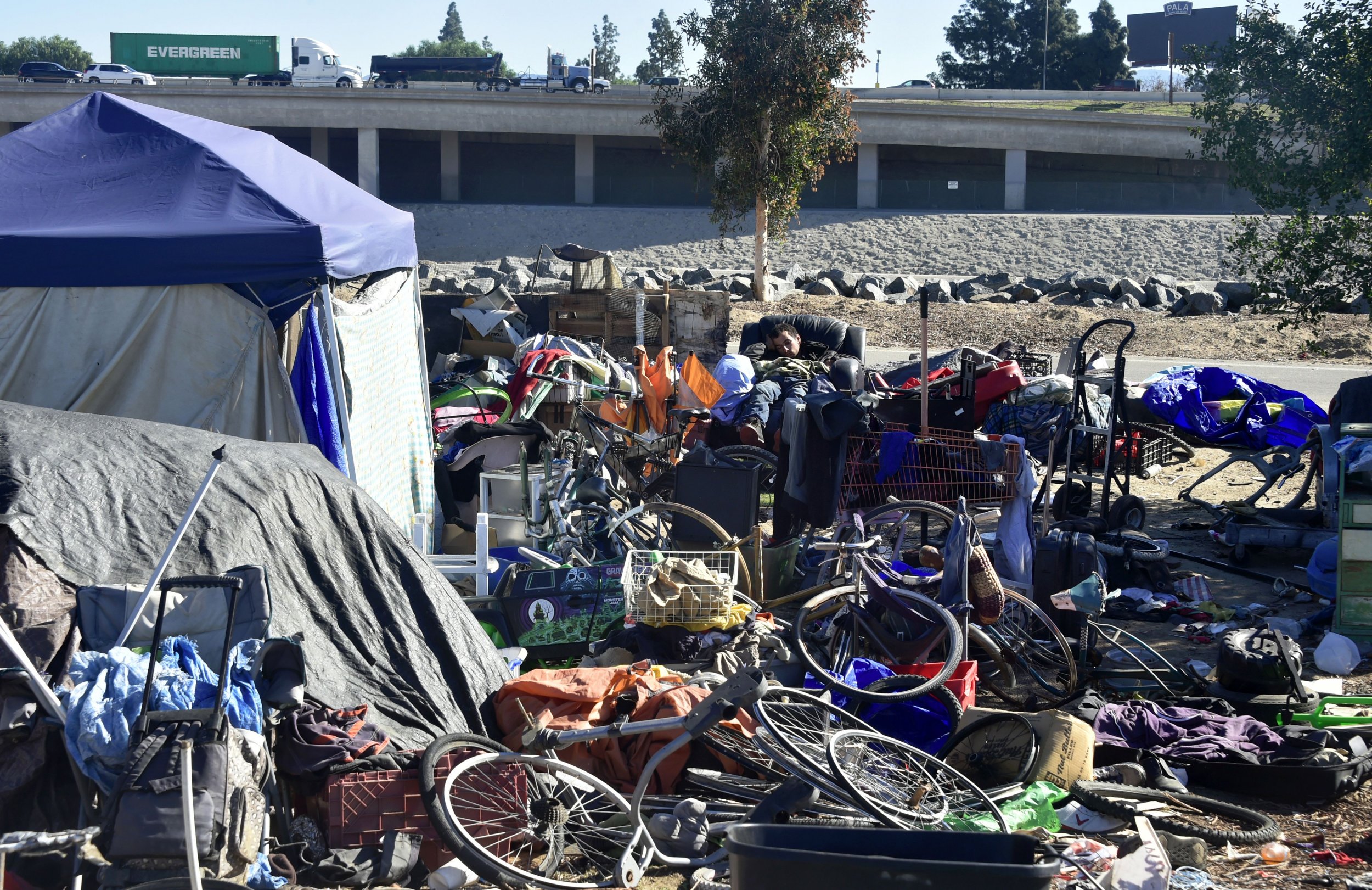 California officials are cleaning up what's left of a 3-mile-long homeless encampment in Orange County after officials evicted more than 700 homeless individuals from the area on Sunday afternoon. Located along the Santa Ana riverbed, the encampment isn't far from Disneyland.
So far, the cleanup of the homeless camp has led to the removal of over a thousand pounds of human waste, 5,000 needles and about 250 tons of trash, Fox News reported Monday. The clear-out began Tuesday, after a lawsuit brought by seven homeless people living at the camp resulted in an agreement that the county would offer monthlong motel vouchers or a shelter bed to the homeless people affected by the move.
"It's becoming part of the permanent landscape in those communities, and there is no way we are going to allow Orange County land that is supposed to be used by residents to be occupied by the homeless," Orange County Supervisor Todd Spitzer told Fox News.
Spitzer's district included the encampment, which was home to nearly 1,000 people living on the streets over the past two years.
County Counsel Leon Page told Voice of OC that the county has housed about 719 of the homeless people from the riverbed camp in shelters or motels since February 14.
"It's a wrap," Carol Sobel, an attorney representing homeless people, said Monday. "Everybody has to get their property [outside the gates]." The individuals who once lived at the camp are not allowed to move back to the site, which is near Angel Stadium in Anaheim.
Sobel was one of several attorneys who represented seven homeless plaintiffs in O.C. Catholic Worker v. Orange County, a lawsuit filed in late January after the city began clearing out the homeless based on an anti-camping ordinance that prevents anyone from pitching a tent in a public space.
Plaintiffs claimed that Orange County had attempted to force homeless people out of the camp without a plan for shelter or housing. The suit alleged that the county attempted to "criminalize the mere act of existing in public spaces" and pointed to the housing crisis that has become widespread on the West Coast.
The ACLU and the National Law Center on Homelessness and Poverty also filed briefs in the case. "Taking away the only shelter homeless people have is not only cruel, it's ineffective in solving homelessness," Maria Foscarinis, executive director of the National Law Center on Homelessness and Poverty, said in a statement. "Affordable and available housing is what will end homelessness, not arresting people for trying to survive."
The Center identified anti-camping ordinances among laws used by many cities that attempt to criminalize the homeless.
Gary Blasi, a public interest lawyer and professor at University of California Los Angeles Law School spoke with Newsweek about such laws and ordinances in an interview earlier this month, explaining that many police and politicians "just want homeless people to disappear and take their stuff with them."
"That is something that would probably be fine with homeless people if they had someplace else to go, but either you're going to be on public property or you're going to be on private property or you're going to levitate yourself off the face of the earth, and those are their choices. And the last one violates a law of physics," Blasi said.
Last year, U.S. Department of Housing and Urban Development Secretary Ben Carson attributed the slight increase in national homelessness to the West Coast's affordable housing crisis.
In addition to Orange County, which had a homeless population of about 4,792, Los Angeles, San Jose, San Francisco and San Diego had the highest populations of homeless individuals, according to a count taken on a single night in January 2017.