California Homeowner Fends Off Intruder in Wild Shootout Caught on Camera
A California homeowner has been caught on camera fending off an armed intruder in a dramatic exchange of gunfire on Monday morning.
The early-morning shootout was captured on home security footage, revealing the suspect to be a man who lived only a few doors down in the neighborhood of Hesperia in San Bernardino.
Erick Contreras, 39, attempted to force his way into the family home on Orange Street around 3:30 a.m. on Monday, the Hesperia Police Department said.
Video of the incident shows Contreras standing outside the front door while firing multiple shots from behind a pillar.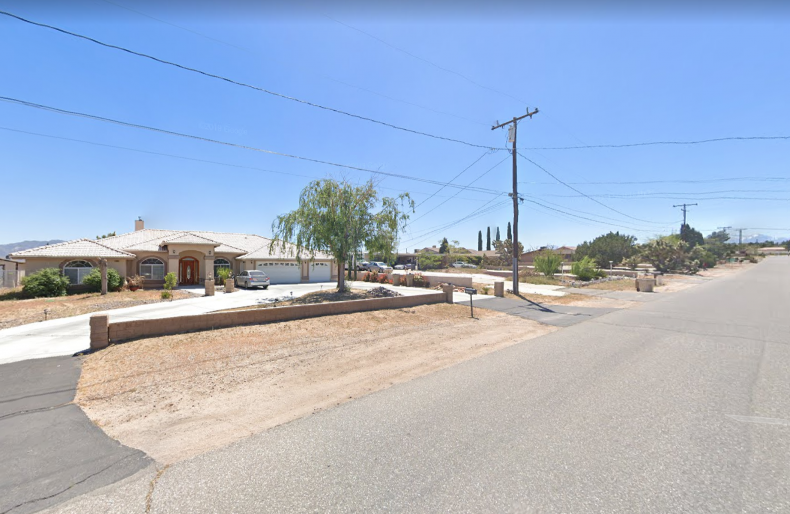 The homeowner said he heard someone trying to break into his home and ushered his wife and child into a closet for safety while he went to grab his gun.
"I see him—he's trying to kick the door in, demanding to come in. Then I see him pull out a gun," he told ABC7.
The two then began shooting at each other through the door before the suspect ran away on foot, firing a shot at another home in the neighborhood as he fled, the outlet reported.
Deputies arrived shortly after and located Contreras' vehicle just 2 miles away at a residence in the 8000 block of Avocado Street.
Hesperia Station deputies and specialized enforcement officers forced entry into the property, but Contreras had again fled the scene.
The 39-year-old Hesperia resident was eventually tracked down, arrested and taken into custody. He was charged with attempted murder, shooting in an inhabited dwelling, attempted robbery and possession of a firearm.
Nobody was injured during the attack and the motive for the shooting remains unclear.
However, the home was left with bullet holes in the walls and doors. The homeowner said Contreras was his neighbor, but didn't know the man as the pair had not had any previous interaction.
In December, a Florida man died while attempting to burglarize a home after a window slammed down on him, authorities said.
Jonathan Hernandez, 32, was trying to break into a home on 46th Street SW in Lehigh Acres by climbing through a window on Saturday December 12, according to the Lee County Sheriff's Office.
"While Hernandez was trying to work his way through the window, it unexpectedly closed on top of him, pinning him and keeping him suspended in air," Lt. Russell Park, a spokesman for the sheriff's office, said on Facebook.
Hernandez was found dead by deputies who arrived on the scene.
According to WBBH-TV, an incident report said his neck had been caught in the window.
But his family and friends told the station that they believe there is more to the story and doubt the version of events presented by authorities after seeing the residence in question.