California Hospitals Blame Poor Vaccine Rollout on Lack of Transparency From Government
California, the state with the most confirmed coronavirus cases, is struggling to get vaccines into the arms of its residents. Despite being the only state to surpass 3 million cases (four others have topped 1 million, with Texas exceeding 2 million), California's vaccine rollout remains among one of the nation's slowest.
But the delay has nothing to do with the state's health care systems, hospital officials told Newsweek. The issue stems from a lack of transparency from the federal government.
"There has been no transparency from the national level," Dr. Yvonne Maldonado, an infectious disease specialist at Stanford Medicine, said. "We don't know how many vaccines are out there. We know how many have supposedly been shipped out, but we need to know how many there are, where they are, when they will be shipped out, how that will be decided."
California has faced a massive surge in coronavirus cases and hospitalizations. As of January 25, there is no intensive care unit space in two of the state's largest regions, Southern California and the San Joaquin Valley, a tracker from the state's department of health shows.
"Nobody was prepared for a pandemic, but we did know a vaccine was coming," Maldonado told Newsweek last Friday. "We've been working on this vaccine since March or April, but at the same time nobody knew how the federal government would direct the implementation of vaccination."
She added, "While billions of dollars were spent on the technology to ramp up these amazing vaccines, and it was money well spent, there was also no money spent on the last mile."
Dr. David Lubarsky, CEO of the University of California's UC Davis Health, noted that the state's high-density population should be factored into its vaccine rollouts, alongside lags in reporting and adjustments during the introductory period. But he asked, "Are they doing things optimally in the state of California? The answer of course is no."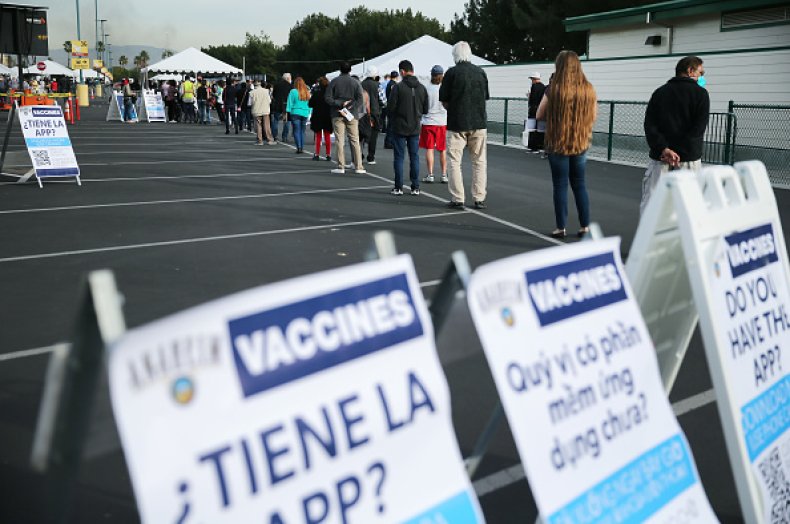 Currently, California is administering an estimated 5.9 doses per 100 people, falling behind the efforts of at least 11 other states, according to Our World in Data. The state's major hospitals say that the sluggish rollout is in large part due to the minimal communication they've received from the White House.
Lubarsky told Newsweek that the federal government has been unable to confirm to the state how many doses it should expect each week, which means the state in turn is unable to guarantee numbers to its health care systems.
"It becomes quite difficult to plan," he said on Monday. "All of a sudden, a shipment might show up and you're not geared up to take advantage of it because you didn't know it was coming until the day before. It's a very bad supply chain management, starting at the federal government level."
Desi Kotis, chief pharmacy executive at the University of California, San Francisco's UCSF Health, told Newsweek California's vaccine supply is "erratic."
"I get that these vaccines are not your grandma's polio vaccine or the flu vaccine. They require a lot of care and feeding, but still the supply is very erratic," she said on Sunday.
"I think we need the right people who know how to do supply chain, and I don't think that's the government," Kotis added. "I understand the vaccine research and getting the vaccines to market was extraordinarily fast, but the government should not be in logistics for moving vaccines around. That's not their forte."
She explained that ramping up the rollouts is not difficult if there is vaccine supply, but without incoming doses, it becomes impossible to get them into the arms of Californians. Kotis said it has been frustrating to see vaccines become so politicized.
"The department of public health in San Francisco County isn't getting doses. Alameda County and Oakland aren't getting doses. Why? Is it because Nancy Pelosi lives down the street from me? Or that Kamala Harris is from Oakland?" she said. "If I look at the big picture, it is political, especially when you look at Florida and Texas and other states and the vaccines they were getting."
Lubarsky agreed, saying, "I think that's exactly correct. And it's sad to think that's the case. If there's a raging forest fire in Napa Valley, you don't go sprinkle water in the hills around San Diego. You should really be focusing on the areas that have the worst outbreak—in this case, Southern California. They should preferentially be getting the bulk of vaccines from the federal government."
Both Florida and Texas experienced the same uptick in coronavirus cases California saw in the summer, but the two red states have successfully administered more doses of the COVID-19 vaccines than California.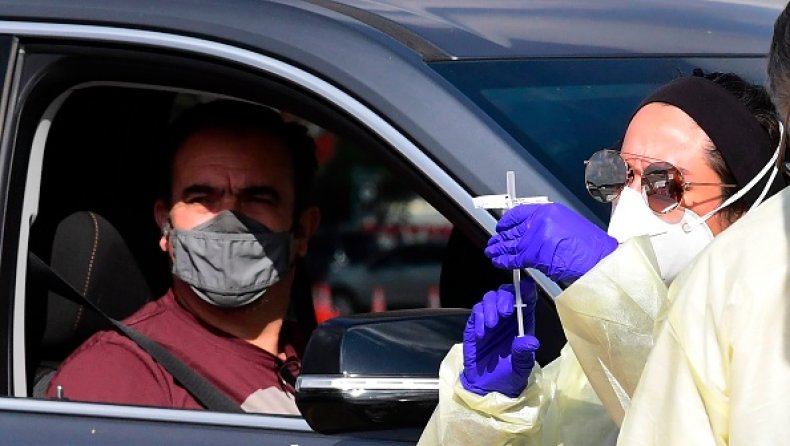 "We're not giving proper thought about how appropriate allocation of the vaccine would yield the greatest social good, mitigate the greatest harm or prevent our health systems from being overwhelmed," Lubarsky said. "That should be the goal. Instead, we've gotten into a strange discussion about equity and who's essential, as opposed to making sure the vaccine goes where the disease is likely to have its greatest impact."
Governor Gavin Newsom has also blamed the state's poor rollouts on the former Trump administration. Before President Joe Biden was inaugurated last week, Newsom said states needed more clarity on vaccine supply from the federal government.
However, now that the Biden administration is in the White House, Newsom and other Democratic state officials in California can no longer use Trump as an excuse for sluggish vaccination plans.
"The switch was flipped with the new administration," Kotis said. "What will change, I don't know."
On Monday, Biden told reporters he hopes to reach 1.5 million vaccinations a day, an extra half a million on top of his initial goal.
California hospital officials say that getting those vaccines into the arms of Americans is possible, but it will all depend on whether health care systems are supplied with a sufficient supply of doses.
"We're getting between 1,000 to 2,000 doses a day," Lubarsky said. "Now, I can get 5,000 a day if you put it in my hand. If you tell me you can get me 10,000 doses a day, I'd figure out a way to do it. I know that my colleagues, both physicians and hospital leaders, feel the same way."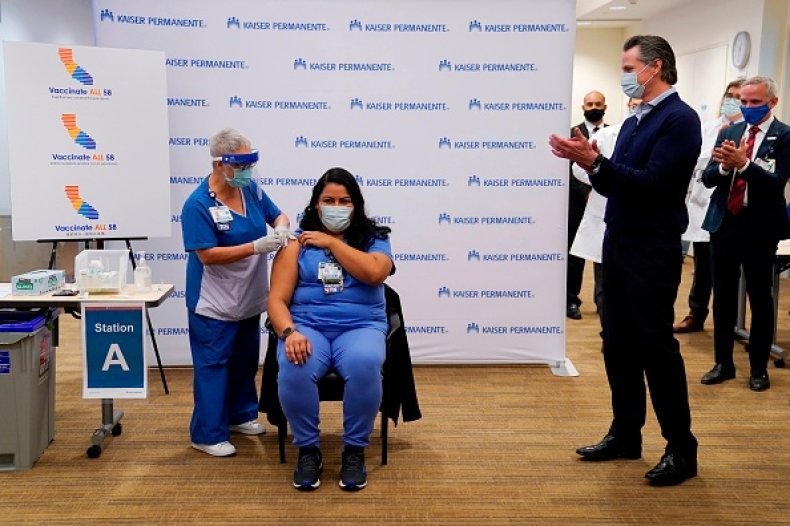 Without the supply, health officials are left with little choice but to make their own decisions as to who will receive the vaccines.
"Our systems have the capacity to go up to lots and lots of doses a day. I know we certainly can do it. I know other systems can," Maldonado said. "But if we don't have the vaccine, then we have to figure out how to allocate vaccines."
She emphasized that prioritization needs to be given to individuals who are at the greatest risk of exposure to the virus and have little access to existing health infrastructure.
On Monday, Newsom announced that California's vaccination plan would move to age-based eligibility, removing essential workers from the priority list. But health experts say age is not the only barrier to accessing vaccines.
"People who know how to work the internet, who speak English, who have a health care provider—those people are going to get it first," Maldonado said. "We need to address that. We know who's being affected by this pandemic, and it's generally not those people."
On Tuesday, Newsom announced California would revamp its delivery system by centralizing its county systems and streamlining appointment sign-ups. The governor named Yolanda Richardson as secretary of the government operations agency, which will allocate the state's vaccine supply to a range of providers, including county public health systems, pharmacies, public hospitals, community health centers and pop-up sites.
"This isn't rocket science. This isn't about a health system or doctors or professionals being afraid of liability or legality. This is basic Economics 101 supply and demand. When you're in a pandemic, you need the supply," Kotis said. "That's as simple as that, and we don't have the supply."
This story was updated at 2:52 p.m. with Governor Gavin Newsom's announcement on Tuesday.