Southern California ICU Capacity Dips Below 15 Percent as Stay-at-Home Order Begins
Residents in Southern California are expected to get a stay-at-home order for three weeks as intensive care unit (ICU) capacity fell below a red line due to growing coronavirus hospitalizations.
Governor Gavin Newsom issued a regional order on Thursday stating that if ICU capacity in any of the state's five regions went below 15 percent, tough restrictions would be imposed as an emergency brake to curb the disease's spread.
On Thursday, the ICU capacity remaining for Southern California region was calculated at 20.6 percent by the state's Department of Public Health. But within 24 hours, this had dropped to 13.1 percent, triggering the governor's restrictions.
The stay-at-home order goes into effect at 1 p.m. on Saturday, giving local officials 24 hours to carry out the restrictions, according to Orange County Supervisor Don Wagner, KTLA reported. The order across 11 counties would curb commercial activity and mean that people will have to stay at home wherever possible and wear masks outside.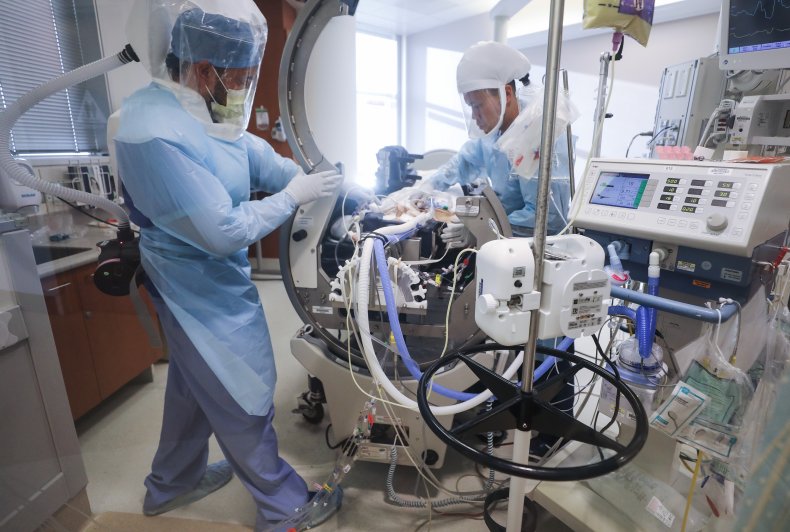 In the strictest measures to curb the spread of the disease since March, bars, wineries, nail salons, hair salons are among the businesses that will have to close.
Restaurants will be shut to indoor and outdoor dining, but can offer takeout and delivery while all private gatherings will be prohibited. Schools that had been given a waiver to reopen will be allowed to stay open while retail stores can stay open at 20 percent capacity.
There will also be restrictions on all non-essential travel. Hotels and motels can open for "critical infrastructure support only" and will be barred from allowing guests those undertaking essential travel.
Figures from the department showed that ICU capacity in California's San Joaquin Valley had dropped to 14.1 percent, but restrictions would come into place in that region if it was still below 15 percent on Saturday, YourCentralValley.com reported.
Newsom said that the measure would prevent the healthcare system being overwhelmed, adding, "we are at a tipping point in our fight against the virus and we need to take decisive action now."
Dr. Erica Pan, Acting State Public Health Officer said in a statement that if every Californian stayed at home for three months "we could stop this disease in its tracks."
On Friday, California reported a 16 percent jump in new coronavirus infections. The 22,018 new cases was its third largest daily increase within a day. It takes the total number of cases in the state to 1,286,557. The death toll has reached 19,582.
The graphic below by Statista shows the COVID deaths of the elderly in the U.S.