California to Impose Harshest COVID Restrictions for 94% of Its Residents
California Governor Gavin Newsom said Monday that the vast majority of the those who live in the state will be facing increased public health restrictions as COVID-19 continues to surge.
Newsom announced that an "emergency brake" was being pulled on the state's "Blueprint for a Safer Economy" guidelines, in response to a COVID-19 surge that has seen daily cases double over the past week. More than 94 percent of the state's population live in counties that meet the "purple" risk level, the tier with the most restrictive public health measures.
"We are sounding the alarm," Newsom said in a statement obtained by Newsweek. "California is experiencing the fastest increase in cases we have seen yet –faster than what we experienced at the outset of the pandemic or even this summer. The spread of COVID-19, if left unchecked, could quickly overwhelm our health care system and lead to catastrophic outcomes."
"That is why we are pulling an emergency brake in the Blueprint for a Safer Economy," he added. "Now is the time to do all we can – government at all levels and Californians across the state – to flatten the curve again as we have done before."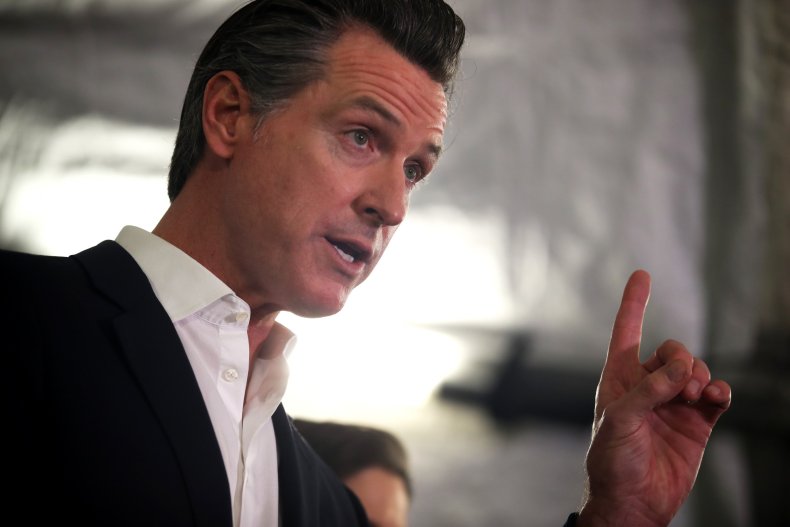 A "widespread" public health risk now exists in 41 of the state's 58 counties, with 28 counties that had previously seen their risk level reduced moving back to the purple level. Another nine counties are moving into the "red" risk level, presenting a "substantial" risk, while two counties are moving to the "orange," or moderate, risk level.
The counties will have until Tuesday to implement the new restrictions, which include closing houses of worship, gyms, movie theaters and dine-in services at restaurants at the most restrictive tier. With a few exceptions, the state is also requiring residents to wear face masks when they leave their homes.
California had over 1,032,000 COVID-19 cases, including more than 18,000 deaths, as of Monday, having eclipsed 1 million cases last week, according to Johns Hopkins University. Testing has increased significantly while cases have climbed, with a 4.8 percent positivity rate that is less than half of the average U.S. positivity rate, although the rate has sharply increased over the past few weeks.
"The data we are seeing is very concerning. We are in the midst of a surge, and time is of the essence. Every day matters and every decision matters," California Health and Human Services Secretary Dr. Mark Ghaly said. "Personal decisions are critical, and I am I imploring every Californian to stay home if they can, wear a mask whenever they leave their homes, limit mixing, practice physical distancing and wash their hands."
Texas is the only other state to have surpassed 1 million COVID-19 cases, with more than 1,059,000 cases and over 20,000 deaths as of Monday. The Lone Star State has a positivity rate that more than doubles that of California at 12.7 percent, while Kansas has the country's highest testing positivity rate of 58.7 percent.
Nationally, over 1 million new cases have been added in the past week alone, with more than 100,000 cases being added per day during most of November. Over 246,000 have died due to COVID-19. More than 68,000 were hospitalized with the virus as of Monday.