California health officials announced Monday that California would not be following the lead of other states and ending mask mandates in K-12 schools. The mandate remains in place despite California's overall indoor mask mandate ending on Tuesday.
"Based on our data...it's reasonable that we're getting to a place where we can relax the statewide masking requirement. We will today not make a change. There will be no change on the masking requirement," Secretary of California Health and Human Services Dr. Mark Ghaly said at the press conference.
From here, state officials will go forward to evaluate the need for the school mask mandate based on factors that will include vaccination rates among children, hospital capacity and community case rates.
Other states, including Oregon, Connecticut, Delaware, New Jersey, Massachusetts and Rhode Island, recently announced plans to end state-wide mask requirements in schools by the end of February or March, citing a decline in the Omicron-fueled surge of COVID cases.
Monday's announcement comes as California Governor Gavin Newsom is expected to announce his new endemic strategy this week, one week after announcing the end of the state's indoor mask mandate.
"CA's case rate has decreased by 65% since our Omicron peak. Our hospitalizations have stabilized across the state," Newsom said in a tweet on February 8. "Our statewide indoor mask requirement will expire on 2/15."
"Unvaccinated people will still need to wear masks indoors. Get vaccinated. Get boosted," he added on Twitter.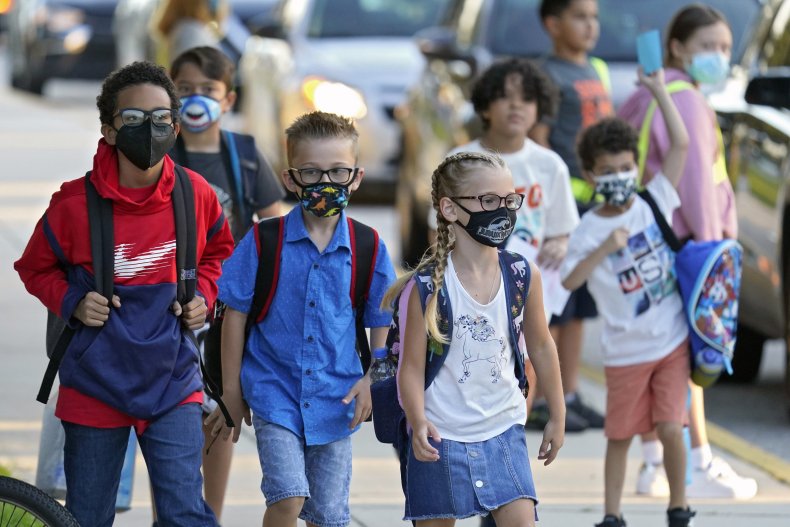 Officials at California's Roseville Joint Union High School last week passed a resolution making masks optional for students starting Tuesday. The school district was the first in the state to adopt such a policy, which came ahead of Monday's announcement by state health officials.
"Be it further resolved by the Roseville Joint Union High School District Board of Trustees recommends, regardless of vaccination status, personal and parent choice with respect to whether or not children, staff and teachers should wear face coverings while at school commencing when the state indoor mask mandated is lifted," the resolution said.
It also noted that the district sent multiple letters to Newsom and the California Department of Public Health over the issue of masking and the desire to have local control, with no response. The district is continuing to provide N95 masks to teachers, staff and students daily and will not be testing asymptomatic students in lieu of masking.
San Diego's Lakeside Union District Board of Trustee Andrew Hayes told Newsweek that the decision regarding whether or not to keep students masked inside the classroom is best made on a local basis.
"The key thing concerning to me is that [Newsom] is going to give us local control based on conditions—we know what our communities need and we can make sure we can triage and provide for our school staff and students," said Hayes. "And really it's about the kids. Right now kids are excluded from the classrooms if they don't wear masks."
Newsom initially announced the indoor mask mandate in schools would return from December 15 to January 15. That came as the per capita rate of new coronavirus cases in California rose 47 percent through the first two weeks of that month.
"Masks are just one part of a multi-layered mitigation system that has helped us to keep kids in school in person," Elk Grove Board of Education Trustee Nancy Chaires Espinoza told Newsweek. "I welcome every step towards normalcy, but I hope parents understand that even if the in-school mask mandate for students were to go away soon, it may not mean an immediate return to all of the activities we provided pre-pandemic, at least not without other mitigation measures."
But Hayes reiterated his point about the importance of having local control and so far has support from 19 school boards members in San Diego County regarding it.
"One of the challenges is that so many people are still concerned about COVID, and they should be, but that's why we need to trust our local elected officials," said Hayes. He also noted the pressure Newsom has from Sacramento as he moves into an election year.
"[Newsom] needs to shore up support from institutions and lobbyists in Sacramento and the Teachers Association leans in to support for masks," Hayes said. "For me, the complexity is that there are many teachers who are immune-compromised and so they're concerned. But we can balance this."
"It doesn't have to be 'either/or.' It can be 'and, both,'" Hayes added. "We can protect our teachers and our students and make sure our kids get a quality education."