Kincade Fire Update: Sonoma County Blaze, PG&E Shut Offs Lead to School Closures as Poor Air Quality Forecast for Bay Area
California's Kincade fire has covered 55,300 acres so far and a statewide emergency has been declared, with the evacuation of nearly 200,000 along with millions affected by preventative power cuts and several school closures in place.
The National Weather Service noted on its official Twitter account: "Unfortunately the dangerous #fire weather conditions across #California will continue into #Monday. Critical and extreme risks will be in effect for north-central and southern parts of the state, due to extremely dry conditions with strong gusty winds (Santa Ana). #CAFires #cawx."
Evacuation orders were issued across Zones 1 through 10 in Sonoma County including "Markwest/Larkfield Wikiup area due to a fast moving wildland fire. If you are still in this area, you need to evacuate immediately," the official Sonoma County Emergency website (SoCo Emergency) states.
Evacuations were ordered "on Faught Rd from Shiloh to Old Redwood Hwy in Larkfield-Wikiup. If in this area, you need to leave immediately!!," the Sonoma County Sheriff's Office added in an alert on its official website, following a fire reported in the area of Shiloh Ridge and Faught Road.
A full listing of all zones issued with evacuation orders and warnings, evacuation centers and road closures can be seen in this official report posted by California Department of Forestry and Fire Protection (Cal Fire) on its official Twitter account.
The official Sonoma County website has also posted an incident map outlining the areas under mandatory evacuation, available shelters, road closures and other relevant information.
The city of Calistoga and its surrounding area in the Napa Valley have been issued with an evacuation advisory, with a public safety power shutdown in place until Monday 8 a.m. (local time), according to the official Napa County website.
Cal Fire confirmed an evacuation warning for the areas north of Diamond Mountain Road to Dunaweal Lane, east of the Sonoma County/Napa County border and south of the Lake County/Napa County line as well as well West of Pickett Road, on its official Twitter account.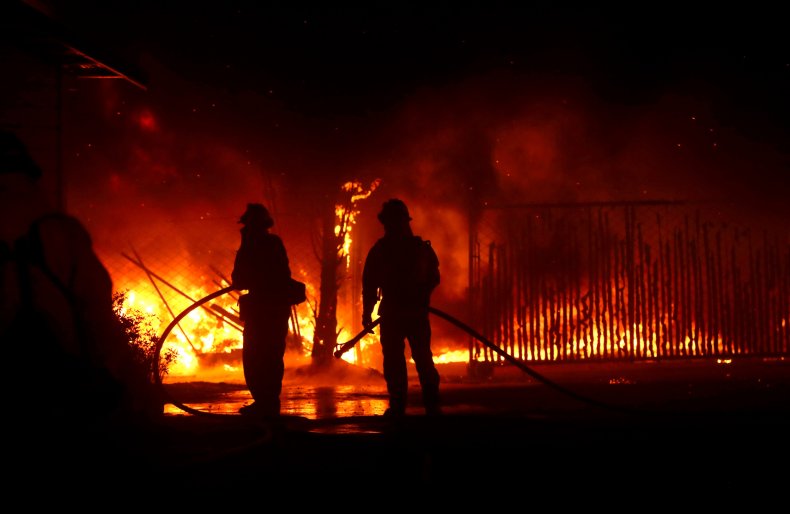 Five percent of the Kincade fire has been contained so far, with full containment expected by November 7. A Red Flag Warning (which indicates critical fire weather and fire danger conditions exist) is in place, with 40-50 mile per hour wind gusts possible through Monday evening due to narrow roads and steep terrain making access to the fire areas difficult, according to Cal Fire.
The Red Flag Warning is in place until 11 a.m. on Tuesday, according to a post by the official Twitter account of the Sonoma County Sheriff's Office.
All 40 Sonoma County public school districts are closed Monday and will be closed on Tuesday "due to the uncertainty around the availability of power, evacuation of students and staff, fire threat, and air quality concerns," the Sonoma County Office of Education (SCOE) confirmed on its official website.
The following independent charter schools will also be closed through Tuesday:
Credo Charter School;
Kid Street Charter School;
Pathways Charter;
Reach Charter;
River Montessori Charter;
Sebastopol Independent Charter;
Village Charter; and
Woodland Star Charter.
"SCOE's alternative education, special education, and juvenile detention center classes will also be closed" and "Sonoma County school districts will reassess the need to be closed Wednesday-Friday based on individual circumstances and changing conditions. Any updates on school closures for the week will be shared by SCOE each afternoon at 4:00pm," SCOE added.
Nearly 80,000 structures are under threat from the Kincade fire, with 94 destroyed and 17 damaged, Cal Fire reports. There have been no reported fatalities or injuries so far, the department added.
Those affected can access evacuation centers at Napa Valley Expo
575 3rd St, Napa, CA 94559, CrossWalk Community Church Napa
2590 1st St Napa, CA 94558 and Petaluma Valley Baptist Church
580 Sonoma Mountain Pkwy, Petaluma, CA 94954.
Shelters for large animals are open at Alameda County Fairgrounds
4501 Pleasanton Ave, Pleasanton, CA 94566 and Petaluma Fairgrounds
100 Fairgrounds Dr, Petaluma, SoCo Emergency states on its website.
"All evacuation centers are small animal friendly. No identification is needed to stay at an evacuation shelter, and Government Agencies, such as ICE, do not have access to the shelters. English and Spanish-speaking staff will be there to make these safe, supportive places for all," SoCo Emergency notes.
SoCo Emergency also notes the following shelters are reported to be at capacity:
Santa Rosa Police will also be on alert through Monday night "with extra patrols in the mandatory evacuation zones and by monitoring the #KincadeFire. Be alert, stay safe and keep your phones nearby," the police warned in a post on its official Twitter account.
Potential public safety power cuts by Pacific Gas and Electric Company (PG&E) may be in place for Tuesday in Santa Rosa, according to a Tweet by the police on its official account.
"Another potential PG&E planned power shutoff has been issued for Tuesday, October 29th, 2019 beginning at approximately 4:30 a.m. PG&E is monitoring a new, potentially widespread, strong and dry wind event forecasted for Tuesday (10/29) morning through midday Wednesday (10/30) affecting 32 Northern California counties, including Sonoma County. This weather event is a separate system from the one that triggered the October 26 shutoff that is still active," the Santa Rosa Fire Department said on its official website.
"PG&E has indicated that it will work to restore power to as many customers as possible who are currently blacked out due to the October 26 shutoff. However, some customers who don't have power now may remain dark throughout the duration of the next potential shutoff event.
"PG&E has not yet made a definitive decision to shut power off on October 29 and will continue to monitor weather conditions and provide additional information regarding affected areas," the department added.
A PG&E safety power shutoff on Sunday affected more than 2.7 million people, ABC7 reports following the company's largest ever power cut issued to prevent wildfires, according to the San Francisco Chronicle.
Between 20,000 and 50,000 customers in the northern part of California were expected to have their power turned back on by last night (Sunday), but PG&E warned there may be further widespread power cuts following potential dangerous wind conditions later this week, according to ABC7.
"There is a potential that there will be people that will currently be interrupted as part of this PSPS [public safety power shutoff] event that we do not get to restore before the weather becomes unsafe again," Mark Quinlan, Incident Commander for PG&E, told ABC7.
Residents are being advised to check the PG&E website to check if your area may be impacted.
A smoke advisory has also been issued across the Bay Area for Monday following air quality concerns. The Spare the Air alert warns residents that "concentrations of ozone, or 'smog,' are expected to be unhealthy, the official alert website states.
"From April to October, warmer temperatures and longer days can cause ozone to build up to unhealthy levels. When this takes place, the Air District will issue a Spare the Air Alert.
"On Spare the Air Alert days, Bay Area residents should consider limiting outdoor activities. There are everyday behavior changes, such as taking public transit, carpooling, or biking, that can improve air quality year round. These actions are particularly important on days when a Spare the Air Alert is called," the website notes.
"We are deploying every resource available, and are coordinating with numerous agencies as we continue to respond to these fires. It is critical that people in evacuation zones heed the warnings from officials and first responders, and have the local and state resources they need as we fight these fires," California governor Gavin Newsom stated on the official website of the governor's office.
Newsweek has contacted the Sonoma County Office, PG&E and the California Department of Education for further comment on the impact of the Kincade Fire, any further planned school closures and safety power cuts and other updates on the developing situation.