California's Latino Voters Come Out in Force as Group Key to Gavin Newsom's Survival
Almost a quarter of registered Latino voters have reportedly already cast their ballots in California's gubernatorial recall election—a group key to Democratic Gov. Gavin Newsom's survival.
Nearly 1.4 million Latino voters have already voted ahead of Tuesday's recall vote, according to Los Angeles-based Spanish language news outlet La Opinión.
In Los Angeles County, almost two-thirds (63 percent) of the mailed ballots came from registered Democrats while 15 percent were from Republicans.
The margin was much narrower when it came to those casting their ballots in person—40 percent were cast by Democrats, while 37 percent were cast by Republicans, the newspaper reported.
Some Latinos told La Opinión that they do not support recalling Newsom, arguing that he has done much for their community.
Dalia Chavira, 74, said Newsom was doing "a good job" as governor.
"He has helped Hispanics to pay their rent now with the pandemic. That's why I voted 'no' to dismissal," Chavira, who is originally from El Salvador but became a U.S. citizen 25 years ago, said.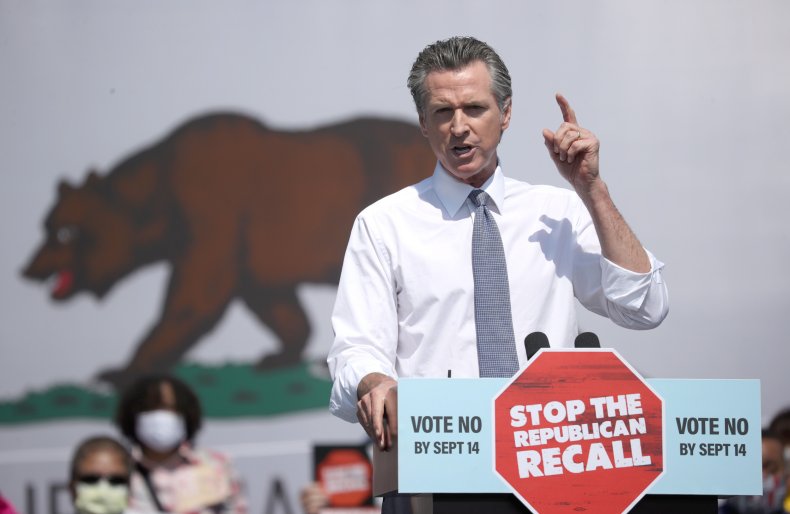 But Benny de la Cruz, 70, and his 67-year-old wife, Francis, were among those that are backing Larry Elder, the Republican leading the list of candidates to replace Newsom.
"We need a change," he said, citing the lack of affordable housing in the state.
Francis pointed to Newsom's decision to attend a friend's birthday dinner at The French Laundry last year while restrictions were in place to curb the spread of COVID-19, a controversy that prompted many people to sign a petition to recall the governor.
"He set health rules for everyone and he was the first to break them," she said.
Nevertheless, polling in recent days suggests the growing opposition to recalling Newsom in largely due to Latino voters.
A recent survey by the Public Policy Institute of California found 66 percent of likely Latino voters say they won't vote to recall Newsom, while 27 percent say they would
Hispanics and Latinos comprise almost 40 percent of California's population and around 28 percent of the state's eligible voters.
Other recent polls have also indicated that Newsom is likely to secure victory in the election.
A YouGov poll last week showed Newsom was leading Elder by 18 points among registered voters when asked which of the two individuals they preferred, and by 22 points among likely voters who were asked the same question.
The poll also found that 56 percent of all respondents and 57 percent of likely voters said they wanted to keep Newsom in office.