California Lawmaker Blasts 'Unconscionable' Potential Vaccine Mandate for All Students
A bill introduced earlier this week by a California senator requiring the state's students to be immunized for COVID-19 despite objections from parents based on their personal beliefs has some conservative legislators pushing back in a big way.
Introduced by state Senator Richard Pan, a Democrat from Sacramento, "The Keep Schools Open and Safe Act" would not only prohibit families from claiming a personal belief exemption concerning California's COVID-19 student vaccine requirement, but it would also add these vaccines to the state's list of required inoculations for those attending K-12 schools. Only in the case of a rare medical exemption, could a student opt out of getting the vaccine.
If passed, SB 871 would usurp earlier legislation by Governor Gavin Newsom, which allowed parents of school-age children to opt-out of having their children vaccinated based on their convictions. Additionally, adding COVID-19 shots to the state's list of required vaccines for students would mean that parents would need a medical exemption in order for their children to skip those doses for the coronavirus. In essence, the measure offers a sort of backup to districts such as the Los Angeles Unified School District that have struggled with their own mandates.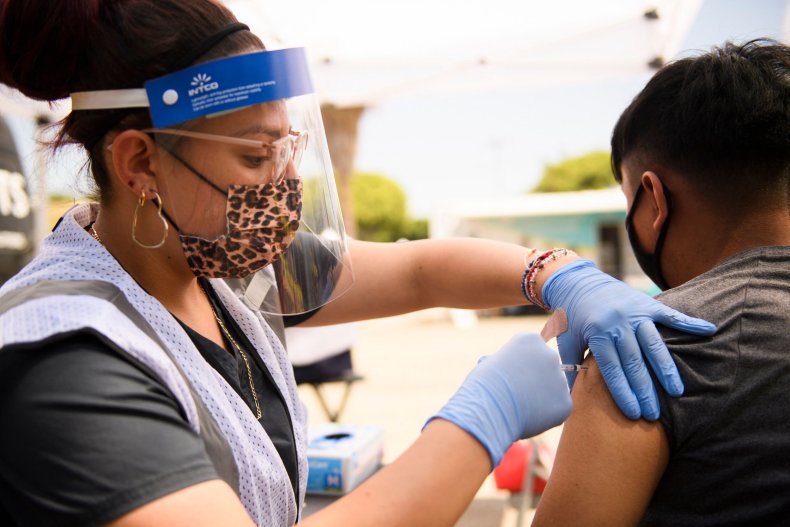 "Vaccination is the cornerstone of assuring our schools will be open and be safe," said Pan during a press conference Monday at Arleta High School, which is part of the L.A. Unified School District.
Newsweek reached out to Pan for comment.
The senator, who is also a pediatrician, is a former the University of California, Davis educator and chair of the Senate Committee on Health, previously sponsored State Bill 277, which eliminated the personal belief exemption loophole for all other childhood vaccinations required for public and private school students when it became law in 2015.
"[I]t's about providing certainty for parents and school districts around the vaccination requirement," he added during Monday's press conference. LAUSD's Board President Kelly Gonez and Superintendent Megan K. Reilly were also in attendance along with San Diego Unified Board Member Richard Barrera and California Medical Association President Dr. Robert E. Wailes, all in support of the measure.
But some on the other side of the political aisle don't see the measure as anything but negative.
"Now it is clear. The government doesn't want your family to have a choice. Government is in control. Either get vaccinated or get kicked out of school," tweeted California Assemblyman James Gallagher Monday. "I am absolutely going to oppose removing COVID vaccine exemptions for school children. This is wrong and an unconscionable overreach into the family over a virus that poses very minimal threat to young children."
Newsweek reached out to Gallagher for comment.
Because the California Department of Public Health could mandate vaccines in the future without requiring the state to offer personal belief exemptions, the move could also make it easier to add COVID-19 boosters or other immunizations for students without a lengthy legislative process.
But Pan said issues surrounding COVID-19 vaccine boosters are not currently addressed in his legislation that if passed would go into effect in January 2023.
Once the bill is passed by legislators and then signed by Newsom, it would supplant the previous COVID-19 vaccine mandate created by California's governor in October of last year. That directive included the caveat that parents could bow out of having their children vaccinated based on personal beliefs and wouldn't take effect until the U.S. Food and Drug Administration fully approves the shot for children ages 12 and under. At the time, Newsom didn't define the criteria for exemptions and instead left that to state public health officials to determine.
The legislation proposed by Pan on Monday can be found here.
Pan's bill is the second major vaccine proposal announced this year by Democratic lawmakers. Last week, Senator Scott Wiener, a San Francisco Democrat, introduced Senate Bill 866. That legislation would permit children 12 and older to choose to be vaccinated [including against COVID-19] without a parent's consent or knowledge.
Currently, minors aged 12 to 17 in the state cannot receive a COVID-19 vaccine without parental consent. [An exception exists in San Francisco County where those 12 or older can self-consent as long as the healthcare provider reasonably attempts to notify a guardian and allows them the opportunity to object.]
"We need to make a concerted effort to educate families about the vaccine, its safety, its efficacy," said Pan, about adding the vaccine to the list.
Under the bill proposed Monday, those who don't get the shot will be forced to do independent study or homeschooling.
"It is now clear: Democrats proposing these school vaccine mandates don't want kids to have a choice," tweeted Gallagher. "They want to 1) remove parents from the equation and 2) give your child the "choice" to get the shot or get kicked out of school."