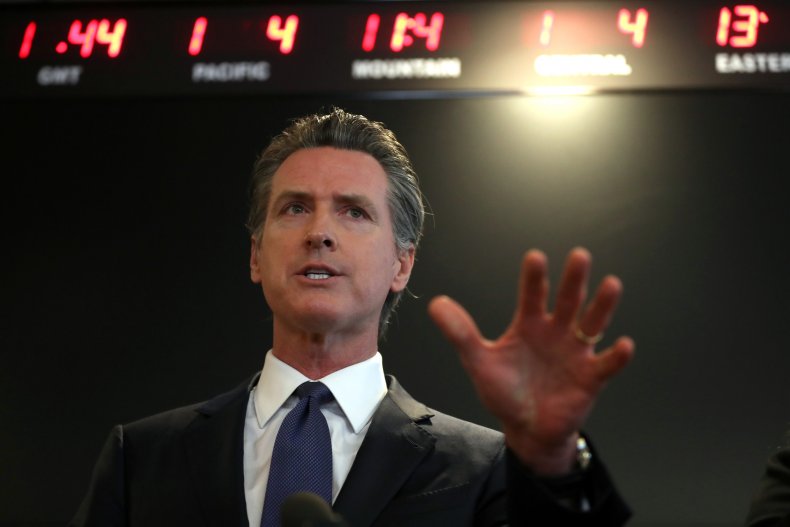 California became the latest state Friday to be slapped with a lawsuit over its COVID-19-related lockdown orders that have resulted in an elimination of gun sales.
The National Rifle Association, the Second Amendment Foundation and the Firearms Policy Coalition, among other plaintiffs, teamed up to file suit against Governor Gavin Newsom and Los Angeles County Sheriff Alex Villanueva, who have promulgated policies effectively ensuring gun dealers cannot lawfully operate during the state's "stay at home" order.
This comes at an unprecedented time for gun dealers, who have reported unforeseeable demand for their products at such a rapid pace that many have had to turn away customers or limit sales.
Friday's complaint, filed in a federal district court in Los Angeles, alleges that Villanueva and Newsom have violated the Second Amendment by imposing orders that have had the effect of restricting gun sales. In addition, the complaint accuses the state- and county-wide orders of being unconstitutionally vague, requesting that they be stricken down.
In response to a request for comment, the Los Angeles County Sheriff's Department told Newsweek that it "has not been served with this lawsuit and has no comment at this time."
On March 19, Newsom issued a statewide order requiring residents to stay at home but for certain essential activities. Several days later, Villanueva announced that his department would be interpreting the state's guidance to exclude gun stores from its protections.
Shortly thereafter, Villanueva changed his mind, informing dealers they could continue to operate their stores pending further instruction from the state. After Newsom informed the state's sheriffs that he would be deferring to them on this question, Villanueva once more changed course, mandating the closure of gun stores in Los Angeles County.
Around 30 states have taken steps to close businesses and activities deemed non-essential, according to a count by the Kaiser Family Foundation. Twenty-five of these states have limited or shuttered operations at all non-essential businesses.
California is one of a handful of states to be sued in federal court over firearms restrictions enacted during the COVID-19 pandemic.
In imposing lockdown orders, governors and municipalities across the country have encountered challenges defining the scope of the term "essential," a political wrangling that gun-rights organizations have also forced into courtrooms in New Jersey and Pennsylvania.
"Firearm and ammunition retailers arguably provide the most essential business function possible by enabling Californians to lawfully defend themselves, their loved ones and their property," the California lawsuit argues.
Some politicians have sought to ward off potential conflict by specifically exempting gun stores from the mandatory closures, designating them as essential or as necessary to furnish other essential businesses with supplies.
In Illinois, Governor J.B. Pritzker carved out an exemption for firearms dealers from his office's shutdown order in a category reserved to "businesses that sell, manufacture, or supply other essential businesses." For gun dealers specifically, this exemption applies "for purposes of safety and security."
These specific conditions—on operations that supply essential businesses and on activities that promote security—do not appear to have curtailed the full and public operations of gun stores in the state.
Jake Charles, the director of the Center for Firearms Law at Duke Law School, said that the order was probably designed this way to include both storefronts and manufacturers. He suggested it was possible Illinois could decide to "make that distinction" and apply the apparent conditions in Pritzker's order.
"I suspect the political pushback is already going to stop them from an overly technical reading, though," Charles added.
California may serve as another cautionary tale to governors who have safeguarded firearms sales, but only within the context of executive orders, or state laws, that provide them with wider latitude to later decide to clamp down on sellers. The uncertainty of which policy California and Los Angeles were intent on pursuing is a key claim in the NRA's lawsuit.
"Plaintiffs, including retailers and consumers, cannot be required to guess at the meaning of [these] orders," the lawsuit argues. "The subject orders are also unconstitutionally vague and overly broad because they are worded in a standard-less way that invites arbitrary enforcement."