California Looking to Send Statewide Stimulus Checks as Congress Debates Biden's Plan
Two proposals in California would send stimulus checks to people left out of the past two federal payments, but they differ drastically in their amounts. One is looking at $600 payments and the other would triple that amount to $1,800.
As part of his "Golden State Stimulus" plan, Governor Gavin Newsom proposed sending $600 stimulus checks to those with incomes below $30,000. However, the Legislative Analyst's Office (LAO) found that may not help those most adversely affected by the pandemic and the agency proposed sending out higher payments, but only to those who weren't eligible for federal aid.
A report from the LAO, a nonpartisan government agency that provides fiscal and policy advice to the state legislature, suggested California send $1,800 payments to ITIN filers—resident and nonresident immigrants who cannot get a Social Security number—with incomes below $30,000. Costing about half the amount of Newsom's plan, the leftover funds could be used to help undocumented workers who don't use an ITIN, according to the LAO.
"Undocumented low-wage workers have faced significant job losses and have not benefitted from federal income support," the report said. "Compared to the Governor's proposal, a targeted approach would provide more aid to fewer workers."
When Congress passed the Coronavirus, Aid, Relief and Economic Security (CARES) Act, undocumented workers and ITIN taxpayers were left out of unemployment benefits and stimulus checks. The same was true when Congress passed another relief package in December.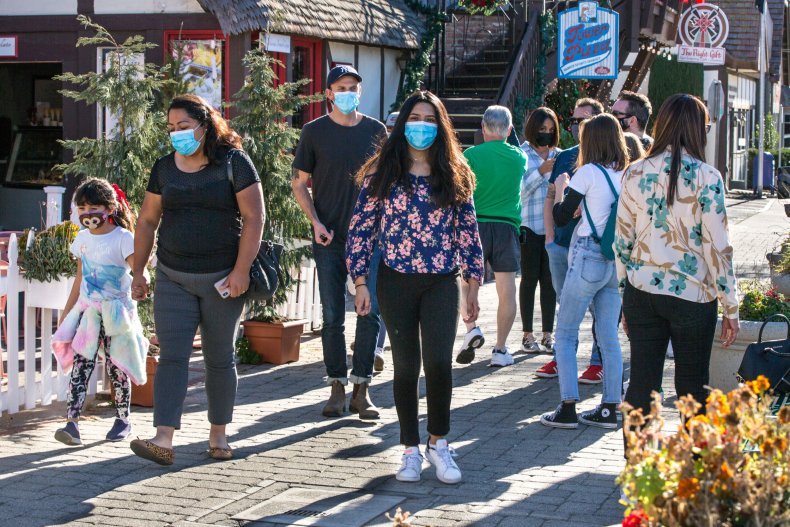 ITIN taxpayers with incomes below $30,000 would also be eligible for a stimulus check under Newsom's plan if they received the California Income Tax Credit (CalEITC). The $600 payment would also be automatically sent to all 2019 taxpayers who received the CalEITC in 2019.
"While many 2019 EITC recipients have faced income losses during the pandemic, most have received significant federal income support," the report said. "Due to enhanced unemployment insurance (UI) benefits and stimulus checks, income in 2020 for most EITC workers was similar, if not higher, than their 2019 income."
Along with leaving out certain undocumented workers, the LAO said sending stimulus checks to only EITC recipients could leave out 20 percent of low-income workers who don't claim it.
Newsweek reached out to Newsom's office for comment but did not receive a response in time for publication.
As California legislators mull over the two proposals, Congress is looking at sending another round of relief, as well. President Joe Biden's $1.9 trillion proposal is making its way through the House and under that plan, individuals with incomes under $75,000 would receive $1,400. In the plan's current state, individuals with ITIN numbers won't be eligible for a payment. However, unlike under the CARES Act, if an ITIN filer has a spouse or eligible dependent with a Social Security number, that person would receive a payment.
On the other side of the aisle, Republicans are pushing for $1,000 stimulus checks for individuals earning up to $40,000. Since Democrats have control of the House and the Senate, they don't need Republicans to pass Biden's proposal. If every senator who caucuses with the Democrats votes in favor of the proposal, they could use reconciliation to pass it with a simple majority of 51 votes, which they have with Vice President Kamala Harris casting the deciding vote in a 50-50 tie.
However, Republicans have pointed out that it's not in line with Biden's call for unity in his inaugural address. Senator Mitt Romney, who met with the president on Monday, said bypassing Republicans also wouldn't build the bipartisan spirit needed to pass Biden's policies down the line.
If Congress passes another round of stimulus checks, some Californians could receive two payments, one from the state and one from the federal government.