California Man Pleads Guilty to Beating His Mother to Death 25 Years Ago
A California man has pleaded guilty to beating his mother to death more than 25 years ago.
Marjorie Van Uden was found dead in her home in Corona del Mar in Newport Beach, California, on March 5, 1994, according to The Orange County Register. The 76-year-old was found with a shattered skull, having been bludgeoned to death by a blunt object.
Her son John Henry Van Uden III was charged with her murder in 2017 with a special circumstance allegation that he had killed for financial gain, Fox11 reported. If convicted, he would have faced a sentence of life in prison without parole.
But that charge was dismissed as part of a plea deal on Wednesday after he pleaded guilty to voluntary manslaughter. The 73-year-old was immediately sentenced to three years in state prison, according to Fox 11.
Newsweek subscription offers >
He was given 1,510 days credit for time served with good behavior since his 2017 arrest, meaning he could be released as early as Wednesday evening.
Senior Deputy District Attorney Eric Scarbrough told The Register that the fact that some witnesses in the case are now dead and others have memories that are fading prompted them to offer Van Uden a plea deal.
"We are just dealing with the difficulties of trying to litigate something 25 to 30 years down the line. It was better to have him take responsibility now," Scarbrough told the newspaper.
Investigators had immediately focused on Van Uden, Marjorie Van Uden's eldest son, after she was found murdered, according to The Register, but no charges were filed due to a lack of direct evidence.
Newsweek subscription offers >
Then, officials in Newport Beach hired two retired homicide detectives to look into the cold case in 2016, according to Fox11. They turned up new clues leading to Van Uden's arrest at Dana Point Harbor on November 2, 2017.
After Van Uden's arrest, Newport Beach police chief Jon Lewis told reporters that he had been a "strong suspect" from the beginning.
But Mick Hill, Van Uden's attorney, told Orange County Superior Court Judge Patrick H. Donahue that he disagreed with his client's decision to take the plea deal on Wednesday. "My client has spent more than two years in custody for a crime I trust believe he didn't commit," Hill said, according to The Register.
According to the newspaper, court records show that Van Uden's mother had removed him as the executor of her trust, worth around $3 million, and placed his brother in the role instead. That brother told police that their mother had complained to him a week or two before her death that she was tired of Van Uden asking her for money.
But during a preliminary hearing last year, prosecutors conceded there was no DNA or fingerprints tying Van Uden to his mother's slaying. The murder weapon was also never found.
Hill alleged that investigators ignored other possible suspects, including contractors working at Marjorie Van Uden's home. According to a motion filed earlier this month, Hill said Newport Beach police failed to investigate clues that could have exonerated Van Uden and claimed officers had harassed his alibi witness, who was his girlfriend at the time of his mother's death, and her son for years, according to Fox11.
Hill said police failed to chase down a lead from a neighbor who said he suspected the killer may have been a roofing contractor, the station reported. He said Marjorie Van Uden's autopsy showed she may have been killed by a lathe or roofing hammer.
Newsweek has contacted the Orange County District Attorney's Office and the Newport Beach Police Department for comment.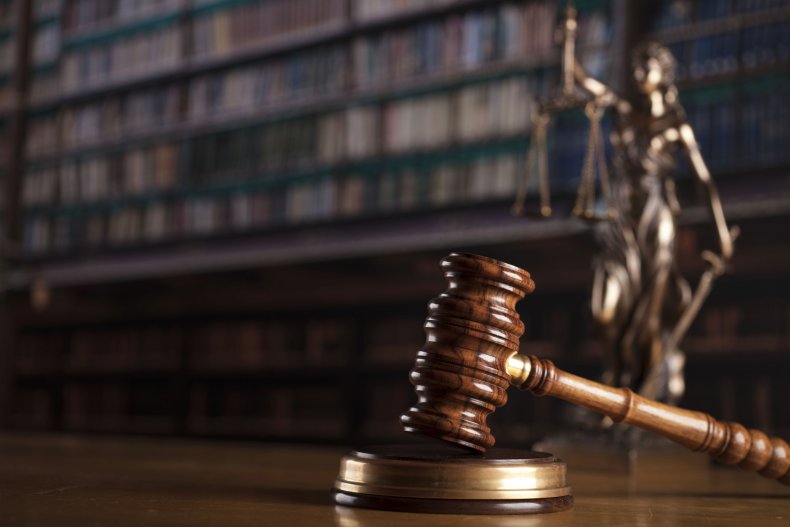 California Man Pleads Guilty to Beating His Mother to Death 25 Years Ago | U.S.