Man Apologizes For Cursing Neighbors Playing Latin Music on Fourth of July, Wishes They'd 'Assimilate More'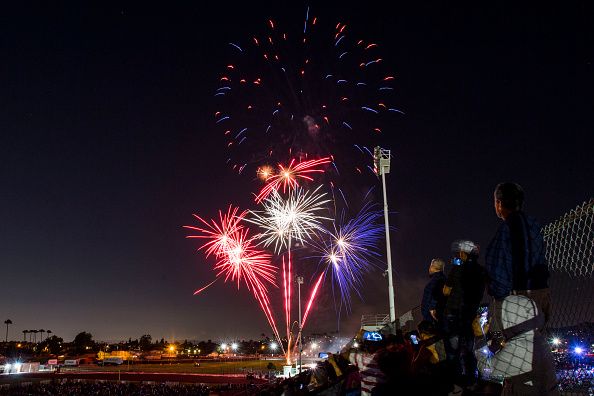 A California man is apologizing for yelling and cursing at his neighbors for playing Latin music on Independence Day, but also says he wish they would "assimilate more."
A video posted to social media on Wednesday shows Petaluma resident Larry Lappin shouting at his neighbors for playing Spanish-language music on the Fourth of July. While the video does not show the man's face at first, eventually Lappin can be seen wearing an American flag shirt and bandana while yelling at his neighbors in their own home.
In the video, Lappin accuses his neighbors of having extreme "disrespect" for "my f***ing country" and repeatedly says "you want to do that on the Fourth of July … throw it in my face?"
Ivette Celedon recorded Lappin and posted the video on Facebook after her neighbor aggressively approached her and her husband for playing music in their backyard while waiting for the town's firework display.
"So in a family backyard bbq we're not allowed to have Spanish music because it's disrespectful to the country????? Land of the free right? Celebrating independence!!! We are celebrating Independence Day just like everyone else! #neverhadaproblemuntil2018," Celedon wrote online along with the video.
After the recording went viral and garnered more than 300,000 views in just one day, Lappin expressed his regret for his actions to local California CBS News affiliate KPIX.
"I made a huge mistake," Lappin said. "I had been drinking too much and a little thing set me off and it really bugged me."
"Sometimes I wish they would assimilate more. I hear them playing [Spanish language] music in the backyard all the time and it doesn't bother me. Because of the day and what July 4th means to me, I felt disrespected," Lappin added.
Celedon also informed KPIX that she is a third generation American citizen of American descent and has relatives that have served in the military. Her husband is a second generation American citizen.
When Lappin was informed of their background, he told the news outlet that "those are things I didn't know about them and those are things that make what I did very bad." He also said that people who serve this country should be afforded the freedom to play whatever kind of music they like.
As of Saturday morning, the video had been viewed on Facebook more than 1 million times.