California Man Bit by Rattlesnake 5 Times, Rushed to Hospital for Antivenom
A California man was rushed to hospital and given numerous bottles of antivenom after he was bitten by a rattlesnake five times.
Frequent surfer Matt Gmyr had just emerged from the water at South Torrey Pines Beach in San Diego when he swung his feet on the ground and felt like someone had "dropped a knife" on his foot, 12 News reported.
After feeling the pain, Gmyr looked down and saw a rattlesnake "attached to [his] foot."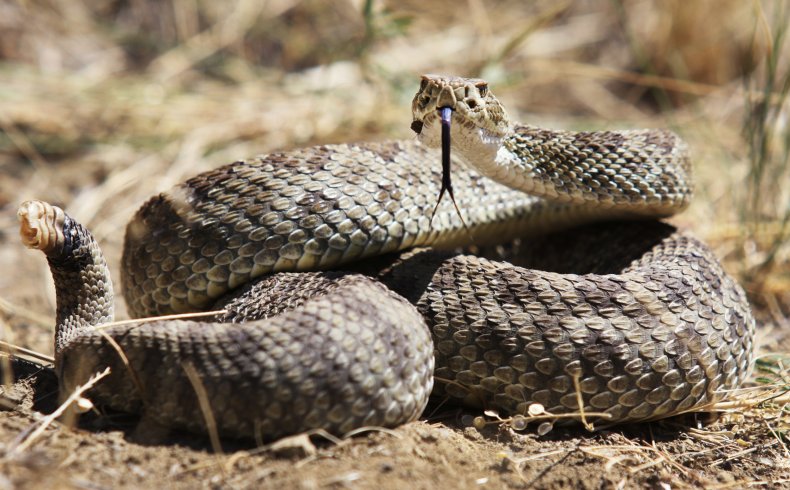 Rattlesnakes are venomous and bites can be dangerous if they go untreated. The bites are rarely fatal because of the wide distribution of antivenom in the state, however, the venom can cause other severe complications. The venom has the ability to cause tissue damage and in some cases, internal hemorrhaging.
The snakes are not usually aggressive but they will attack if they feel threatened. According to the U.S. Department of Agriculture, most bites occur when the snakes are handled or accidentally touched, as was the case with Gmyr.
The rattlesnake that bit Gmyr was around 1 and a half foot long, 12 News reported, and likely to be a recent hatchling.
Gmyr was immediately assisted by paramedics and lifeguards who stabilized him before rushing him to the hospital. By this time, he was already starting to feel the impacts of the venom in his body, 12 News reported.
"I was feeling the full body tingling, the lips, the face, the numbness, swelling, and it was crazy," Gmyr told the news outlet. "There's a point when I was calling out to God saying, 'Oh, I don't want to die like this. Is this going to be how it's going to end? After surfing and getting bitten by a rattlesnake?'"
Once he arrived at the hospital, staff found the five bite marks on his foot. Numerous bottles of antivenom were administered to him, 12 News reported.
He is still being treated with antibiotics, the news outlet reported, though hospital staff believe he could be released later this week.
The venomous snakes are common in the state and are found across all sorts of terrain, from the coast to the desert. The snake season in California usually begins in the second half of April and the beginning of May, as the weather warms up.
Snakes are more common in the warmer, summer months because they need warmth to keep their metabolism efficient in digesting food. However, there have been reports of rattlesnakes emerging even earlier than usual this year. This could be down to earlier summers in the state, due to the changing climate.