California Security Guard Charged With Impersonating Federal Agent for Years
A California security guard allegedly masqueraded as a federal law enforcement agent for years, using the false title to obtain guns and even discussing an investigation with a district attorney's office.
Donovan Pham Nguyen, 34, of Riverside, was arrested on Monday and charged with one count of false impersonation of a federal officer or employee, the U.S. Attorney's Office for the Central District of California said in a news release.
According to an affidavit filed with the complaint, Nguyen has spent years pretending to be a special agent with Homeland Security Investigations (HSI), the investigative division of U.S. Immigration and Customs Enforcement (ICE) under the Department of Homeland Security (DHS).
Nguyen allegedly introduced himself using that false title to agents with the U.S. Department of State's Diplomatic Security Service when they arrived at a retirement community in Orange County to execute a search warrant in May last year. At the time, Nguyen was employed with a private security company at the community.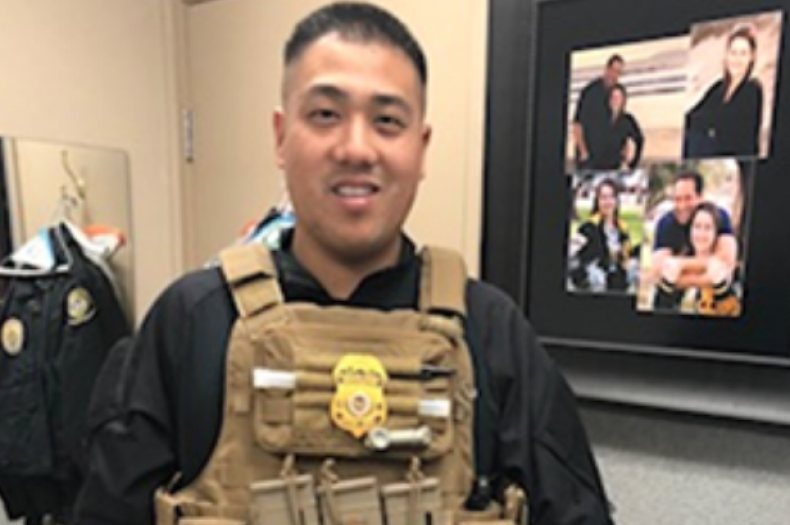 The community's security guards were not supposed to be armed, but Nguyen openly carried firearms and said it was due to his job as a federal agent, other employees told investigators, according to The Los Angeles Times.
Nguyen also allegedly used a false DHS identification to purchase firearms and used his purported duties as a special agent to excuse his frequent absences from work, the affidavit said.
Nguyen's coworkers at the private security company reported seeing an HSI bag, a DHS plaque and tactical gear, including a ballistic shield, inside his office.
They also reported that Nguyen's personal vehicle was fitted with red and blue lights as well as a siren. He also handed out HSI memorabilia, mugs and coins to people at the office, the affidavit said.
Law enforcement became aware of Nguyen's activities in June after being tipped off by investigators from the Riverside County district attorney's office, according to The Times.
That month, Nguyen had discussed a potential criminal investigation with employees at the district attorney's office, the affidavit states.
At a meeting, Nguyen allegedly impersonated an HSI employee and later informed the district attorney's office that HSI could not assist in the investigation.
Nguyen has never worked for HSI, but he did previous work as a privately contracted security guard at a DHS facility. According to the affidavit, he left that job in 2015 after an internal investigation was launched following allegations that he had printed fake HSI identification documents.
His LinkedIn profile lists his current employment as an agent with DHS and says he has been in the role since 2008. It also lists another current job as the director of security at a private security company in Riverside and indicates that he has held that job since 2013.
According to the affidavit, Nguyen also appeared in a YouTube video where he claimed to be a federal agent and discussed immigration policies.
David Prince, the special agent in charge of Homeland Security Investigations' Los Angeles office, told The Times that agents who spoke with Nguyen and his family on Monday learned he had tried to get a job with several federal agencies, but failed.
Nguyen had wanted "to do something that would perhaps make his family proud," Prince said.
If convicted, Nguyen would face a maximum sentence of three years in prison.