California Man Found Driving Around With Live Alligator in Car
A man was found driving around with a live alligator in his car in California on Tuesday.
Police found the animal on the floorboard of the car after they responded to reports of a person driving under the influence (DUI) near Anderson in northern California.
Images posted by Anderson Police Department to Facebook showed the animal on the floor of the car. Officers were also pictured holding the animal, which appeared to be a juvenile alligator, during the operation.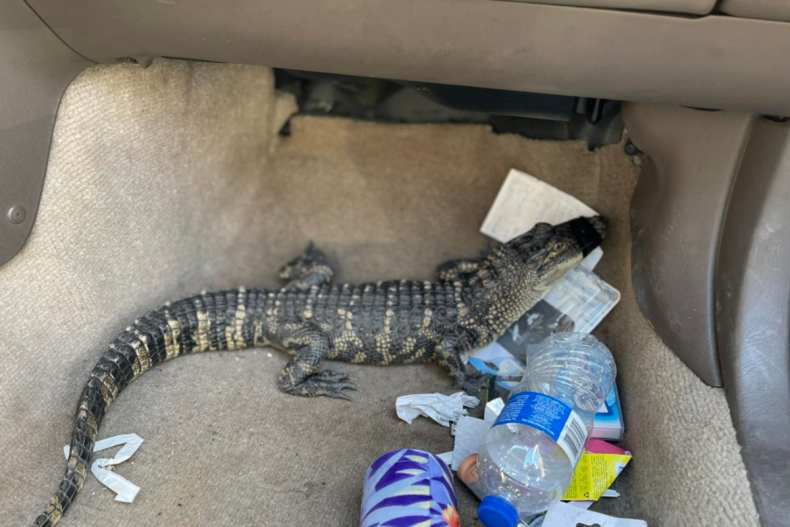 Tyler Watson, 29, was arrested at the scene for violating a probation order. As he was being taken into custody, he told police about the alligator.
"Officers looked into the vehicle and found there was in fact a live alligator," Anderson Police Department said in a Facebook post. "Animal Control Officers and a Game Warden from the California Department of Fish and Wildlife responded to the scene to assist and took possession of the alligator."
The import and sale of various exotic animals and their body parts including alligators was banned by a bill passed by the California legislature in 2019. However the inclusion of alligators in the law was postponed after concerns were raised by conservation groups, various Fish and Wildlife Departments and by medical experts who pointed to the use of alligator products in potentially life-saving medicines.
It is illegal to keep an alligator as a pet in California without a special permit.
American alligator numbers were drastically reduced by the 1950s following extensive hunting and trade of them during the 19th and early 20th centuries. However hunting alligators for commercial or recreational purposes was outlawed in 1962 and the American Alligator was listed under the Endangered Species Preservation Act of 1966.
There are an estimated five million alligators in the U.S. at present, found in the wild exclusively in the southeastern states like Florida, which is home to around 1.25 million alligators.
Watson, from Redding just north of Anderson, told police he had taken the animal from a friend who had been arrested. He said he had been caring for it for a week.
Watson taken into custody at the Shasta County Jail. He will now face additional charges for unlawful possession of an alligator, Anderson Police Department said.
The Fish and Wildlife Service (FWS) estimate that the illegal trade in wildlife is a multi-billion dollar industry. Trade in animals like alligators for their skin, which can be used to make leather, poses a threat to various species of crocodilians around the world.