Video Captures California Man Detailing Plans for ISIS-Supported Terror Attacks That Would 'Redefine Terror'
A California man, who pleaded guilty to providing support to a terrorist organization, was caught on camera discussing plans for attacks that would "redefine terror."
Amer Alhaggagi, 23, pleaded guilty to charges of attempting to provide material support to a designated foreign terrorist organization and identity theft in July. He admitted to creating Twitter, Facebook and Gmail accounts for people he believed were Islamic State of Iraq and Syria (ISIS) supporters and to communicating with two of the people that asked him to set up their accounts.
The FBI began investigating Alhaggagi in the summer of 2016 when agents flagged some of his conversations online, according to KTVU. An undercover investigation was launched and while having a conversation with an agent posing as a supporter he detailed some of his plans for the Bay Area of California that would "redefine terror."
"I want to make it to the point where every American here thinks twice or three times before he leaves his home," Alhaggagi said. "Like is it necessary for me to leave right now? That's how I want them to be."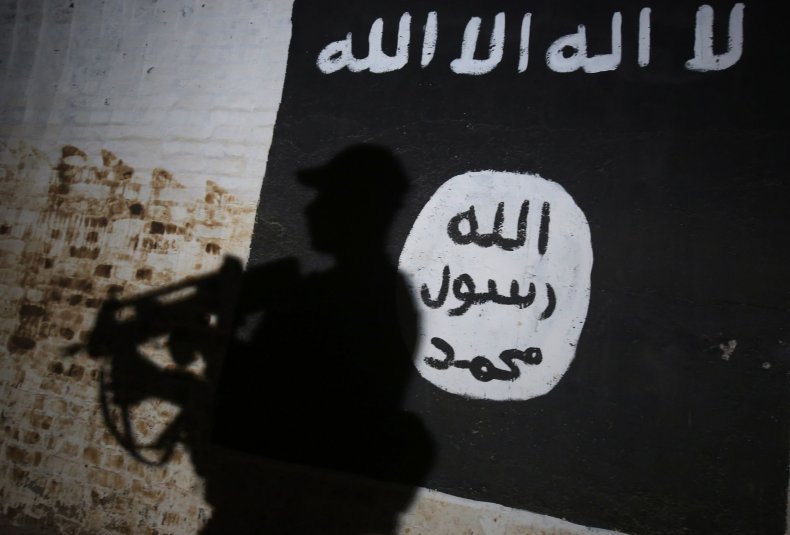 He allegedly told the agent he was supposed to receive instructions on how to create bombs and after sending photos of his target and a video of his oath of allegiance, his plans could be carried out. Among the areas he planned to target were dorms at the University of California Berkeley, where he could kill large numbers of young students. He also floated the idea of placing bombs in heavily trafficked areas throughout San Francisco.
"I'm gonna place a bomb in a gay club. I'm going to tear up the city. My aim is to get ten thousand people," Alhaggagi told the agent in a newly released video. "I'm hitting up China Town, downtowns, main streets, Mission Boulevard, every club and underground club in the city."
He added that he was "hyped up" about the idea and figured out that he wouldn't even have to be the person to plant the bomb. Instead, he could pay someone else to do it, so he allegedly thought he could easily get away from the scene.
"There are so many homeless people here that would do it for you, for like a dollar or something," Alhaggagi said in the video. "I could tell them to walk into the YMCA with a bag and they'll do it and we could detonate it from outside."
If he couldn't make a bomb on his own, Alhaggagi had a plan to obtain weapons elsewhere. He applied for a job with the Oakland Police Department, according to KTVU, where he planned to steal weapons from work.
Alhaggagi was arrested on November 29, 2016, and admitted to having a device that made counterfeit credit cards. He admitted to using a credit card with someone else's name to purchase more than $1,000 worth of clothes.
However, his family argued that he wasn't a terrorist, but is just a sarcastic, braggadocious young man.
"Amer did not commit or plan a violent act–he opened a small number of social media accounts for ISIS sympathizers," his family said in a statement to KPIX. "He knows now that this was wrong and is sorry to have caused so much trouble."
His family added that they fully support the 23-year-old and expressed their gratitude to the Oakland community that stood by him and the family as a whole.
Alhaggagi was born in the United States but the family moved back and forth from Yemen, where his mother is from, since he was about six years old, according to the San Francisco Chronicle. In a letter to Breyer asking for leniency, Alhaggagi's mother said she noticed a change in her son's demeanor when they moved out of the United States.
"Culturally in Yemen children grow up very fast and young males take on adult responsibilities from a very young age," she wrote. "I feel that the moment we arrived in Yemen and as he grew older, Amer was no longer the sweet young boy that came to me whenever something was bothering him."
She asked Judge Charles R. Breyer to allow him to have access to the support and care of his family and community, arguing that a lengthy prison sentence would lead to further isolation.
His attorney told KTVU that Alhaggagi engaged in foolish and outlandish behavior but wasn't a terrorist, radicalized or dangerous. He added that in the two years that he's spent in prison, he's grown up and is remorseful for his actions.
For the four charges, Alhaggagi was facing up to 47 years in prison, outlined by the Department of Justice as:
Attempting to provide material support to a terrorist organization: 20 years
Possession of device-making equipment: 15 years
Using an unauthorized access device: 10 years
Aggravated identity theft: 2 years
He was also facing an additional fine of $1,000,000. Sentencing was originally scheduled for Monday, but after hearing evidence, Breyer pushed the hearing to January 8. Prosecutors are asking the judge to sentence Alhaggagi to 33 years in prison.