California Man Reportedly Arrested Over Holocaust Denial Stunt at Auschwitz
Polish authorities have reportedly arrested a white supremacist in California following a Holocaust denial stunt at Auschwitz-Birkenau.
Holocaust denier Jon Minadeo II, of Petaluma, California, claimed to have been apprehended by Polish police for hate speech after he shared far-right propaganda at the gates of the former Nazi concentration camp.
More than 1.1 million people were killed at Auschwitz alone and it went on to become the largest of the extermination camps where the Nazis planned to murder Jews. More than 6 million Jews were murdered during the Holocaust.
Following the war, the site became a memorial and museum where visitors learn about the Holocaust.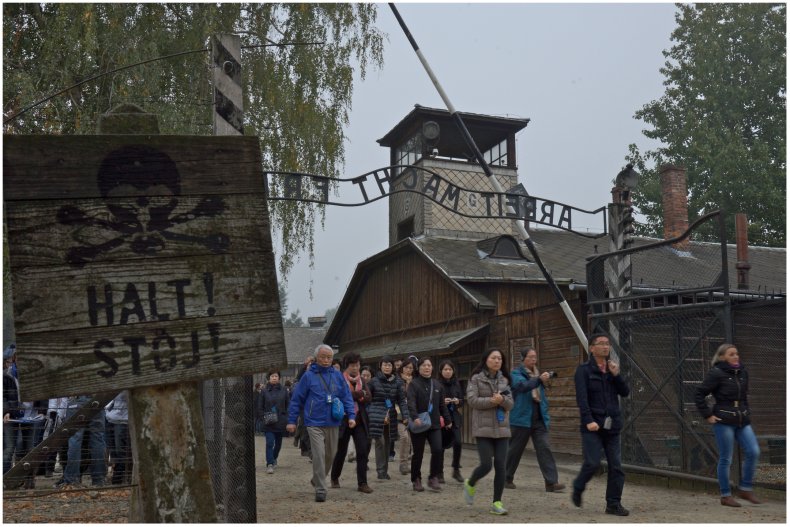 In a post shared on Gab, a platform popular with racists, Minadeo said: "Got handcuffed and arrested in Poland today for (((hate speech))) regarding Aushwitz (sic).
"Just got released tonight with a fine and my computer was temporarily confiscated. Life's good. You can't keep me down Jews."
The multiple parentheses, known as the "echo," are used by racists online to indicate to other racists that a person or a group is Jewish.
Under Article 13 of the Polish Constitution, "those whose programs or activities sanction racial or national hatred" shall be prohibited.
It also bans political parties and other groups that are based on totalitarian ideologies and names Nazism, fascism and communism as examples.
Minadeo leads the Goyim Defense League, a network of antisemitic provocateurs, which parodies the name of the Anti-Defamation League (ADL), an organization that combats antisemitism and wider racism.
He regularly shares antisemitic videos and comments across his social media channels, including a September 3 Telegram clip where he could be seen wearing chains with a Nazi swastika and a Totenkopf - a skull and bones symbol used by members of the SS, or Schutzstaffel, which was a paramilitary organization under Adolf Hitler and the Nazi Party in Germany.
According to the ADL, Minadeo's organization was responsible for at least 74 antisemitic propaganda incidents in 2021.
A spokesperson for the Auschwitz Museum told Newsweek: "The perpetrators illegally burst into the Memorial and escaped immediately after taking out the hidden messages and taking the pictures.
"This disgusting and primitive incident has been immediately reported to the authorities that began their investigation."
Newsweek has contacted Polish police officials for comment.
There have been numerous instances where Newsweek reported on American white supremacists who openly share their racist beliefs in Europe.
Last year, Robert Rundo, the founder of the California-based white supremacist Rise Above Movement, was being hunted by Bosnian police after he was expelled from neighboring Serbia.
RAM is a white supremacist group whose members believe the world has been corrupted by liberals, Muslims, Jews and non-white immigrants.
Rundo has forged alliances with far-right groups in Europe and has been shown to have attended fascist events in Budapest, Hungary.
His YouTube channel was removed following a report by Newsweek.