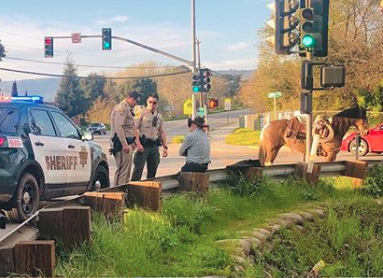 Police in California arrested a man for allegedly riding a horse on a highway while drunk Sunday, posting images of the bizarre "equine stop" on social media.
The man, who has not been identified, was arrested on California State Route 152 in southeastern Santa Cruz County. According to KTVU, the man was spotted by California Highway Patrol (CHP) riding near Watsonville.
The CHP shared images of the arrest on social media with their tongues firmly in cheek. "On Sunday, officer Pate responded to a suspected DUI rider on SR-152 at College Rd. Yes, we did say rider," the patrol's Santa Cruz branch posted on Instagram.
In one picture, the 49-year-old suspect can be seen in a stetson, sitting slumped on a traffic guard rail. As the man is questioned by two officers his tawny-colored horse—complete with lasso—sands off to the side.
In the post, the highway patrol warned it is illegal to drive a variety of vehicles while under the influence of alcohol, including horses. "Remember it is illegal to not only drive a vehicle under the influence, but also a bicycle, motorized scooter, hoverboard, and a horse," the CHP wrote in an Instagram post.
In this instance, the suspect was arrested on suspicion of public intoxication following a Driving Under the Influence (DUI) evaluation. The responding officer did not arrest the man for a DUI offense, though this charge could be brought following a full investigation.
Nicholas Lucchesi, a spokesman for the Santa Cruz County District Attorney's Office, said to the best of his knowledge the county had never charged someone with a horse-riding under the influence.
The horse, named Soraya, was eventually taken home by a member of the family. The rider was taken to a sobering center in downtown Santa Cruz.
The Sunday arrest may be the first time Santa Cruz law enforcement has found cause to stop a horse rider but it is certainly not the first time in California. In February last year, according to CBS Los Angeles, authorities arrested 29-year-old Luis Perez of Placentia for a DUI in Long Beach California. The CHP said the man had a blood-alcohol level of more than double the legal limit when he was stopped on the 91 Freeway.