California Man Saves Home From LNU Lightning Complex Wildfire With Nail and a 30-Pack of Bud Light
A California man was able to protect his home from a wildfire raging in Vacaville with help from a nail and a 30-pack of Bud Light, according to city newspaper The Reporter.
The man, whom the paper identified as Chad Little, helped his family prepare to evacuate as the LNU Lightning Complex Fire sped toward their home last week. When it came time to leave, Little, who told the paper he lost a previous family home five years ago, chose to stay and battle the blaze himself.
Little said he felt confident in his firefighting efforts until the water in his area shut off, according to The Reporter. After that, he had to rely on a 30-pack of Bud Light—his largest source of liquid at that moment—and a nail he found in his workshop, where he said he works as a steamfitter and welder for a local plumbers and pipefitters union.
"When I first grabbed the cans of beer and ran down there, I was shaking them up and opening them up, but it was just dispersing too quick," Little told the paper. "When I saw that nail, I would just puncture a hole and shake as I was going, and I could aim it and concentrate on the bad parts."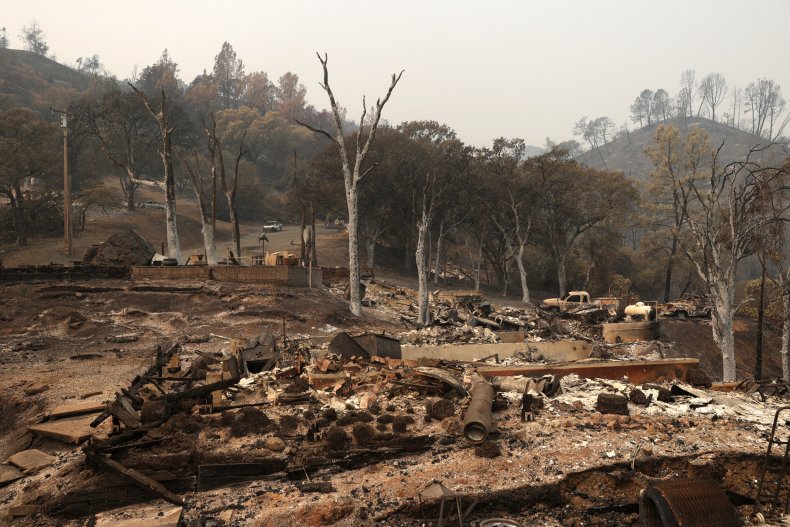 Little told the paper he was able to hold the flames off until a fire truck arrived to help. His family's home is still standing but its carport was lost in the fire, according to the paper.
The LNU Lightning Complex Fire started in the Bay Area on August 17 and had burned more than 352,000 acres by Tuesday morning, making it the second-largest wildfire in California history, according to the California Department of Forestry and Fire Protection (Cal Fire).
Five civilians died and four others were injured in connection with the blaze, and more than 1,180 structures were either damaged or destroyed in the fire by Tuesday morning, according to a Cal Fire incident report.
Cal Fire said Monday that more than 14,000 firefighters were actively battling more than 24 serious fires raging throughout the state. California Governor Gavin Newsom declared a statewide emergency a day after the LNU Lightning Complex Fire began and received a presidential Major Disaster Declaration from the White House a few days later.
The state's wildfire season, which typically begins in the summer months and picks up during the fall, has been getting longer in recent years, according to Cal Fire. During a Monday news conference, Newsom said this year's wildfire season is already much worse than that in 2019, with more than 600 wildfires igniting in the past 10 days alone. Newsom said earlier this summer that he planned to hire more than 800 additional firefighters through October to help the state through the peak of this year's wildfire season.
Newsweek reached out to Cal Fire for comment but did not receive a response in time for publication.