California Marks 5th Consecutive Day With Over 4,000 New Coronavirus Cases
California's coronavirus surge continued Friday as Governor Gavin Newsom announced 4,890 new positive cases of the virus. That number marks the fifth day in a row that California has seen over 4,000 new positive cases.
Although Friday's positive case count represented a decrease in the daily trend, Newsom said hospitalizations in connection with coronavirus infections were up by 3.3 percent while the number of coronavirus patients sent to intensive care units rose by 4.4 percent. In total, California has reported 201,054 positive cases with 5,810 fatalities attributed to the virus.
Newsom said Friday that the numbers were an aggregate of reporting from the entire state, but that some areas were harder hit. "There are parts of this state that very different and unique from other parts of this state," Newsom said, naming Imperial County as an area of concern.
Imperial County has reported a total of 5,744 positive cases, which has placed a strain on the county's hospital system. "We have now had over 500 individuals transferred out of the hospital system in Imperial County just over the last five weeks," Newsom said.
"We are working with county officials and advising them to pull back and once again reinstitute their stay-at-home orders," Newsom continued. Governor Newsom's call for county residents to stay at home was not a mandate. However, Newsom said that he would "intervene" if county officials could not come to a consensus on the best way to move forward.
Imperial County Chairman of the Board and District 2 Supervisor, Luis A. Plancarte stated in a Friday press release obtained by Newsweek, "We received verbal notification minutes prior to Governor Newsom's public announcement. It is necessary that the entire board, in consultation with the Public Health Officer, discuss how we move forward to protect the health and safety of our community."
At a Friday meeting, the Board of Supervisors made no final decision concerning Governor Newsom's recommendation.
In a statement sent to Newsweek Saturday, Plancarte said, "We are greatly appreciative of the tools and resources the state and federal agencies have provided for our community; but we need more. We all want what is best for our community; to minimize the number of people getting sick, to rebuild our economy, to get our kids back to school and to get our loved ones back to work."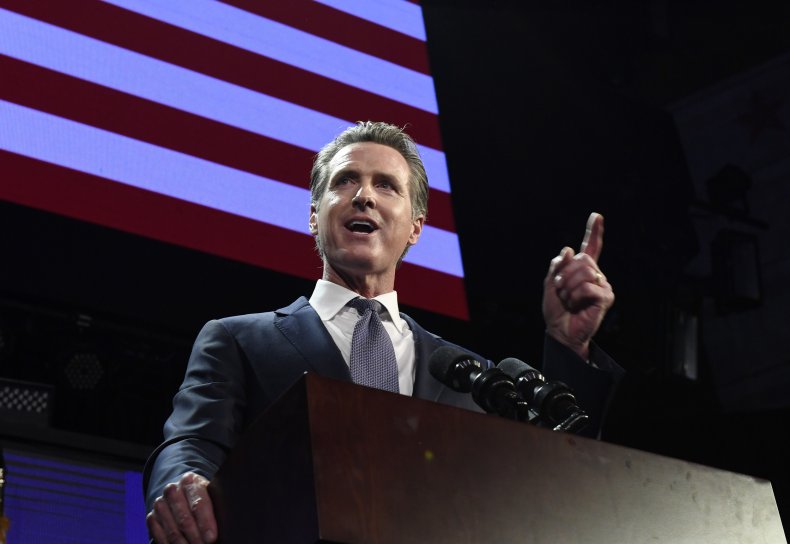 Imperial County, which is on California's border with Mexico, has been the slowest county within the state to reopen. According to the county's website, Imperial County provides "half of our nation's winter vegetables." The county is aso the site of the Imperial Sand Dunes Recreation Area.
Newsom blamed the statewide increase of positive cases on social interaction, saying Wednesday that some people "have just frankly taken down their guard."
In June, Newsom issued a mandate for all Californians to wear face masks in public places where social distancing was difficult to maintain. "Simply put," Newson said, "we are seeing too many people with faces uncovered, putting at risk the real progress we have made in fighting the disease."
California's rise in coronavirus cases has caused concern around the state. On Friday, San Francisco Mayor London Breed announced the postponement of reopening businesses that were expected to open their doors on Monday.
"Our reopening process is guided by data and science," Breed tweeted Friday. "COVID-19 cases are rising throughout CA. We're now seeing a rise in cases in SF too. Our numbers are still low but rising rapidly. As a result, we're temporarily delaying the re-openings that were scheduled for Monday."
San Francisco businesses affected by Breed's decision include personal service establishments, museums, zoos and outdoor bars.
Updated 11:29 p.m. EST 06/26/2020: This story has been updated to include a statement from the Imperial County Chairman of the Board of Supervisors, Luis A. Plancarte.