California Mask Mandate Ends As COVID Restrictions Eased on June 15 Reopening
Amid the ongoing COVID-19 pandemic, California is "fully reopening" on Tuesday. From June 15, COVID-19 restrictions, such as capacity limits and social distancing requirements, will be lifted for most businesses and activities.
Fully vaccinated people will no longer be required to wear masks in most settings, apart from a few exceptions.
People who have not been vaccinated will still be required to wear a face covering indoors or when attending large outdoor events such as concerts or sports games.
Unvaccinated individuals will be required to wear masks in indoor public settings and businesses.
Businesses may also choose to require vaccinated individuals to wear masks at their facilities.
At least through October 1, those attending large-scale indoor events will be required to test negative for COVID-19 or be vaccinated, the California state government advises.
Where restrictions are eased from June 15
From June 15, the restrictions outlined under the state's county tier system will no longer be in place. All sectors (with the exception of certain large events) listed in the tier system may resume "usual operations," the California Department of Public Health (CDPH) says.
Below are some of the sectors where capacity and social distancing restrictions will no longer apply from June 15, as outlined by the CDPH:
Restaurants and bars
Hotels and lodging
Gyms and fitness centers
Barbershops and hair salons
Personal care services
Shopping centers and movie theaters
Museums, zoos and aquariums
Outdoor playgrounds and recreational facilities
Places of worship
Where mask rules still apply after June 15
Below are the exceptional settings where masks will remain required for everyone (regardless of their vaccination status) after June 15, as outlined by the CDPH:
Public transit (including airplanes, ships, ferries, trains, subways, buses, taxis, and ride-shares)
Transportation hubs (including airport, bus terminal, marina, train station, seaport or other port, subway station, or any other area that provides transportation)
Indoors in K-12 schools, childcare and other youth settings.
Healthcare settings (including long-term care facilities)
State and local correctional facilities and detention centers
Homeless shelters, emergency shelters and cooling centers
Restrictions for large-scale events
The CDPH advises some public health measures will remain for "mega events" hosting 5,000 or more people indoors or 10,000 or more guests outdoors. These events include concerts, sporting events, festivals and conventions.
The CDPH says: "Indoor mega event attendees will be required to confirm proof of vaccination or negative COVID-19 status to attend. Outdoor mega event attendees will be strongly encouraged to do so.
"Mega events are high risk for spreading COVID-19 because they attract people from around the world, and people gather in crowds," it notes.
These rules will remain in place at least through October 1.
Workplace restrictions remain to be confirmed
It's unknown whether the current mask rules approved for indoor workplaces, which allow employees to forgo wearing masks if every worker in the room has been fully vaccinated, will be updated after June 15.
New revisions "that incorporate the latest public health guidance," were proposed by the California's Occupational Safety & Health Standards Board on June 11, the California Department of Industrial Relations said.
"The revisions will be considered at the board's regular meeting on June 17. In the meantime, the protections adopted in November of 2020 will remain in effect," the department noted.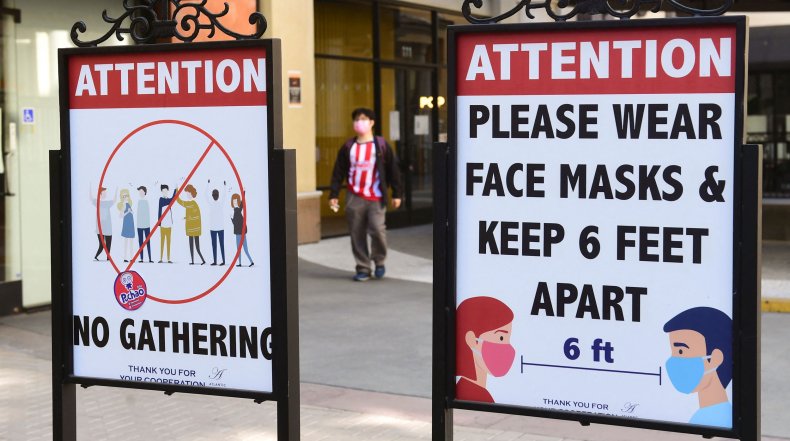 Newsweek, in partnership with NewsGuard, is dedicated to providing accurate and verifiable vaccine and health information. With NewsGuard's HealthGuard browser extension, users can verify if a website is a trustworthy source of health information. Visit the Newsweek VaxFacts website to learn more and to download the HealthGuard browser extension.