This year's Memorial Day comes amid the ongoing novel coronavirus outbreak, which has seen the closure of many venues in California following the stay-at-home order issued on March 19.
California is currently in the second stage of its reopening plan "where retail (curbside and delivery only), related logistics and manufacturing, office workplaces, limited personal services, outdoor museums, child care, and essential businesses can open with modifications," the state government notes on its website.
"Limit time outside the home and travel only for permissible activities, such as healthcare, food, outdoor exercise and recreation (individuals and households only)" the state government advises.
Here we look at the different venues open in California on Memorial Day.
Stores
Retailers have reopened for delivery or curbside pickup only. The interior shops within shopping malls are offering curbside pickup with modifications. Some of the shops that have reopened include stores selling books, jewelry, toys, clothing, shoes, home furnishings and sporting goods as well as florists.
Memorial Day opening hours may vary depending on the store. Check your local venue for exact timings.
Most retailers have precautionary measures in place. Walmart offers a curbside pickup or delivery service where "an associate will load your groceries directly into your car—no need to sign for the order. Delivery orders will be left on your doorstep, no contact required.
"If your pharmacy has drive-thru service, please use that option. If not, we can bring your prescription to your car for curbside pickup & the associate can sign on your behalf. For at-risk customers, we also have an option to mail your medication to your home," the company website says.
Best Buy also reopened a selection of its shops and is offering scheduled in-store consultations where you can be paired with a Best Buy worker to receive advice on any products.
"Please wear a face mask or covering before entering. We'll ask you how you feel, and if you have concerns, we'll encourage you to reschedule. All our employees are following multiple safety guidelines, including wellness checks, personal protective equipment, and social distancing," the company said.
Target also introduced safety measures including social distancing, plexiglass shields at checkout lanes, limits on the number of guests allowed in the store, quantity limits on certain high-demand items and dedicated shopping hours for vulnerable members of the community. All shops are closed at 9 p.m. local time but check with your local venue for Memorial Day hours, which may vary.
Restaurants
Most restaurants are open only for drive-thru or other pick-up and delivery options. Most venues are open on Memorial Day but the hours may differ according to the location. Check your local branch of the restaurant chain to confirm exact hours.
Some restaurant chains have begun reopening their doors for take-out services, such as at Chick-Fil-A.
"Although we are not opening dining room seating or playgrounds just yet, Guests may notice changes inside our restaurants, including plexiglass partitions and hand sanitizer stations available for their use," the company said on its website.
"Restaurants will provide contactless ordering and ask guests to practice social distancing as they wait in line. Look for signage to help you navigate any operational changes within our restaurants," it said.
A small selection of five California Pizza Kitchen (CPK) restaurants have begun reopening their dining rooms. Three branches in California are offering dine-in services, including in Huntington Beach, Riverside Plaza and Chino Hills Town Center.
The company has "taken aggressive steps" to ensure a safe environment. Some of the precautionary measures include performing daily wellness and temperature checks on all CPK team members, six feet social distancing among staff and guests, requiring all staff members to wash their hands and change their plastic gloves every 15 minutes or less, according to the company.
The In-N-Out Burger chain is open for regular business hours, offering only drive-thru and take-out services, while the chain's Las Vegas branch at the Linq Promenade remains closed until further notice. Indoor dining is not available but patio seating is open at all locations in Nevada, Arizona, Utah, and Texas, and in certain counties in California and Oregon, according to the company.
Safety measures in place include daily symptom and temperature checks for every employee before work, requiring the use of cloth face covers and gloves for all workers and temporarily closing self-service drink stations, among other protocols.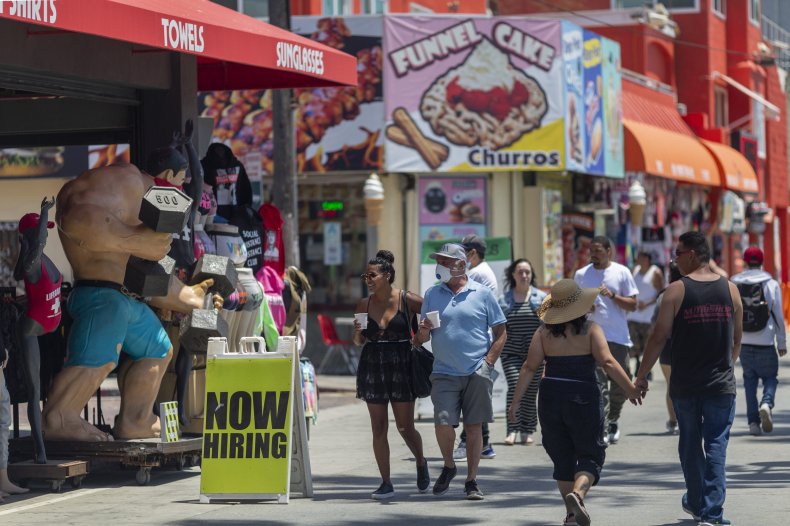 Banks
Banks have remained open during the pandemic but they will be closed on Memorial Day, since May 25 is a federal holiday. All banks are closed on federal holidays. Customers can still access mobile and online banking services as well as ATMs.
However, any services that normally require at least one business day to process, such as depositing money into your account, will resume the following day, Tuesday May 26.
Gyms
Gyms in California are classified among the higher-risk places and therefore are not scheduled to reopen until the third stage of the state's reopening plan. Major fitness chains, including LA Fitness, Crunch, Equinox and Gold's Gym, have remained closed in California.
But earlier this month, a few private fitness facilities have reopened going against the state's stay-at-home order.
On May 4, the Self Made Training Facility in the city of Corona in Riverside County reopened its doors. The opening was claimed to be in line with regulations since it is a private appointment-only training facility rather than a gym and doesn't offer general membership, owner Kelly Michelsen told The Los Angeles Times.
Several safety measures have also been introduced at the facility since reopening, including temperature checks at the door and limiting capacity to eight trainers and eight clients per hour, Michelsen said.
At least two other private gyms in San Diego County have defied state orders and reopened their doors earlier this month. The owner of Metroflex Gym, Lou Uridel, was arrested following its reopening but was reported to have been released and reopened the gym on the same day.
Uridel was warned he would be cited again if he remained open but no further action has been taken by the police since his release,according to The Times.
Gym Vista in San Diego County was also reopened and saw a crowd of customers with no one wearing a face mask and with few maintaining a six-foot distance.
"The owner was warned and given copies of the state and county public health order," said San Diego County sheriff's Lt. Ricardo Lopez confirmed earlier this month. "Since he chose to remain open, a case for violating [the order] was submitted to the district attorney's office," he said.
Other Places
Various outdoor recreational facilities in California have reopened with restrictions including parks, beaches, trails, forests and other nature areas.
"Many of the State of California's publicly-accessible outdoor spaces are open for local use under modified access during the COVID-19 pandemic. The State's stay home order directs Californians to remain in their own communities for purposes of recreation, and to participate in recreation activities only with members of your own household," according to the state government website.
The California Department of Parks and Recreation advised: "The reopening of these public outdoor spaces will be made with little advance notice and visitors should expect a different state park experience than they are used to."
With 280 state parks and beaches available across the state visitors are advised to check the website of their local park or beach before leaving home to find out if it is open.
Some of the restrictions in place include a ban on the use of coolers, umbrellas, shade tents, BBQs and chairs in many park units. Passive recreation (lounging, picnics, sunbathing) is restricted in areas where physical distancing is a challenge. In such areas, only active recreation (including walking, running, biking, boating, kayaking and off-highway riding) are allowed, the department notes.
"Just because the stay-at-home order may be modified, it does not mean things are going back to normal. It is critical that Californians continue to stay close to home, practice physical distancing, avoid congregating with others outside their immediate household and abide to new visitor guidelines State Parks has implemented across the state park system to mitigate the spread of the COVID-19 pandemic," the department warned.
The graphic below, provided by Statista, illustrates the U.S. states with the most confirmed COVID-19 cases.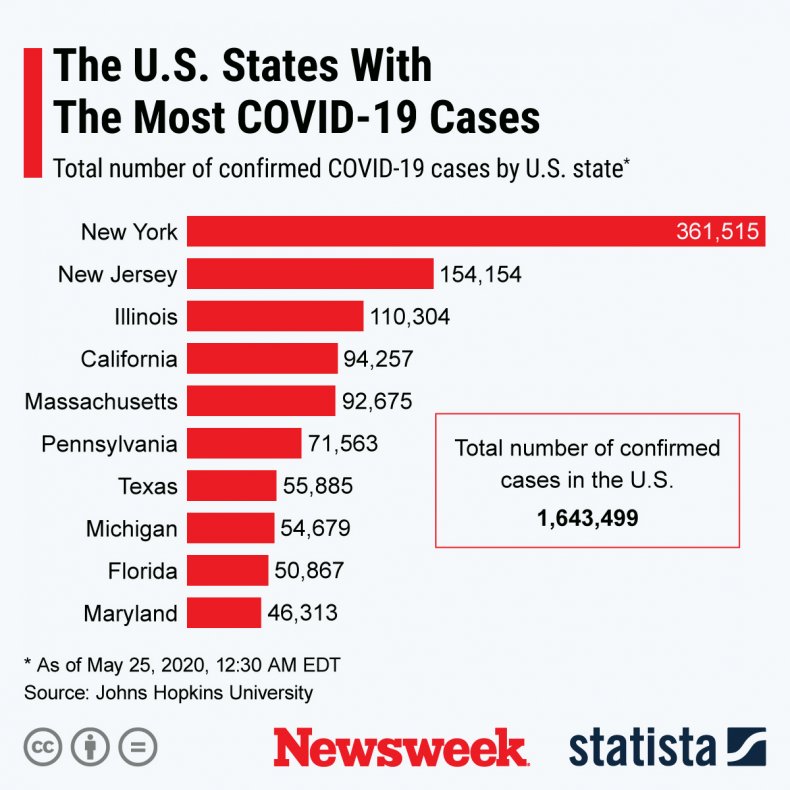 The graphic below, provided by Statista, illustrates the spread of the COVID-19 virus across the U.S.