California Mojave Desert Town of 1,700 People Could Be Left Dry in Water War
Trona, a town in California's Mojave Desert, is at risk of being left dry amid an ongoing water war that erupted after legislation was passed in 2016 to sustain groundwater sources.
The town, which lacks its own clean source of water, has been getting its water from wells located 30 miles away in the Indian Wells Valley for decades, The Los Angeles Times reported.
The water is delivered through two pipelines to Searles Valley Minerals, a mining company that uses the water to produce soda ash, boron, and salt. The remainder of the water is then treated and pumped to residents.
However, Searles Valley Minerals and Mojave Pistachios, a company on the west side of the valley, are using a large amount of groundwater, according to Keith Lemieux, an attorney representing the Indian Wells Valley Groundwater Authority. Lemieux argued that overuse of water for non-residential purposes would affect the water supply going to 1,700 people in Searles Valley, including the town of Trona. Groundwater makes up 60 percent of California's supply during a drought, according to the Times.
According to The Los Angeles Times, the water coming into the Indian Wells Valley basin amounts to 7,650 acre-feet per year, but the annual water usage is 28,000 acre-feet which puts the valley in debt while people's water supply could dry up if not sustained.
In 2016, legislation called Sustainable Groundwater Management Act (SGMA) was passed in Sacramento to protect aquifers and preserve groundwater in California.
The Department of Water Resources, which oversees the new law, found that of the state's 515 groundwater basins, 21 were "critically overdrafted," including the Indian Wells Valley which Trona relies on for groundwater, according to the Times.
The law required basins, including the Indian Wells Valley, to establish local authorities that would set plans to preserve groundwater supplies by 2040. As a result, the Indian Wells Valley Groundwater Authority was established to carry out this mission.
In an effort to help with sustaining groundwater, the Indian Wells Valley Groundwater Authority ordered Mojave Pistachios and Searles Valley Minerals to pay a replenishment fee, which is a charge set for those who use the most groundwater. The Indian Wells Valley water district is also being ordered to pay a fee.
The water allocation will cost around $50 million and the Indian Wells Valley Groundwater Authority ordered Searles Valley Minerals and Mojave Pistachios to pay around $25 million worth of water costs to protect the water in the desert, Lemieux, told Newsweek.
However Mojave Pistachios' attorney Scott Slater argued that SGMA "does not require or even encourage the actions taken by the Groundwater Authority in the Indian Wells Valley" but instead requires sustainability.
"It [The Groundwater Authority] took an unreasonably narrow view of the available groundwater resource over a 500 square mile area and considered only a small subarea in making its calculation," Slater told Newsweek. "It decided that agriculture should get no right to native supply without due process and imposed the highest charge on groundwater pumping in United States history to fund a future water supply that cannot be delivered if ever for 20 years."
Lemieux said that the authority is trying to sustain the groundwater by ordering these charges and a water conveyance system into the valley, which is essentially a pipeline from another location that will pump water in.
"The groundwater authority is charged with one mission, and that is making sure the basin is sustainable, that the same amount of water coming out of the basin is equal to water going into it," he said.
He said that the groundwater coming in and out has to be balanced somehow and "if pumping can not be replaced with imported water then that pumping will need to be reduced."
Searles Valley Minerals and Mojave Pistachios are resisting the order to pay the fee, arguing that the authority's order to pay the fee will cease the pumping of water to residents of Trona, but Lemieux said that this notion is "incorrect".
He explained that any additional use for purposes other than domestic water services will incur a replenishment fee which will be targeted to import water from the outside into the basin. This means that the companies who are using water for mining and farming and similar non-domestic purposes have to pay the additional fees.
"The water going to the people of Trona is not subject to the assessment, and there's no effort to cut it off with anything. They [the authority] are trying to make sure that it continues," Lemieux said.
The cases between the authority and Searles Valley Minerals, Mojave Pistachios and others, are currently being heard in a California court.
In June, the Indian Wells Valley Groundwater Authority ordered Mojave Pistachios to either pay the replenishment fee of $2,130 per acre-foot or stop pumping, according to the Daily Independent.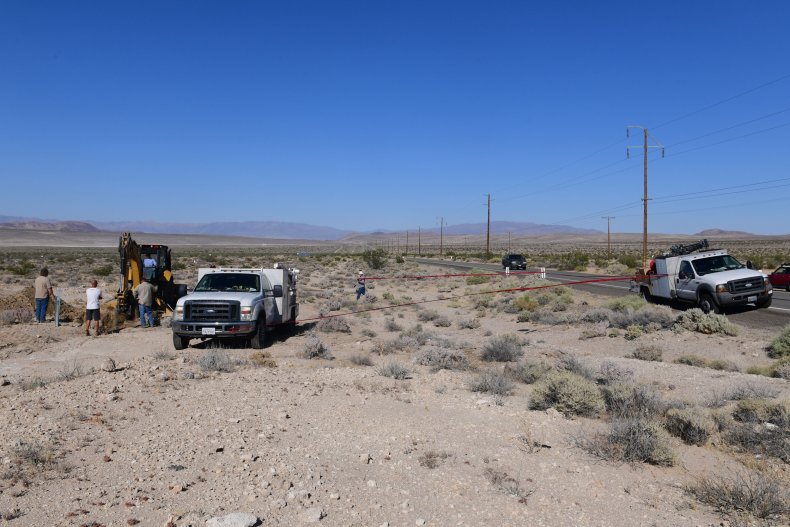 Newsweek contacted Searles Valley Minerals for comments but didn't hear back before publication time.
Updated 09/28/2021, 5:11 p.m. ET: This story has been updated with comments from Wells Valley Groundwater Authority Keith Lemieux and Mojave Pistachios attorney Scott Slater.