California Mother Shot Dead by Ex in Front of 3-Year-Old Daughter in Surveillance Video
A 35-year-old mother has been shot and killed a short distance from her toddler in the Pacoima neighborhood of Los Angeles.
Officers from the Los Angeles Police Department responded to a callout on Thursday and found Karen Ruiz suffering from multiple gunshot wounds, with her three-year-old daughter sat in a nearby car.
She was pronounced dead shortly afterward. The shooter has been identified as 43-year-old Herbert Nixon Flores, the woman's ex-boyfriend and father of their child.
The Los Angeles Police Department said in a statement: "On January 6, 2021 at 9:35 a.m., officers from the Los Angeles Police Department's Mission Division responded to the 9000 block of Bartee Avenue for a call for service of a shooting that had occurred.
"Once at the location, the officers located a 35-year-old Hispanic woman that had sustained multiple gunshot wounds. Paramedics from the Los Angeles Fire Department also responded to the scene and pronounced the victim deceased.
"Valley Bureau Homicide Detectives assumed investigative responsibility and their preliminary investigation revealed the victim's former boyfriend had fired multiple shots at the victim with a semi-automatic handgun resulting in her death."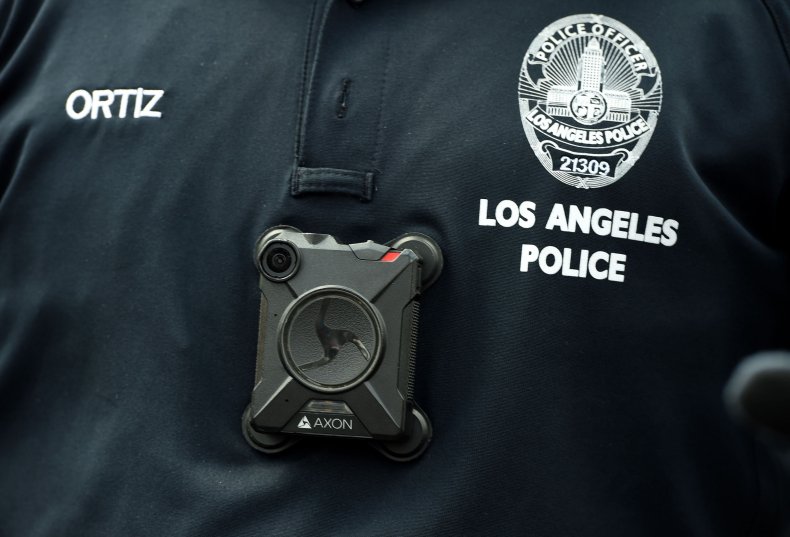 The LAPD described Flores as a 46-year-old Hispanic male with black hair and brown eyes, standing at 6 feet 1 inches tall and weighing around 220 pounds.
"Herbert Nixon Flores is considered armed and dangerous and, if seen, the public is urged to not confront or attempt to apprehend him but to contact law enforcement immediately," they added.
The police department also released graphic surveillance footage of the shooting on YouTube, in which Ruiz is seen running from a car in a driveway away from Flores. He then pursues Ruiz with a gun before firing multiple rounds, before screaming is heard. A child is heard crying and the man in the video then runs away and escapes in a sedan.
An LAPD detective told NBC the couple had recently separated and there was a history of domestic violence. The victim is reported to have had a restraining order against Flores.
NBC the victim's daughter was in a nearby car during the shooting because she was being dropped off at a babysitter.
Anyone with further information regarding this matter may contact Valley Bureau Homicide Detectives, Detective Sharon Kim at 818-374-9550. Anyone wishing to remain anonymous should call the L.A. Regional Crime Stoppers at 1-800-222-TIPS (800-222-8477) or go directly to www.lacrimestoppers.org.
Tipsters may also visit www.lapdonline.org, and click on "Anonymous Web Tips" under the "Get Involved-Crime Stoppers" menu to submit an online tip.