California Mountain Lion Attacks 7-Year-Old, Bites Buttocks
A 7-year-old child has been attacked by an aggressive mountain lion in California that leaped from the bushes and bit his buttocks.
The boy and his father had been walking up stairs in Pico Canyon Park in Stevenson Ranch at around 7 p.m on Monday when the mountain lion attacked, Captain Patrick Foy of the California Department of Fish and Wildlife told the Los Angeles Times.
As the lion bit the child, he screamed out in pain.
The boy's father scared off the predator by running towards it until it retreated back into the brush. The 7-year-old was rushed to hospital where he was treated for non life threatening injuries.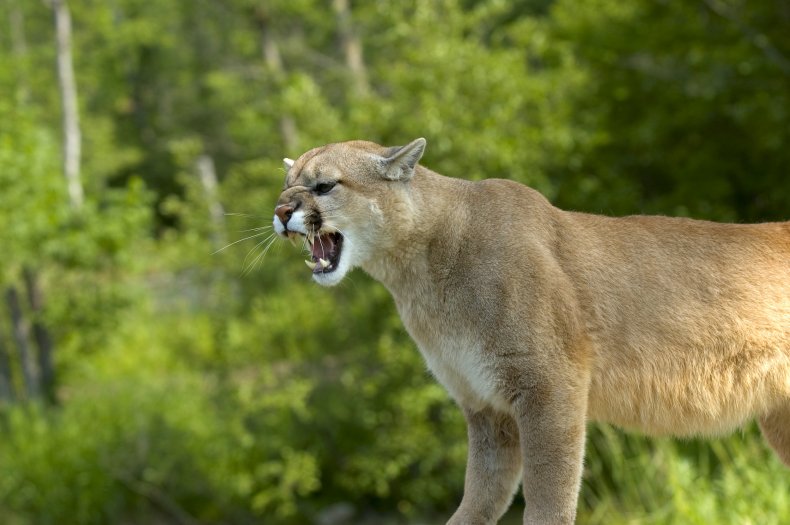 There are an estimated 4,000 to 6,000 mountain lions, also known as cougars or pumas, roaming California. They live in deserts, forests and in the mountains. Their typical prey is deer that also wander these habitats.
Attacks by the animals are incredibly rare, but they can happen. Mountain lions do not seek out humans as prey. Lions that attack humans are often emaciated and in poor condition, suggesting they have struggled to find food sources in their natural habitat.
The County of Los Angeles Department of Parks & Recreation said in a statement that the park is closed until further notice after an "aggressive Mountain Lion has been sighted in the area."
The California Department of Fish and Wildlife has opened an investigation into the incident.
Authorities took a sample from the boy's bite wound to determine which animal carried out the attack.
Mountain lions roaming southern California are often fitted with GPS collars, so that the National Park Service may monitor the population.
The father told the Los Angeles Times that this mountain lion did not appear to be wearing one. A box trap has been set in the area in an attempt to catch the lion.
It is illegal to hunt mountain lions in California, but officials may catch animals that are a particular threat to humans.
Hundreds of mountain lion sightings are reported to the department every year. Very few result in them being deemed a threat to people.
Those considered an immediate threat to people are euthanized.
Conflicts between humans and mountain lions have increased in recent years. According to the California Department of Fish and Wildlife this is down to communities spreading into rural areas.
Mountain lions occasionally wander into populated, suburban areas, where conflicts can happen. Often they may be attracted by livestock or pets found in these areas.
The California Department of Fish and Wildlife responds immediately to conflicts between humans and mountain lions.
Newsweek has contacted the department for comment.