Hunt For Survivors In California After Mudslides Kill 13 In County Still Reeling From Thomas Fire
At least 13 people have died in deadly mudslides in California after torrential rain sent boulders and mud coursing down the slopes above a residential community in Santa Barbara.
The huge rocks and tonnes of fallen mud fell on roads and tore down trees in California's wealthy Montecito neighborhoods, the Los Angeles Times reported. The Santa Barbara Fire Department was scrambling in the debris and mudflows to recover survivors of the disaster throughout the day.
Related: California wildfires: what happens when Trump's EPA ignores climate change science?
Fire Department spokesman Mike Eliason said the rainstorm wreaked havoc on the south facing slopes above Montecito in just a few minutes. The heavy rain flooded one creek which opens into the ocean. The excess water dislodged massive boulders that smashed onto the communities below.
The first victims of the disaster were killed after the downpour struck at 2:30 a.m. local time (5:30 EST) resulting in waist-high mudflows.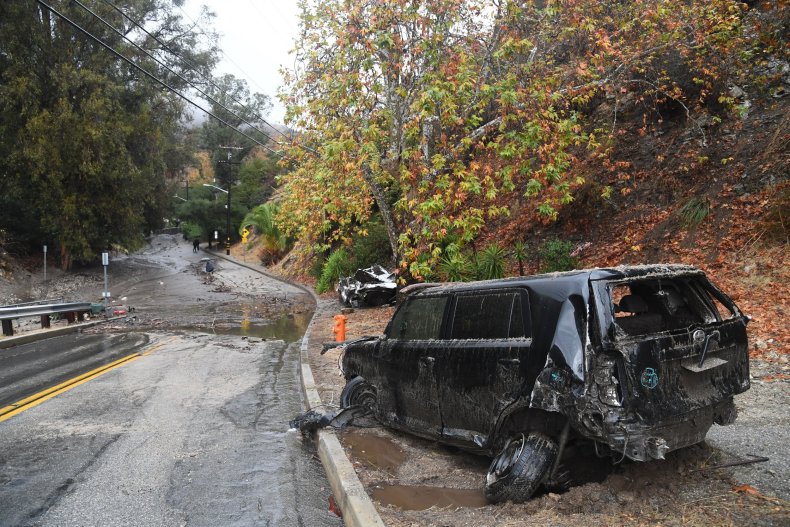 The scenes of chaos, which began early Tuesday, were particularly disheartening for the county which only a few weeks earlier had been battling the Thomas fire, the largest wildfire in California in modern history.
According to authorities at least 25 have been injured by the mudslides. Rescue crews were able to save 50 people by air evacuation and dozens more from the ground.
Rescue workers believe they have only just started to uncover the scale of the destruction. "It's going to be worse than anyone imagined for our area," Stanta Barbara County Fire Department spokesman Mike Eliason told the L.A. Times. "Following our fire, this is the worst-case scenario," he added.
As Tuesday wore on some 300 individuals remained stuck in their homes, trapped by impassable roads which hampered rescue efforts. First responders said they planned to evacuate these individuals, who remain safe in their homes, via the air. The main issue is that eventually they could run out of supplies.
It appears that the recent wildfire in Santa Barbara has exacerbated scale of the mudslides. Burned areas are less able to absorb water which makes them more liable to flooding.
As rescue efforts continue, there is hope further survivors will be found in areas that have been, as of yet, inaccessible.