California Naturopath Doctor Arrested for Fake COVID Vaccination Card Scheme
A naturopath doctor from California has been arrested for allegedly organizing a fake COVID-19 vaccination card scheme.
On Wednesday, legal authorities arrested Juli A. Mazi, a 41-year-old licensed homeopathic doctor, for allegedly selling "homeoprophylaxis immunization pellets." She allegedly claimed the pellets contained small amounts of the COVID-19 virus, which would then create coronavirus antibodies in the immune system. She claimed the pellets would make people immune to COVID-19 for life, court documents alleged.
After her customers paid for the pills, she allegedly provided COVID-19 Vaccination Record cards. She then explained how people could fill out the cards with specific numbers and dates to falsely state they had received both doses of the Moderna COVID-19 vaccine without arousing suspicion.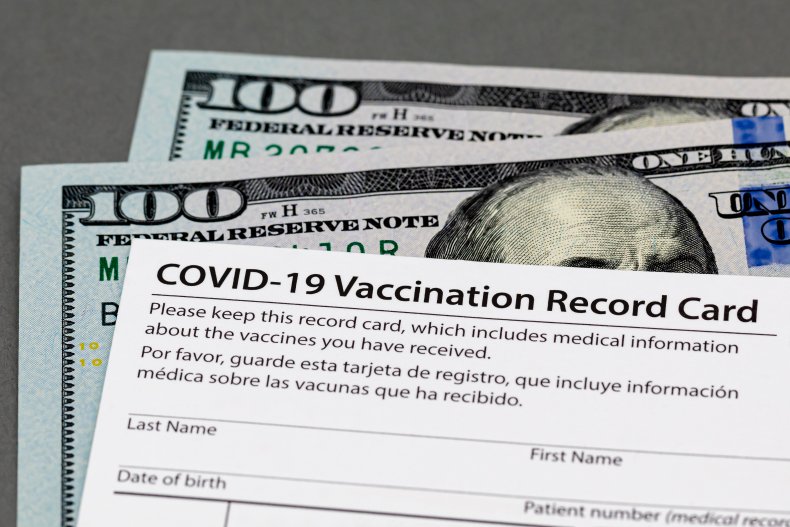 The cards, provided by the U.S. Centers for Disease Control and Prevention (CDC), are only supposed to be filled out by people who administer the injections. She allegedly provided similar cards to parents who wanted their children to bypass school vaccination requirements.
Legal authorities said Mazi "exploited disinformation and fear" to sell her services by falsely claiming COVID-19 vaccines, authorized by the U.S. Food and Drug Administration, contained "toxic ingredients" that could endanger a person's health.
She has been charged with one count of wire fraud and one count of false statements related to health care matters. Her case is reportedly the first federal criminal fraud prosecution related to homeoprophylaxis immunizations and fraudulent CDC vaccination record cards, the Department of Justice (DOJ) said in a statement.
"Steering through the challenges presented by COVID-19 requires trust and reliance on our medical professionals to provide sage information and guidance," said Acting U.S. Attorney Stephanie Hinds for the Northern District of California. "Instead of disseminating valid remedies and information, Juli Mazi profited from unlawfully peddling unapproved remedies, stirring up false fears and generating fake proof of vaccinations."
Mazi's arrest is just the most recent accusation of people fraudulently using the COVID-19 pandemic to make a profit.
In April, Colorado resident Francis F. Joseph was accused of stealing nearly $300,000 in government funds from three different federal COVID-19 relief programs. He allegedly transferred the funds from the account of a medical clinic where he worked into his personal bank account.
In March, the DOJ also warned of an online scam targeting vaccinated seniors. The offers told people their recent vaccinations made them eligible for cash and other prizes, as long as they provided their credit card and bank account information. The scammers would never send the promised prizes, and would instead use their targets' financial information in other fraudulent schemes.
Newsweek contacted the DOJ for comment.