California, New Jersey Primaries Latest: Key Races in the Balance
Voters in California, New Jersey and six other states are choosing their nominees for the U.S. House and Senate, with Democrats hoping to prepare the political ground for a "blue wave" of support to seize the House and hobble President Donald Trump's legislative agenda.
Establishment-backed Democrats muscled past liberal challengers in key New Jersey congressional races on Tuesday, results showed, as voters chose candidates for November's midterm elections.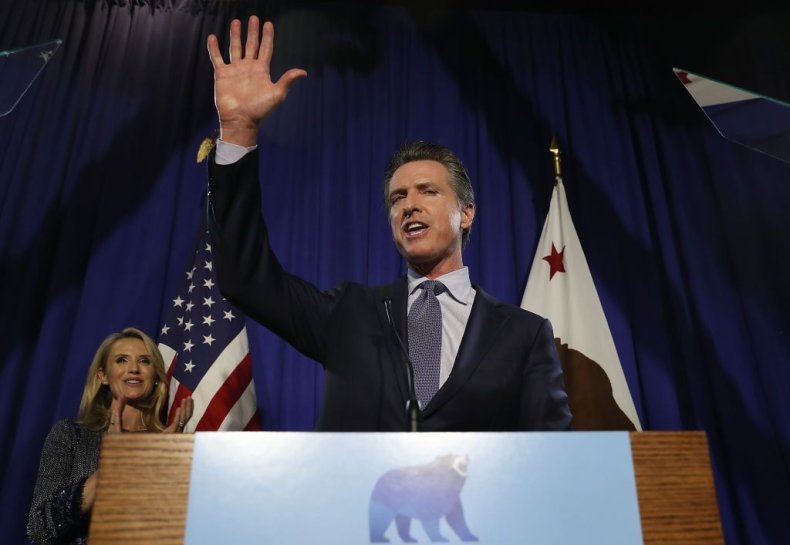 Democrats, buoyed by President Donald Trump's poor approval ratings and a string of victories in special elections, hope to gain a majority in the 435-seat U.S. House of Representatives by flipping 23 seats this fall. The party has targeted more than a dozen Republican-held seats in California and New Jersey alone.
Control of the House would likely stall much of Trump's policy agenda, while ushering a new era of committee oversight and investigation into the administration.
A power shift would also lend strength to any potential effort to impeach Trump if Democrats decide grounds exist, perhaps following the probe into Russian election interference by special counsel Robert Mueller.
California is seen as key to the eventual outcome in November. Democrats have taken aim at 10 of the 14 House seats held by Republicans.
Tuesday's contests will determine whether Democratic candidates in the swing districts are moderate or more liberal, as well as whether they are shut out of some races altogether.
The state's so-called jungle primary system allows the two highest vote-getters to advance to the general election, regardless of party. The number of Democrats vying for election in some districts could split the vote, leaving two Republicans on the ticket for November's election and denting Democrat hopes of seizing a majority of the assembly.
However the Republican Party could also face the embarrassing prospect of having no candidates on the ballot for the U.S. Senate.
The battle for the top spots is particularly dramatic in the 48th Congressional District, where voters chose Democrat Hillary Clinton over Trump in the 2016 presidential election but re-elected longtime Republican Representative Dana Rohrabacher.
So many Democrats are vying to challenge Rohrabacher that there is a chance they will divide their party's vote, setting up a general election fight between the incumbent and a leading Republican opponent, Scott Baugh.
Polls closed at 11 p.m. ET, but it could be days before results filter through in some districts, owing to the state's use of mail-in ballots and its top two primary system. More than 118,000 voters' names were omitted from rosters at Los Angeles County polling places because of a printing error, Register-Recorder/County Clerk Dean Logan told Bloomberg. He urged voters to cast provisional votes, which may delay when we know results in districts effected.
In California's gubernatorial primary, Democratic Lieutenant Governor Gavin Newsom claimed the top spot, and Republican businessman John Cox came in second, ensuring the GOP won't be shut out in the race to replace Governor Jerry Brown. Cox's placing is a boost for Republicans and could spur other GOP candidates in the state come November.
Trump in a series of Tuesday tweets backed Republican candidates.
"In High Tax, High Crime California, be sure to get out and vote for Republican John Cox for Governor. He will make a BIG difference!" Trump tweeted.
In southern New Jersey, where the retirement of a longtime Republican incumbent gave Democrats an opening, state Senator Jeff Van Drew, a conservative Democrat, appeared set to prevail over left-leaning candidates frustrated by his past votes against same-sex marriage and minimum wage increases.
He will face Republican Seth Grossman, a former city and county official, who emerged from a four-way contest.
In a suburban New Jersey district, former Obama official Tom Malinowski was well ahead of two Democrats backed by independent liberal groups and will take on the moderate Republican Leonard Lance in what is expected to be a competitive race.
Democrats also hope to capture two other Republican-held seats in the state.
Republicans control both chambers of Congress, while Democrats need only a net total of two seats to take command of the Senate. But Democratic senators must defend a bevy of seats in rural states such as Indiana, Montana, North Dakota and West Virginia that supported Trump two years ago.
Voters on Tuesday also went to the polls to choose candidates in primaries in Iowa, Mississippi, Alabama, Montana, South Dakota and New Mexico.
A number of women won Democratic contests, continuing a trend that began earlier this year. Women will represent the party in key House races in Iowa, New Jersey and New Mexico, based on Tuesday's results.
Democrat Deb Haaland, a New Mexico congressional candidate vying to be the first Native American elected to the House, was in the lead with about half the vote counted.
California, New Jersey Primaries Latest: Key Races in the Balance | U.S.