Crews Rush to Repair California Dam Before New Storm Sweeps Region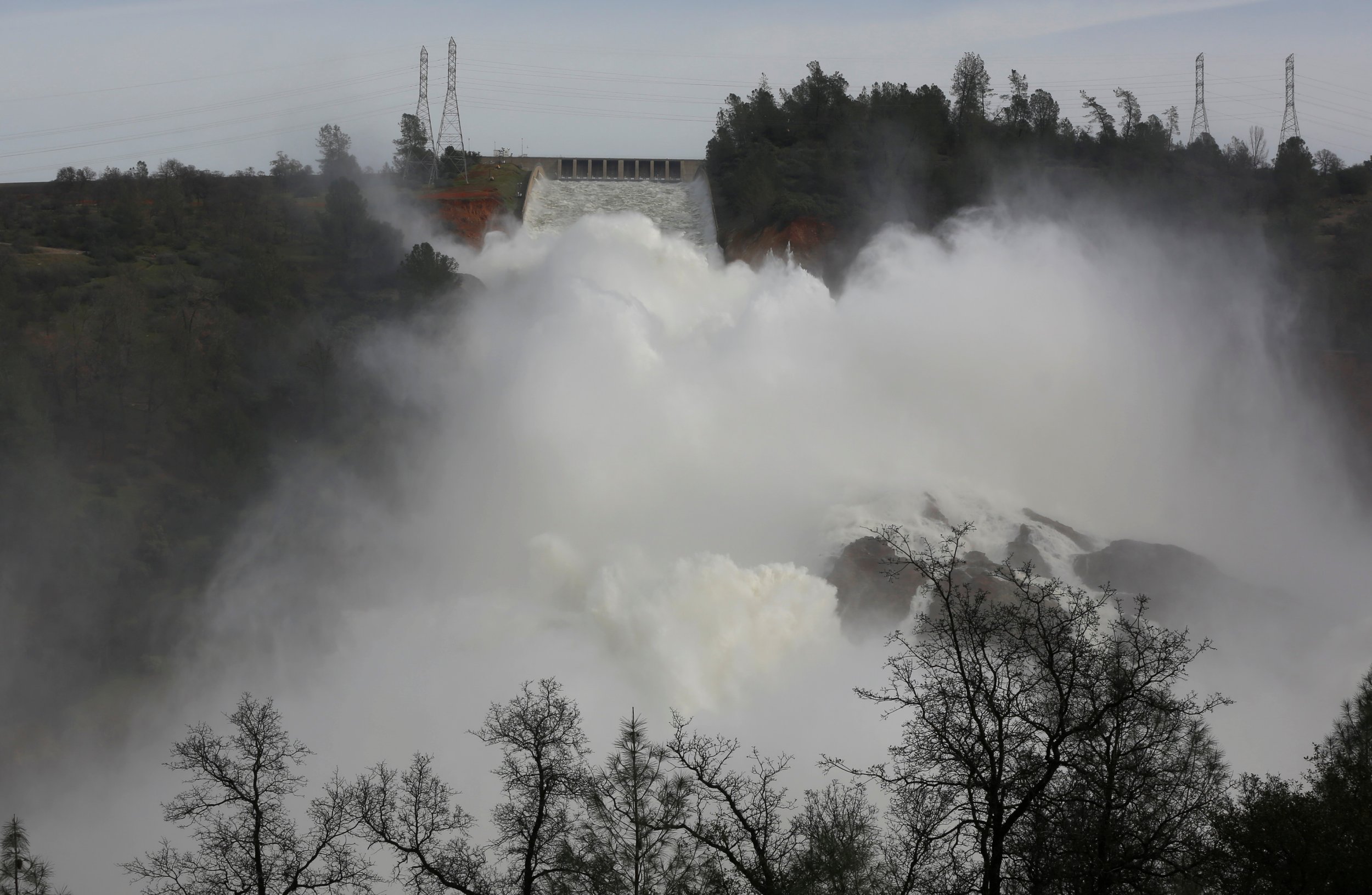 Stormwaters subsided on Monday behind the nation's tallest dam, in Northern California, as engineers raced to drain the rain-swollen reservoir and shore up a crumbling overflow channel before new storms sweep the region later this week.
Authorities said they averted the immediate danger of a catastrophic failure - one capable of unleashing a wall of water three stories tall on towns below.
A mandatory evacuation of about 188,000 residents remains in effect, Butte County Sheriff Kory Honea said at a midday news conference. The potential danger for the Feather River valley below the Lake Oroville Dam, 65 miles north of Sacramento, was still being reviewed, he said.
"We need to have time to make sure that before we allow people back into those areas it is safe to do so," he said.
Residents below the dam were abruptly ordered from their homes on Sunday when an emergency spillway that acts as an automatic overflow channel appeared in danger of imminent collapse from severe erosion.
Alfred Ybarra had gone down to the Feather River with his children on Sunday to watch the swollen waters.
"Within minutes the water was up to the tires on my car," Ybarra said. "I told my kids, 'You have to pray. It's the only thing that you can do."
Asked whether he thought officials had overreacted by ordering evacuations, Ybarra said, "Absolutely not."
The main spillway, a separate channel, is also damaged because part of its concrete lining fell apart last week. Both spillways are to the side of the dam, which has not been compromised, engineers said.
The situation grew less dire several hours later on Sunday as water levels subsided behind the dam, leaving the weakened unpaved emergency spillway largely intact. By Monday, the level of the lake had dropped enough so that water was no longer pouring over the hill.
Erosion caused by the hole in the side of the main spillway appeared to have abated by Monday, and it was back to more or less normal operations, officials said.
The aim is to lower the reservoir's overall water level by 50 feet—and prevent further spillover down the emergency hillside channel—before more rain arrives in the coming weeks and before snow-melt runoff begins in the spring, acting state water resources director Bill Croyle told reporters on Monday. He said he hoped to achieve that goal in the next 10 to 15 days.
Another storm was forecast to arrive as early as Wednesday or Thursday, though officials said they expected much of that precipitation to fall as snow rather than rain.
Repairs and Drainage
State water resource officials said they were continuing to assess the damage on Monday before proceeding with plans to shore up the emergency spillway with rocks and boulders that would be dropped into the hillside by helicopters.
At a staging area beside the dam on Monday, construction equipment was lined up with rows of large, white rock-filled sacks waiting for operations to begin.
Meanwhile, water could be seen gushing from the main concrete spillway as dam operators for the California Department of Water Resources continued controlled releases through the paved chute into channels that route the water away from populated areas.
The dam's hydropower release valves also have been shut down to prevent damage from sediment and debris carried by heavy rains.
Precipitation in Northern California already is running at more than twice the average level for the season and is on track to make 2017 the region's wettest year on record, surpassing the 1982-83 season, when nearly 90 inches of rain fell, state water data shows.
The earth-filled dam lies just upstream and east of Oroville, a town of more than 16,000 people. At 770 feet high, the structure, built between 1962 and 1968, is the tallest U.S. dam, exceeding the Hoover Dam by more than 40 feet.
Evacuation centers were set up at a fairgrounds in Chico, California, about 20 miles northwest of Oroville, but major highways leading south out of the area were jammed as residents fled the flood zone.
Javier Santiago, 42, fled with his wife, two children and several friends to the Oroville Dam Visitors Center in a public park above the dam and the danger zone.
With blankets, pillows and a little food, Santiago said: "We're going to sleep in the car."
State authorities and engineers last Thursday began releasing water from the dam after noticing that large chunks of concrete were missing from the main spillway, opening a gap 250 feet long, 170 feet wide and 40 feet deep.