California Nurses Strike Over COVID Staff Shortages as ICU Capacity Falls to 1.7 Percent
Nurses at three hospitals in Southern California are calling for a strike over staff shortages as intensive care unit availability falls dramatically amid a surge in COVID cases.
Some 2,500 nurses plan to walkout from Christmas Eve to January 3 amid anger over staffing rates and coronavirus safeguards, including PPE.
Last week California's governor, Gavin Newsom, announced an executive order that would see staffing ratios for nurses on ICU wards change from one nurse to every two patients, to one for every three.
"We need to temporarily, very short-term temporarily look a little bit differently in terms of our staffing needs," Gov. Newsom said yesterday as he explained the rationale behind the plan.
"I know how difficult nurse staffing ratio issues are. I want to just express deep empathy, deep admiration for the collaborative spirit."
Nurses were doing "heroic work every single day," he said as he appealed "yet again for a little bit more during these very challenging next few weeks, month, month and a half."
However nurses have expressed anger over the plan, warning that it could put patient safety at risk.
The strike is set to affect Riverside Community Hospital, Los Robles Regional Medical Center and West Hills Hospital & Medical Center.
Kerry Cavazos, a union president and nurse at Riverside Community Hospital, told Los Angeles-based Fox 11: "If we take more patients in this pandemic, it makes us unsafe. Those ratios are there to keep you safe."
She added: "Our nurses are infected. Our patients are infected. The surge is real.
"The fear of 'is my patient going to make it today? Am I going to bring something home to my husband or child or my elderly parent? Am I going to get it and am I going to be able to breathe?' That fear is overwhelming."
A statement issued on behalf of the three hospitals said a "strike at this time further adds to the demands on the overburdened healthcare system in Southern California, which is already at bed and ICU capacities due to the nursing shortage and COVID-19 surge.
"As a result of the union's decision to strike during this challenging time, our hospitals must limit their full scope of services in order to ensure nurses are available to care for patients with the highest needs."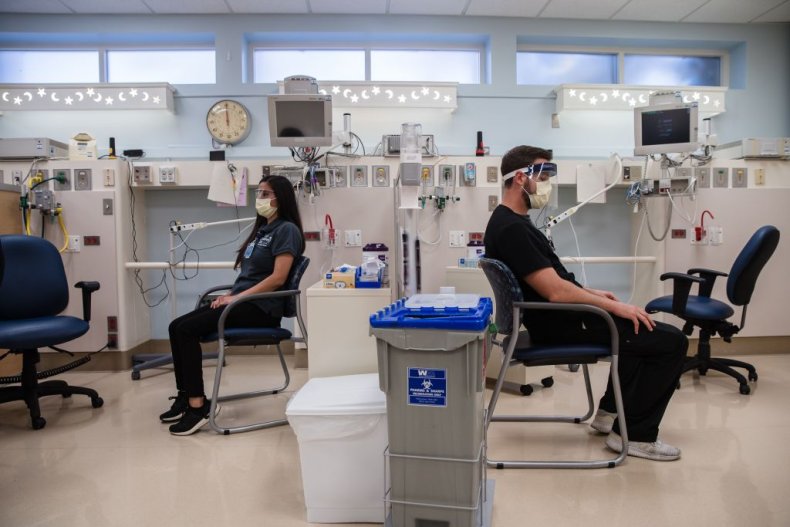 The dispute comes as the number of spare hospital beds continues to fall across the state.
At the start of the month, there were 8,500 patients in California's healthcare system. Two weeks later that had risen close to 15,000.
COVID hospitalizations are up 68 percent over that period, with ICU admissions climbing 54 percent.
Southern California currently has just 1.7 percent ICU capacity remaining, compared to a statewide figure of 5.7 percent. Some areas have been hit particularly hard, including San Joaquin Valley, where the ICU capacity was 1.6 percent as of Tuesday morning.
At the weekend, San Joaquin Valley hit zero.
"That doesn't mean we have no ICU beds or staff available at all," Gov. Newsom explained. "It means we're now into a surge approach, surge staffing and surge management.
"So 1.6 percent, it goes up, it goes down by the hour, not just by the day.
"When the dust settles on all that, 5.7 percent is our current ICU capacity statewide.
"Light at the end of the tunnel, but we're still in the tunnel, going through the most challenging and difficult surge we've experienced since the beginning of this pandemic."