California Officials Launch Probe Into Recall Candidate Larry Elder's Income Disclosure
California officials have launched an investigation into recall gubernatorial candidate Larry Elder's income disclosure, a spokesperson for the Fair Political Practices Commission (FPPC) confirmed to Newsweek Sunday.
The inquiry comes after the Los Angeles Times reported earlier this month that he appeared to have improperly listed business holdings on a financial disclosure filing intended to reveal any conflicts of interest.
After the Times report, Rusty Hicks, chair of the California Democratic Party, on Monday filed a complaint alleging that Elder "failed to properly disclose his interest in and income from his business Laurence A. Elder and Associates."
"Mr. Elder withheld important information from the public in connection with the recall election, he should be required to pay administrative penalties commensurate with his failure to properly and timely disclose required information," Hicks wrote in the complaint, seen by Newsweek.
If Elder is found to have "knowingly and wilfully violated these requirements, he is subject to misdemeanor criminal penalties," Hicks added.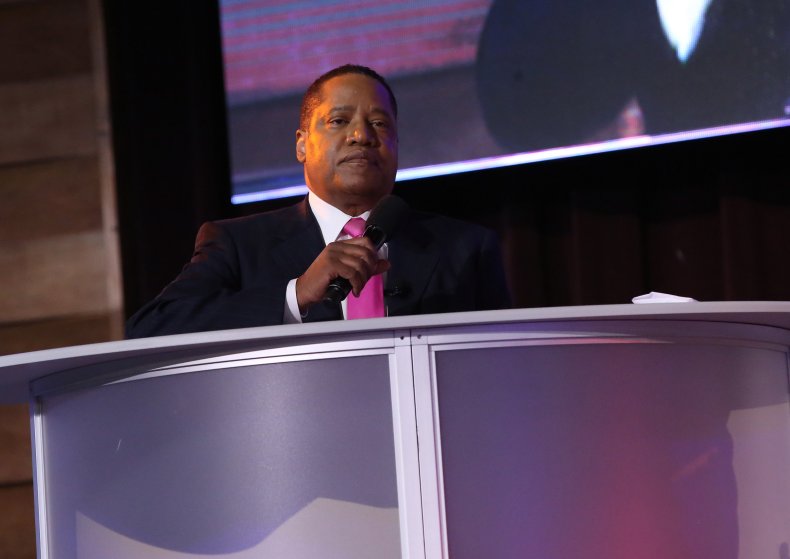 Candidates who fail to comply with financial disclosure rules face penalties of an amount not exceeding $5,000 per violation, according to the FPPC.
In his initial economic interests filing, Elder, a conservative radio host who's the leading candidate vying to replace Governor Gavin Newsom in the next month's recall election, listed only income from Laurence A. Elder and Associates Inc.
Elder amended and refiled the document Tuesday to show that he was the sole owner of the business, listing its net worth between $100,000 and $1 million. The document also showed that Elder received funds from a slew of conservative organizations, including Turning Point USA, the Alachua County Republican Executive Committee and Epoch Times, according to the Times.
Elder campaign spokesperson Ying Ma dismissed the significance of the FPPC probe. "We made a simple mistake and we fixed it as soon as possible. These investigations are very common in the campaign world," she said in a statement to the Times.
Elder announced his campaign for governor early July, immediately becoming one of the most prominent GOP candidates in the race to replace Newsom. A week later, Elder sued California Secretary of State Shirley Weber for blocking him from running due to an allegedly incomplete tax return filing.
Sacramento Superior Court Judge Laurie Earl ruled in favor of Elder. Candidates for this recall election are not required to submit five years of tax returns, a rule that was signed into law by Newsom in 2019, Earl said.