California Parents Killed In Car Crash After Fleeing ICE Officers Who Mistook Father For Arrest Target
Updated | Six children have been left without parents after their mother and father were killed in a car crash in an apparent attempt to flee Immigration and Customs Enforcement (ICE) agents, who pulled them over after mistaking the father for an arrest target.
Police in Delano, a city in Kern County, California, said 35-year-old Santo Hilario Garcia and 33-year-old Marcelina Garcia Profecto were both pronounced dead at the scene after officers arrived to find their SUV overturned after smashing into a power pole just before 7 a.m. on Tuesday.
The United Farm Workers (UFW) labor union said the couple were farm workers, who were on their way to look for work to "provide for their six children."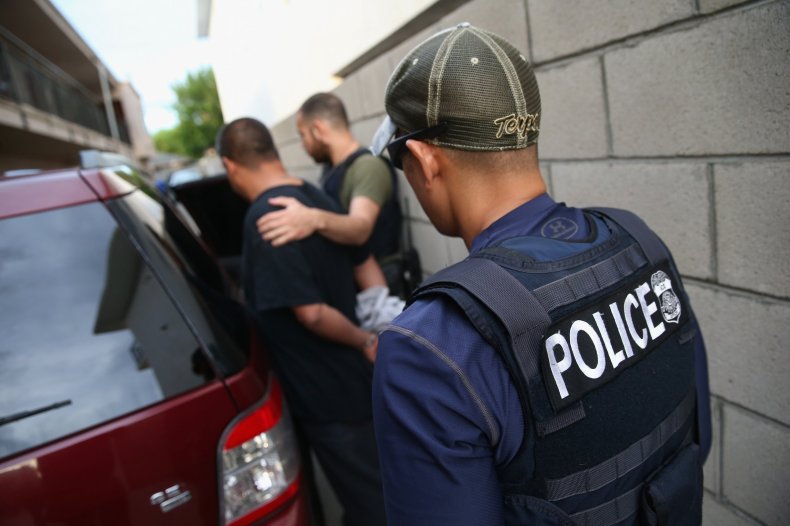 "They were farm workers here in the area [of Delano] and they wanted to provide for their six children," UFW President Arturo Rodriguez said at a press conference at the scene of the crash. He said he was "sure they were thinking of their children" when they fled once they realized the officers who pulled them over in an unmarked vehicle belonged to ICE, not local police.
The Delano police department said in a statement that the couple had been stopped by ICE agents, who had activated their emergency lights to pull their vehicle over.
It is still unclear who was in the driver's seat of the SUV, but the couple initially pulled over. However, they fled once agents began to exit their vehicle. Police say it was clear their SUV had been traveling at a high speed and lost control, overturning before coming to rest after slamming into a power pole.
ICE confirmed that its officers had not only pulled the couple over, but had in fact mistaken Garcia for a target they had planned to arrest.
"ICE deportation officers arrived at a residence believed to belong to a previously removed Mexican citizen. A male matching the target's description exited the residence and entered a vehicle," ICE spokesperson Jennifer Elzea told Newsweek.
ICE said its officers then pulled over Garcia's vehicle, believing he matched the description of their target. Asked how the mix-up might have occurred, the agency did not immediately respond.
"Officers performed a vehicle stop by activating their emergency equipment and as they attempted to engage the driver, the vehicle drove away at a high rate of speed. As the officers departed the location of the attempted engagement, they came across the overturned vehicle and immediately dialed 911 for assistance," Elzea said. "Local officials were on the scene moments later," she added.
The spokesperson said Garcia was originally from Mexico and had voluntarily returned to the country three times between 2008 and 2017. She said he was removed "under the provisions of expedited removal in 2017."
Elzea also said Garcia had a criminal history, citing a DUI conviction from 2014. Garcia Profecto had "no prior encounters with ICE," Elzea said.
Read more: ICE Agents Frustrated by Trump Using Agency as Political 'Pawn' to Push Anti-Immigration Agenda, Former Official Says
ACLU Southern California's Director of Immigrant Rights Jennie Pasquarella said in a statement that the union has received "numerous reports" of "ICE staking out the roads farmworkers travel to get to work and pulling them over during early morning hours without any lawful basis, resulting in numerous unlawful arrests of residents."
Pasquarella said agents often pull over farmworkers in unmarked vehicles, adding that the agents who pulled over Garcia and Garcia Profecto were also in an unmarked car.
"This incident demonstrates just how dangerous ICE's unlawful practices are to our communities," Pasquarella said. "This horrible tragedy is the direct result of ICE's inhumane tactics and the fear it provokes in hardworking people who stand to lose everything if they are deported."
The deadly incident comes amid a crackdown by ICE on undocumented immigrants in California. The agency has received widespread backlash over raids in Northern California that saw hundreds arrested.
The crash also came just as President Donald Trump had lashed out at the state's leadership over its immigration approach, and specifically, its allowance of sanctuary cities.
In a tweet, the president said California's "sanctuary policies are illegal and unconstitutional and put the safety and security of our entire nation at risk.
"Thousands of dangerous and violent criminal aliens are released as a result of sanctuary policies, set free to prey on innocent Americans. THIS MUST STOP."
This article has been updated with background on President Trump's criticism of California's approach to immigration.