Three members of a northern California church congregation, including its pastor, have tested positive for the new coronavirus, local health officials announced on Monday. The announcement, issued by Mendocino County's municipal office, connected all three individuals to a live-streamed service at Redwood Valley Assembly of God church on Mother's Day, which included a choir performance in addition to sermon. The news comes as churches across the country have begun to reopen for in-person services, some in spite of state regulations prohibiting large gatherings.
The trio of cases was first identified by the county's Public Health department last week. On Sunday, local authorities released an initial statement notifying residents of the cases without sharing the church's name or describing the individuals' relationship to it. The church has since confirmed that its pastor, the Reverend Jack McMilin, had contracted the virus in a post shared to social media, according to Mendocino County. In a public message that appears in one of the congregation's Facebook groups, McMilin's wife said he had been hospitalized due to the respiratory illness on Sunday.
Assembly of God's Mother's Day live-streamed service did not violate the county's shelter-at-home order, implemented in March, as the nearby Bay Area encountered one of the United States' earliest outbreaks, and amended in accordance with statewide updates that followed. However, health authorities suggested in their recent statements that the May 10 event's vocal performances may have contributed to the virus' spread.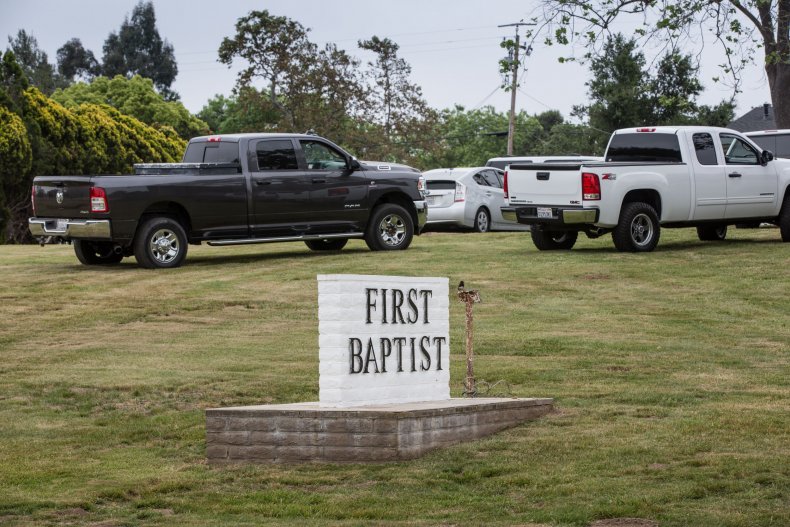 Mendocino County's Interim Health Officer, Noemi Doohan, explicitly warned against singing during any live-streamed services necessary to conduct remote operations in an order dated April 10.
"No singing or use of wind instruments, harmonicas, or other instruments that
could spread COVID-19 through projected droplets shall be permitted unless
the recording of the event is done at one's residence, and involving only the
members of one's household or living unit, because of the increased risk of
transmission of COVID-19," the order read.
As lockdown restrictions began to ease as a result of declining case numbers, Doohan issued another set of guidelines regarding ongoing use of face masks and social distance measures on April 24. The guidelines asked residents to avoid engaging in activities that "forcefully expel airborne particles," like singing, while in close proximity to others unless they are members of the same household.
Mendocino County's Sunday statement recommended "utilizing a Plexiglas screen between singers in the same venue, proper ventilation, distancing greater than six feet and ensuring singers are not positioned face-to-face" to protect against exposure. Its Monday announcement offered testing for the new coronavirus to any other Assembly of God congregation members who participated in the Mother's Day service.
Responding to the church's outbreak on Facebook, County Supervisor Ted Williams said he did not support "dictating how churches may operate," but he encouraged anyone who may have come in contact with the Redwood Valley congregation to get tested.
"Your test could save a life," he wrote. "If privacy stops you, reach out to me anonymously and we'll find a path forward. Our best hope for protecting health and the economy will come from working together."