California Pastor Vows Church Will Defy Lockdown Order, Says He'll 'Obey the Word of God'
California pastor Greg Fairrington told worshippers at his Destiny Christian Church they will still be able to attend in-person services this Sunday, despite Governor Gavin Newsom's latest lockdown order.
"I believe my mandate as a pastor is to obey the word of God. Worship is a part of what we do together as a church corporately and we need to do this. This is important that we do this," Fairrington said in a video posted to Facebook. "We are not going to allow the government to use data that is not supported factually to shut the church down."
A severe rise in coronavirus cases in the state has forced the governor to put California into a strict second lockdown. On Monday, Newsom announced sweeping closures of many businesses across the Golden State, including the indoor operations of malls, office, gyms, salons and places of worship in 29 counties. Destiny Christian Church in Rocklin is located in one of those counties, Placer.
According to data from the state's health department, California reported 7,346 new coronavirus cases on Monday, July 13, bringing the state's total to 336,508. In addition, 6,745 Californians have been hospitalized, with 1,886 in intensive care.
In May, another church in the state attempted to fight Newsom's restrictions on attendance at religious services, but a 5-4 decision from the U.S. Supreme Court supported the governor.
The city of Rocklin told Newsweek that it is working with the church to ensure its services follow the state's requirements.
"The City of Rocklin has reached out to Destiny Church and together we are working toward a solution where their services can be held and adhere to recently updated California safety requirements designed to slow the spread of COVID-19," said Michael Young, a spokesperson for the city.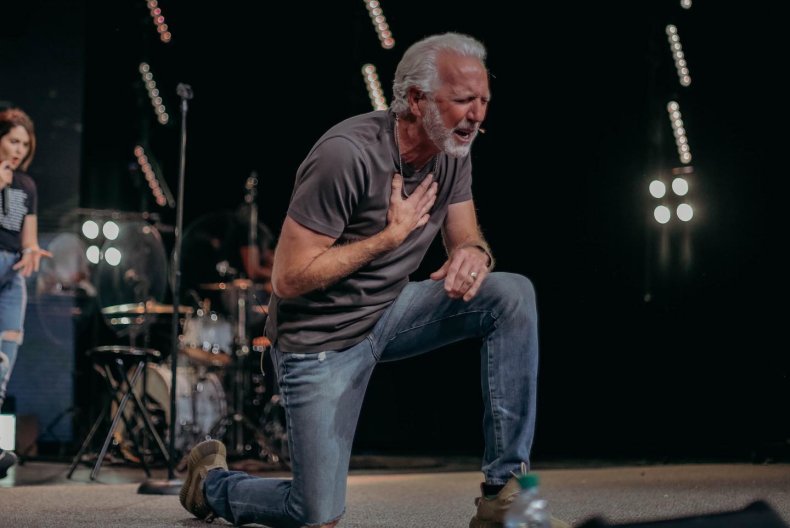 Fairrington told worshippers to come to the church on Sunday if possible but added that the services will also be available online.
The church reopened for in-person worship gatherings on May 31, at a limited capacity of 25 percent. At the time of reopening, the church encouraged at-risk individuals to stay at home.
Fairrington's Monday announcement, however, took a different tone. "Do not let the fear the media is driving, do not let the fear of what's out there, affect us as a church," the pastor said. "Let's pull together. Let's be strong together."
On Tuesday, the church also posted a picture to its Facebook page of a billboard that reads "Fear is contagious, but so is faith," alongside a message saying "Choose faith over fear."
In response to Newsom's rollbacks, the Destiny Christian Church said in a statement, "The economic, social and mental impact of this order has yet to be realized, but it's estimated to be devastating."
The press statement said Fairrington, the lead pastor of the church, has "made the courageous decision to remain open" and the church will follow "[Centers for Disease Control and Prevention] guidelines of social distancing, mask wearing, temperature taking, and sanitation" on Sunday.
"Public Health & Safety is of great concern to us, therefore we will continue to wisely and prayerfully consider the COVID-19 crisis weekly and provide several different methods of worship services based on individual needs," the Wednesday statement read.
According to a New York Times database, over 650 coronavirus cases have been linked to religious gatherings across the country. The same tracker reported 1,151 virus cases and 11 deaths in Placer County since the start of the pandemic.
Update 07/15/20 2:04 p.m. EDT This story has been updated with comments from the Destiny Christian Church.
Update 07/16/20 4:14 p.m. EDT This story has been updated with comments from the city of Rocklin.