California Police Asked Neo-Nazis to Identify 'Anti-Racist' Activists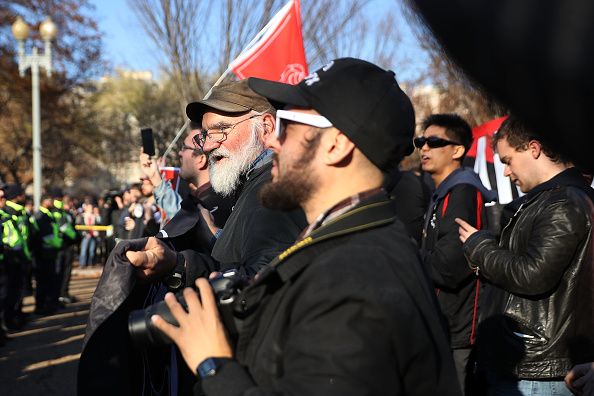 Court documents show that California police investigating a 2016 violent white nationalist event sought the help of neo-Nazis in naming counter-protestors who held "anti-racist" beliefs.
In documents related to a court case for three anti-fascists—charged with felonies from a state Capitol brawl in Sacramento last June between white supremacist groups and anti-fascist groups—California Highway Patrol (CHP) investigators are shown sympathizing with white supremacists, as well as trying to identify key leaders of anti-fascist groups.
"Everything in all the court documents are damning evidence of CHP cover up and the CHP and DA collusion with white supremacists and openly so," said Yvette Felarca, a prominent San Francisco Bay anti-fascist leader, who shared the related documents to Newsweek.
The court documents include transcripts that offer exchanges between officers and members of the Traditionalist Worker Party (TWP), known as a self-described national socialist group and linked to the alt-right.
It also shows how charged the ground was already on white nationalism before the 2017 deadly Charlottesville clashes erupted.
One such conversation reveals an officer asking the individual if he could help him out, citing that he knew "they did business differently," but if any of his fellow TWP members could talk to him.
Another transcript has an officer saying, "We're pretty much going after them (anti-fascists)."
Felarca, along with the other activists, are pushing to have their case dismissed and are claiming that the District Attorney, as well as the California police, have conducted unfair biases into their case.
On Friday, their motion to dismiss was moved to a different court with full arguments being made on April 20, Felarca said.
"We plan on using the time to continue to get the truth out of the police cover-up and collusion," Felarca said.
In 2016, the TWP, known as a white nationalist group, held a joint rally with the Golden State Skinheads at Sacramento's State Capital that quickly escalated and clashed with counter-protesters. Nearly a dozen were hurt and several were left with stab wounds. Felarca and two other activists were arrested. William Scott Planer, a white supremacist, was also arrested and faces assault charges.
California Highway Patrol has since been criticized in how they responded to the rioting
"The prosecution has been a witch hunt from the beginning," Felarca said. "We were politically targeted, the police had from the beginning intended to go after anti-racist and anti-fascist and these charges need to be dropped now."
According to the Guardian report that originally reported the court documents, prosecutors have said that "no one is beneath the protection of the law, no matter how repugnant his or her rhetoric or misguided his or her ideals."
"Sacramento police working closely with neo-Nazis who were documented in both photo and video stabbing people, and who were also seen with firearms at the capitol, should surprise no one," Paul Hernandez, editor of It's Going Down—an antifascist website and news network that supports the protesters—told Newsweek.
"The message sent from Sacramento is clear: what is important to the police is what politics a person has, not if they break the law," Hernandez said. "What makes this even more terrifying is that the State is actively siding with neo-Nazis and white supremacists. In response, our communities must look towards ourselves, not the government, for safety and self-defense."