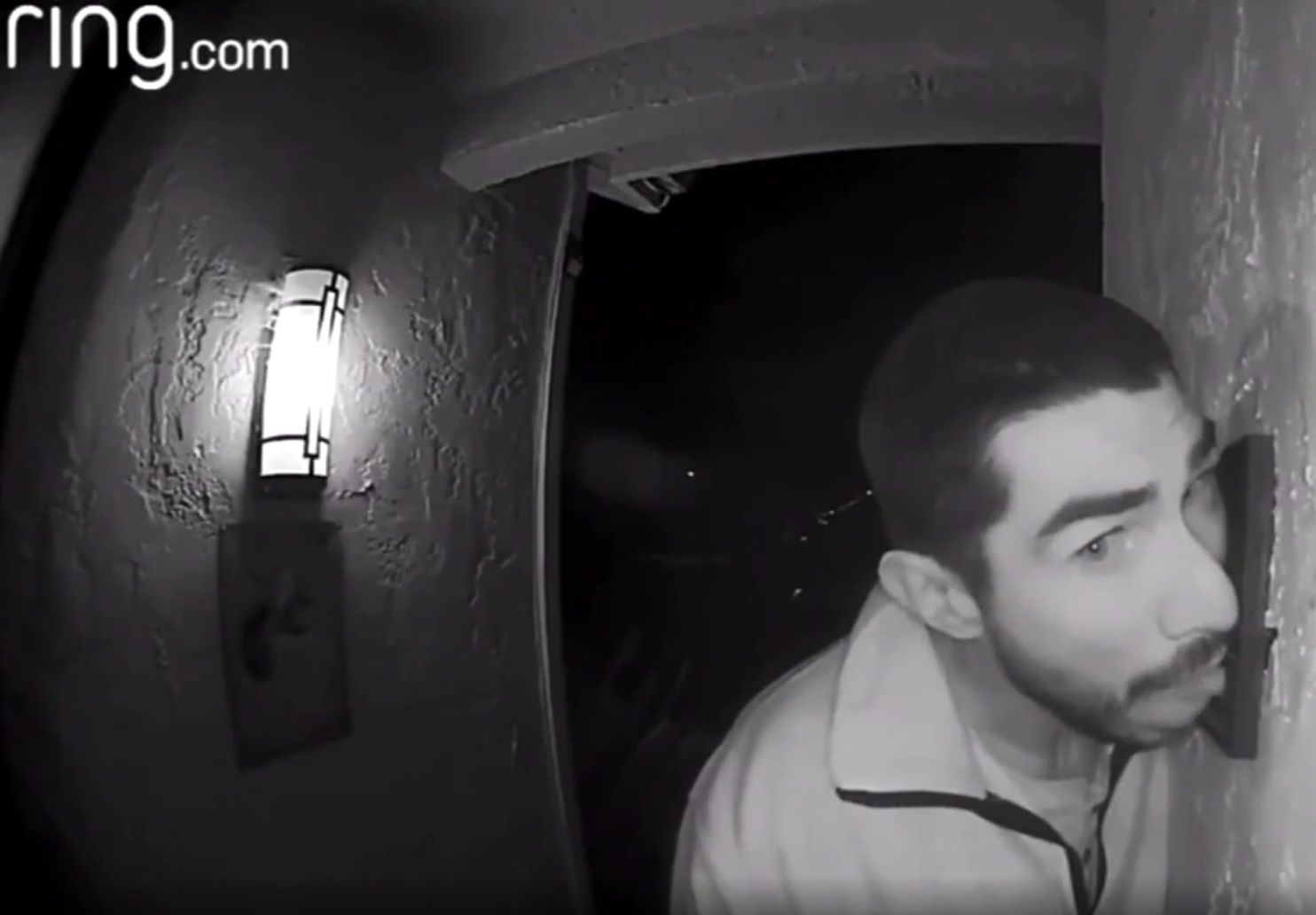 Police in California are hunting for a suspect named Roberto Daniel Arroyo after he was allegedly caught on a surveillance camera licking the doorbell of a family home for three hours before disappearing into the night.
The 33-year-old suspect also appeared to relieve himself in the front yard of the property in the Rossi Rico neighborhood of Salinas, KION reported.
Homeowner Silvia Dungan was not at home at the time of the incident. However, her children were asleep inside the property when the doorbell licker triggered the family's surveillance system, which detects movement by the front door.
Read more: Watch—Screaming woman in Florida airport lunges at counter, calls staff "rapists" and claims to have gun
After the home surveillance footage was checked, police were called out to watch the video, in which a man can be seen clearly licking the doorbell repeatedly.
"The charges he faces are prowling, theft and violation of probation," Salinas Police Department spokesperson Miguel Cabrera told Newsweek.
"We have no theory as to why he did this. The theft charges stem from the fact Arroyo removed several extension cords connected to Christmas lights from the front yard of the victim residence.
"We are familiar with Arroyo from previous contacts and officers were able to identify him as soon as they saw the images which are very good in quality."
Dungan told KION that she can "kind of laugh about it afterwards because technically he didn't do anything." But she added: "This just kind of reinforces how important it is to have security within your home."
Back in August, a half-dressed barefoot woman in what appeared to be broken hand restraints was caught on a home surveillance camera ringing doorbells in Sunrise Ranch, Texas, sparking a police investigation.
She had disappeared by the time the resident answered the door in the early hours of the morning. The woman had rung several doorbells frantically that night.
The woman was later identified only as 32-year-old Lauren when she came forward in an interview with Inside Edition to say she had been raped by her boyfriend Dennis Ray Collins that night but managed to flee his home in fear for her life. Collins subsequently killed himself.
"I was asleep and awoke to what seemed like a nightmare," she said. "I woke up and he was kneeling on my chest, and stuffing some sort of cloths in my mouth, duct taping my entire head."
In another incident captured by a home surveillance camera, Jeffrey Zeigler shot at a 14-year-old black boy who had missed his school bus and knocked at the man's home to ask for directions after becoming lost.
The child, Brennan Walker, escaped unharmed after running away. But Zeigler was found guilty in October of intent to do great bodily harm and possession of a firearm in the commission of a felony. He expressed regret over the incident.
This article was updated with comments by Miguel Cabrera.