California Police Officer Admits Accepting $128,000 in Bribes
A California police officer has agreed to plead guilty to accepting $128,000 in bribes from an individual who was seeking to prevent any law enforcement crackdown on his illegally operating businesses.
Steven Lopez, 28, from Chino, was charged with one count of bribery, the U.S. Los Angeles Attorney's Office has said.
In documents filed Tuesday in federal court, Lopez agreed to plead guilty to one count of bribery from a "crime figure" who was named only as "Co-Schemer 1." His plea hearing does not appear to have been scheduled yet.
Lopez, who served as an officer with the Santa Ana Police Department (SAPD) from April 2016 to November 2020, now faces a statutory maximum sentence of ten years in federal prison.
According the U.S. attorney, he accepted $128,000 in bribes from Co-Schemer 1 between August 2019 and November 2020. This person sought to stop Lopez performing some of his official duties as a police officer, the statement adds.
The officer has now admitted that, in exchange for money, he agreed to prevent police compliance checks, searches and seizures at several of Co-Schemer 1's illegally operating businesses as well as helping to thwart police efforts to shut them down.
He admitted to accepting several bribes from Co-Schemer 1 on several separate occasions, including $16,000 in August. In some instances, he was on duty and wearing his police uniform, court documents said.
One handoff took place on the evening of September 14 on the top floor of a carpark directly across the street from the SAPD headquarters. According to the statement, Lopez, who was on duty and in uniform, accepted a $5,000 payment that evening.
Lopez also admitted to meeting Co-Schemer 1 on November 2 while he was again on duty and wearing his uniform, but this time was also driving an SAPD-marked vehicle. They met at the corner of First and Farview Streets in Santa Ana where he accepted a $2,500 payment.
Lopez was put on administrative leave from the SAPD and his peace officer powers were suspended, the police department said in a statement on Tuesday.
The Santa Ana Police Department also said it was notified of the FBI's investigation into Lopez in October and an internal affairs investigation has been launched since.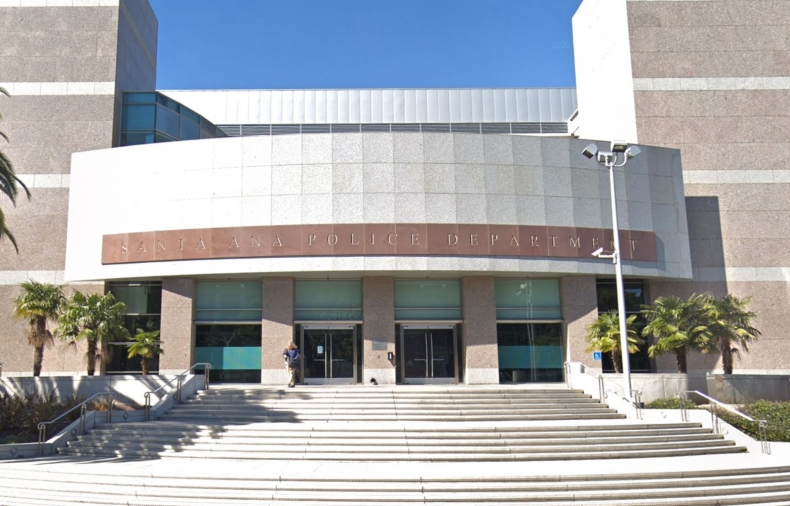 The FBI, IRS Criminal Investigation, U.S. Postal Inspection Service, California Department of Justice and the SAPD were all part of the investigation into Lopez, the U.S. Attorney's Office statement said.
Santa Ana Mayor Vicente Sarmiento said: "The alleged conduct of this officer is a betrayal of the confidence we place in our officers in their service to the community. I am confident in the Chief of Police and the Police Department to respond to this incident and continue to hold all officers accountable for their actions."
SAPD Chief David Valentin said: "The allegations against this officer tear at the core of what our industry represents and erodes the public trust we work so hard to uphold and maintain. I am thoroughly disappointed and angered by the alleged conduct of this indictment and it is not representative of our Department.
"The residents of Santa Ana put their trust in our officers to uphold the law and the actions of this one isolated officer has violated that trust. Let me be absolutely clear, these charges should in no way be a reflection of the women and men who serve the community of Santa Ana with honor and integrity each and every day. I have ZERO tolerance for an officer who betrays their oath to protect and serve," he added.
Lopez's attorney Brian Gurwitz told NBC Los Angeles:"Mr. Lopez's decision to plead guilty was a first step in making amends for the harm that he knows he caused to law enforcement.
"His conduct was the result of serious personal issues that he is addressing."