California Police Officer Under Investigation After Viral Video Shows Him Punching 14-Year-Old Boy
A California police officer is being investigated after he was seen punching a 14-year-old boy while attempting to detain him in a video that went viral.
The video, posted on Twitter on Tuesday, shows an officer with the Rancho Cordova Police Department on top of the boy, pinning him down, and punching him repeatedly in the chest while someone in the background can be heard saying "stop."
A Twitter user, who identified herself as the boy's sister, wrote alongside the 15-second clip: "My baby brother who is 14 years old. All of this over a swisher there's more footage but I wasn't able to upload it all."
In another tweet, she added: "My brother has a serious heart condition that could be triggered very easily by being hit in his chest/back! He's a kid and has never been in any kind of trouble with the law! He was very scared and in so much pain!!!"
In other videos posted on Instagram by Justin Tufono, who said he was the boy's uncle, the boy can be heard telling the officer: "I wasn't fighting, bro. I wasn't fighting."
Tufono added: "I remember telling him a while back that he may be half black, but the world will just see him as BLACK and that he has to walk and experience the world in a very different way... didn't expect him to experiencing this so early."
He told Newsweek that his family was fighting for "justice and accountability" and calling for the officer in question to be fired.
"He does not have the skillset to perform a job of protecting and serving," Tufono said. "This was traumatic for my nephew Jah to go through and for us to see it happen on video. I'm grateful for camera phones and social media to help bring our plans into motion."
After the video was widely shared, the Rancho Cordova Police Department issued a statement saying the police department and the Sacramento County Sheriff's Office are investigating the incident.
"It's important to put video footage into context, especially in relation to a use of force incident," Sacramento County Sheriff's Sgt. Tess Deterding said in the statement.
Deterding said the officer had been patrolling the area of Mills Station Road and Mather Field Road on Monday after complaints of alcohol, tobacco and drug sales to minors when he "saw what he believed to be a hand-to-hand exchange between an adult and juvenile."
The deputy lost sight of the adult who left the area, then approached the juvenile for further investigation, Deterding said.
The 14-year-old boy was "uncooperative" and refused to give out basic identifying information, she said, but told the officer he was 18.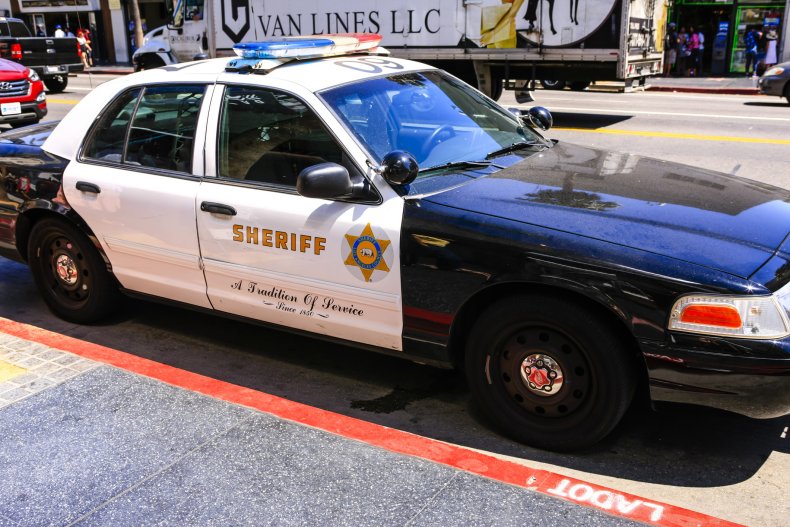 She added that when the officer attempted to detain the teenager after "having reasonable suspicion that criminal activity was occurring," the boy became "physically resistive" and caused the deputy to lose control of his handcuffs, which landed several feet away.
"The deputy attempted to maintain control of the juvenile without his handcuffs and while alone waiting for his partners to arrive and assist him," Deterding added.
She said the boy was cited after the officer recovered tobacco products and released to his guardians, but didn't reveal details of any charges.
The woman who said she was the boy's sister said he had been charged over resisting arrest and for possession of a Sweet Swisher, a brand of cigar.
"But what was he even being arrested for?? For having a swisher? & they ended up letting him go so what was all of this for?? Smh he was left with scratches and chest pains! this was so unnecessary!" she wrote on Twitter.
Deterding said the police department and sheriff's office are investigating the use of force by the officer "to gain a complete and thorough understanding of the events that took place during this incident."
She added: "This type of situation is hard on everyone—the young man, who resisted arrest, and the officer, who would much rather have him cooperate."
This article has been updated with comments from Justin Tufono.