California Police Question Woman Who Posed as Social Worker in Alleged Kidnapping Attempt
A woman who allegedly posed as a social worker in an attempt to cajole a new mother into handing over her newborn baby has turned herself in to authorities and is being questioned for attempted kidnapping, according to police in Santa Ana, California.
Identifying herself as an employee with Orange County Social Services, the suspect knocked on the door of the mother's Evergreen Street home Friday at roughly 11 a.m. and demanded to take immediate custody of the new mom's 7-day-old son, according to police.
When the mother said she would need to accompany the child, the suspect said there was no room in the car. The suspect, who has not yet been named by authorities, did not hand over identification or any official documents during this encounter.
"A lady is coming to my house and she tried to take my newborn," the mother told KNBC. "She said she's coming from child services, and I said, 'Give me your order that you're coming from child services,' and she said, 'When I give you the papers, you have to give me the child'."
The new mother ultimately refused the suspicious demand, and her sister recorded the suspect walking back to a white SUV parked outside, according to KLTA. The sister's call to social services after the encounter confirmed that the suspect was not there on behalf of the agency, and the pair then contacted police.
Grainy footage of the suspect was released publicly by the police department to local news channels, leading the suspect to turn herself in Friday afternoon. According to KTLA, the suspect has said the situation was a misunderstanding.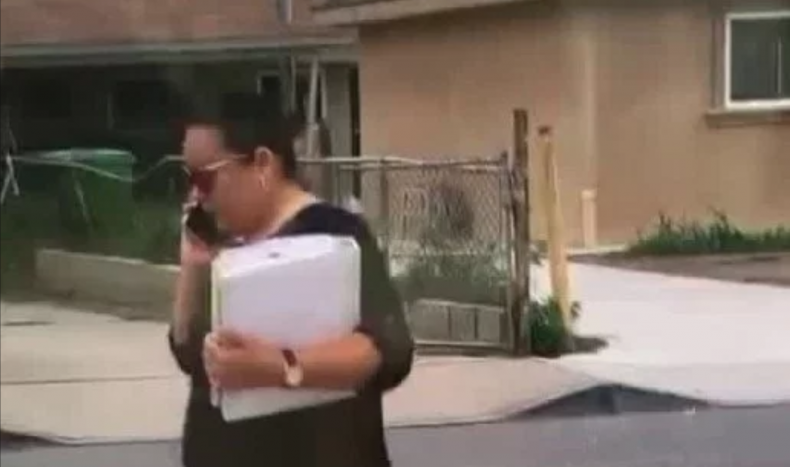 It's unclear if the police intend to make an arrest. Newsweek has reached out to the department for comment.
The bizarre encounter has raised many questions for the police department, including how the suspect knew the woman had recently given birth.
"How did this woman know that this victim had a child less than two weeks ago, where she lives?," asked Santa Ana Police Department spokesperson Anthony Bertagna an interview with KABC. "How'd she get her personal information? That's all scary to us."
When children are removed from homes by Orange County social service workers, police are present and identification is provided. Santa Ana police warned the public to always ask for identification.
"They always have identification," Bertagna said. "They always have paperwork and this is not how the process would work, so this is very concerning to us."
California Police Question Woman Who Posed as Social Worker in Alleged Kidnapping Attempt | U.S.