Anti-Trump Protester Arrested After Demonstrators Kick Car, Try to Open Driver's Door
Police arrested a man in California over the weekend after he was caught harassing the occupants of an SUV brought to a halt by a group of protesters.
Walnut Creek police detained the man on Friday evening as they moved to break up a group of some 20 to 25 people who were marching in the city's downtown area. A rally in support of President Donald Trump had taken place earlier in the day, local news channel KPIX-5 reported.
The department said in a statement that "a portion" of those gathered in the vicinity had stopped the SUV on North Broadway, near Lincoln Avenue. Two or three individuals then attempted to open its front driver-side door while others kicked the vehicle and shouted at its occupants.
Officers attending the scene reportedly activated the lights and sirens on their patrol cars in a bid to disperse the group, but several individuals continued to surround the SUV, while others began approaching the police.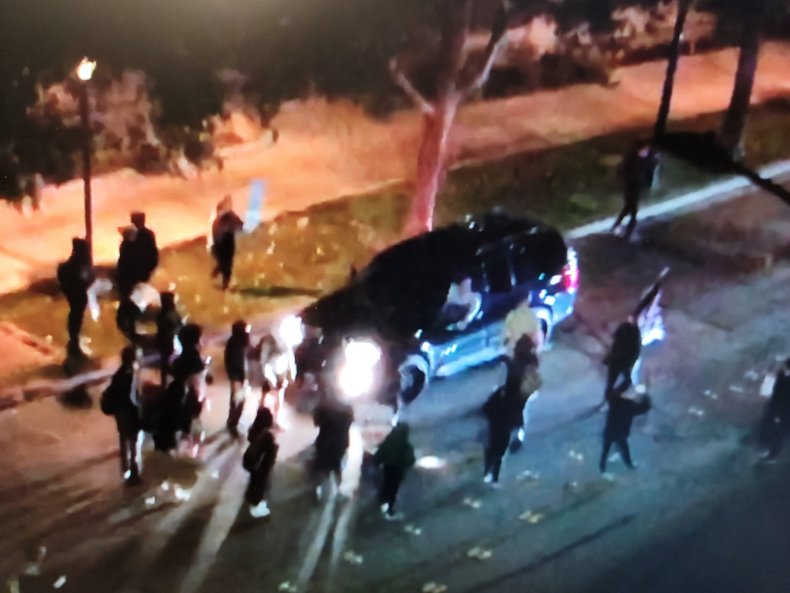 In response, officers shot a 40mm foam baton projectile at one of the individuals targeting the SUV, striking a man in the chest.
The individual was subsequently arrested on suspicion of false imprisonment, obstructing an officer, resisting arrest and suspicion of criminal activity. He was later identified as Michael Chapman and taken to the nearby Martinez Detention Facility.
Chapman was reportedly recognized by officers as an "agitator and counter-protester" at the pro-Trump rally earlier on Friday. Police said they had witnessed Chapman exposing a ballistic vest he was wearing under his jacket at the event.
Officers added that their investigation into the incident on Friday evening remains active as detectives attempt to identify the other individuals who prevented the SUV's movement and attempted to open its door.
Acting Police Chief Jay Hill said: "The Walnut Creek Police Department is committed to ensuring individuals can exercise their First Amendment rights to protest peacefully, but we will not stand by and allow unlawful activity that puts public safety at risk.
"When demonstrators begin to violate the law and create unsafe conditions for the public, police department personnel will continue to take appropriate enforcement action."
The statement also confirmed that the SUV's occupants—a driver and a single passenger—did not sustain any injuries during Friday's incident. The pair were, however, shaken by their ordeal, police said.