A man suspected of being behind a $35 million Ponzi scheme has been detained after trying to flee the FBI with an underwater vehicle beneath the depths of Lake Shasta, California.
Matthew Piercy, who is accused of wire fraud, mail fraud, money laundering and witness tampering, attempted to evade capture by hiding beneath the surface of the water in Shasta County, with the help of a Yamaha submarine.
A helicopter spotted the suspect enter the lake with the underwater device, after he abandoned his truck at the shore of the water.
According to a Yamaha instructional video, this make of sea scooter can propel the user to 100 feet below the water's surface, and is designed for recreational divers. It allows the user to move through the water quickly so they can conserve more energy, cover greater distances and see more.
According to court documents, when submerged, Piercey was completely hidden from view. However, the air bubbles coming from his regulator gave his location away. After 25 minutes in the cold water, Piercey emerged at the surface and was taken into custody by law enforcement.
Piercey is accused of running a fraudulent investment scam through his company Family Wealth Legacy, using investor money to buy properties.
Attorney Joshua Kons, representing the victims in the case against Piercey, told Newsweek: "I have worked on hundreds of financial fraud cases, and I have never seen a more brazen attempt to escape authorities. Even Jordan Belfort, who is famous as the Wolf of Wall Street, did not try something so bold. It appears that Piercey not only tried to evade the FBI, but also is accused of witness tampering—which is somewhat rare for those being investigated for financial crimes. We are continuing to explore the investment loss recovery options that victims of this Ponzi scheme may have."
The FBI has been investigating the case for over a year. Piercey is being held at Sacramento County Jail without bail. Lawyers consider the defendant a flight risk.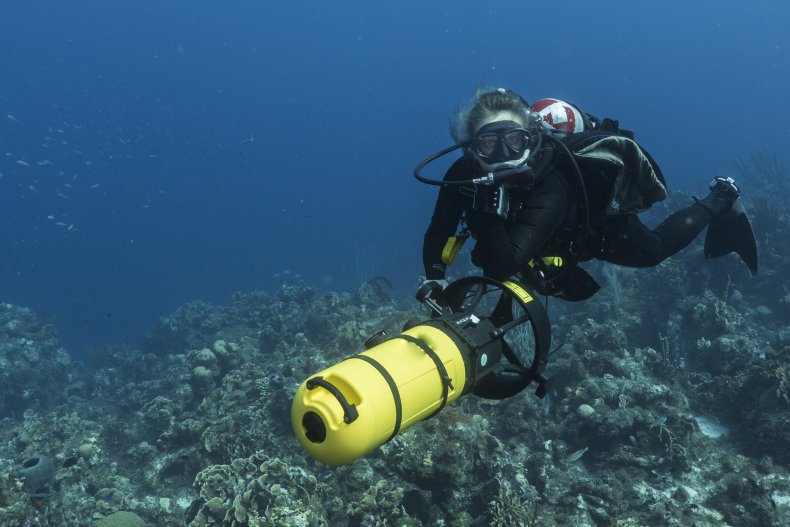 Diver propulsion devices are commonly used by militaries around the world to help tow soldiers on missions. A submersible vehicle was also used by James Bond in the movie Thunderball. The Yamaha sea scooters have a battery life of around two hours, but divers could face grave danger if they are submerged underwater for too long.
Nitrogen is absorbed more easily in deep water. Divers can stay at 100 feet for 20 minutes safely. Taking in too much nitrogen can cause a coma and even death. At deep depths, air consumption is also faster and water temperature is a lot colder.
Update 11/11/20, 3:25 a.m. ET: This report was updated with comment from Joshua Kons.