California Porn Professionals React to Proposed Rules Requiring Goggles, Condoms on Set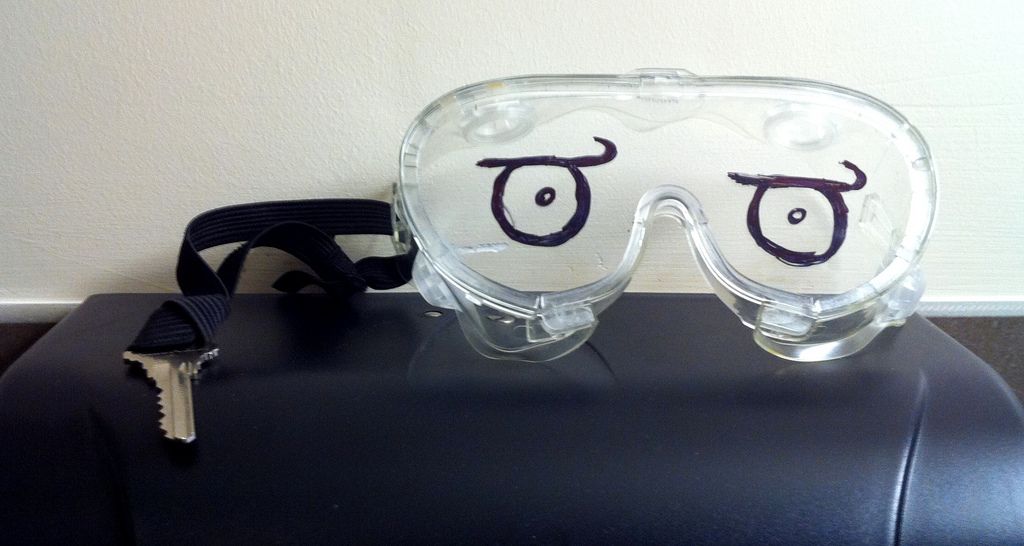 Last week, California's Division of Occupational Safety and Health Standards (OSHA) proposed a new raft of safety standards for porn production sets in the state, raising ire and eyebrows in the process. The standards, which have yet to be finalized, fill 21 pages and detail a wide range of new safety protocols actors and their employers would have to abide by on set. Nestled among them is a provision about "eye protection." That's right, goggles. Goggles, to be worn by porn actors, in porn films.
"...[T]he employer shall provide, at no cost to the employee, appropriate personal protective equipment such as, but not limited to, condoms, gloves for cleaning, and, if contact of the eyes with [bodily fluids] is reasonably anticipated, eye protection….The employer shall ensure that the employee uses appropriate personal protective equipment," reads one section of the standards.
This is hypothetically great news for goggle fetishists. But this is terrible news for California's thriving adult film industry, according to the professionals who work in it. And it isn't just about goggles; The standards would require the use of condoms and dental dams, and ban many common porn practices, including any contact between genitals:
When simulation of sexual activity using acting, production, and post-production techniques is not used, or does not prevent all occupational exposure, all of the following control measures are required:

(A) Ejaculation onto surfaces other than the genitals, eyes, mouth or other mucous membranes or non-intact skin of another person;

(B) Provision of and required use of condoms or other protective barriers to prevent genital contact of one person with the genitals of another person;
"These are regulations designed for medical settings, and are unworkable on an adult film set—or even a Hollywood film set," Diane Duke, the CEO of the Free Speech Coalition, a trade association for the adult entertainment industry, said according to a statement last week. The rules, she said, serve to stigmatize adult film work and risks "shutting down an entire industry."
The rules also include provisions requiring employers to provide relevant health care and vaccines to actors, free of cost.
According to The Washington Post, the rules are largely the brainchild of Michael Weinstein, the president of AIDS Healthcare Foundation, who has for years advocated for stricter condom use rules for the porn industry. The Los Angeles Daily News notes that condoms are already required on porn sets in California, but in a 2009 request to Cal/OSHA, Weinstein criticized the division for not enforcing the requirement.
"This is really about worker protection, and what the Cal/OSHA Standards Board is for," he said at a public hearing on the standards last week, according the Los Angeles Daily News. His group claims that "at least four adult performers… have become infected with HIV while working in the adult film industry, while thousands of other adult performers became infected with thousands of other sexually transmitted diseases."
But according to the Free Speech Coalition, there has not been a transmission of HIV on a "regulated adult set" since 2004.
California is the unofficial home of American porn. It is one of only two states that explicitly permit porn production (New Hampshire is the other), and it hosts 66 percent of the adult films on the American web. The Post notes that when Los Angeles County passed a law requiring condoms on porn sets in 2012, porn production in the county sank by more than 90 percent.
Michael Stabile, a spokesman for Kink, a San Francisco–based porn company, told SF Weekly that the rules are unworkable for performers, and remove their control over their own bodies.
"We're absolutely opposed to the new regulations proposed by Cal/OSHA. They're based in stigma and threaten to make working conditions less safe for adult performers. Because everything we do at Kink is based in consent, we can't support regulations that remove performers' control over their bodies or forces performers to disclose medical information, for instance. It's important to note that these are regulations to which performers have been vocal in their opposition, including [Adult Performer Advocacy Committee], the main performer group."
Stabile said that industry and health advocates presented an alternative set of rules to Cal/OSHA last week that "increases performer safety, but also preserves their autonomy."
"[W]e hope to be engaged in active conversation with them over the next few months."
Proposed Health and Safety Standards for Porn Shoots by Julia Wong