California Power Outages Map: San Francisco Bay Area, More Counties Where PG&E Plans to Cut Electricity Again
California may be going dark for the second time in October. After cutting power for millions of people across the state earlier in the month, Pacific Gas & Electricity (PG&E) announced on Monday plans to shut off electricity once again.
The utilities company warned the power outage could come as early as Wednesday in areas across Northern California and the San Francisco Bay Area. The shutdown is slated to affect more than 200,000 households and businesses in the counties of Amador, Butte, Calaveras, El Dorado, Lake, Mendocino, Napa, Nevada, Placer, Plumas, San Mateo, Sierra, Sonoma, Sutter and Yuba.
PG&E sent mass texts, emails and automated messages to warn customers of the impending outage and said electricity would be cut only in attempts to protect power grids from potentially sparking fires during the state's latest round of inclement weather.
The National Weather Service has issued predictions for "near-record" temperatures across Northern California, possibly reaching 10 to 20 degrees higher than normal for this time of year. Along with strong wind gusts tracked at up to 35 miles per hour in some areas along the Bay, hot, dry temperatures in Northern California are expected to reach the high 80s and low 90s until Friday, prompting concerns about wildfire weather.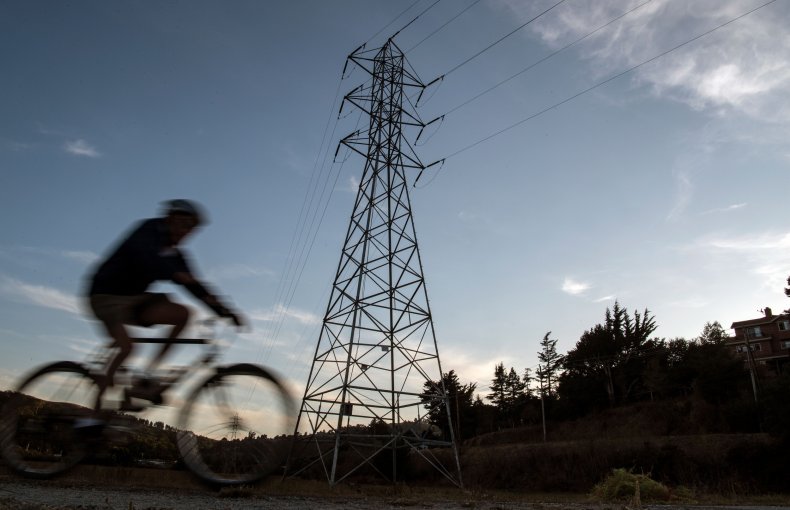 PG&E received widespread criticism for blackouts that covered the state in early October—even Governor Gavin Newsom slammed the utilities company for its neglect and "mismanagement over the course of decades." But the power supplier stood by its decision to shut down grids in hot spots, which left nearly 2 million consumers without electricity.
"If you look at where the damage occurred on the system, it was exactly in the area where we turned off the power," Bill Johnson, PG&E's chief executive, said during a press conference Monday. "We might have turned it off a little quicker than we needed too, but the scope I think was correct."
Wildfires broke out in Northern California and the Bay Area on October 8 and skipped down to Southern California a week later. In Northern Los Angeles alone, more than 100,000 residents were ordered to evacuate their homes on October 16 after the Saddleridge Fire, which killed two people, was sparked near a high-voltage transmission tower in the Los Angeles neighborhood of Sylmar.
Californians should expect the power outages to become routine during the fall wildfire season. At an emergency meeting with the California Public Utilities Commission last Friday, Johnson said the shutdowns could become a regular occurrence in the next decade as PG&E finds ways to prevent power lines from igniting fires during hot, dry and windy weather conditions.
"I think this is probably a 10-year timeline to get to a point where it's really ratcheted down significantly," he said.