Climate Change and a Really Old Grid: Why the U.S. Can Expect More Power Outages Like California's
The massive power outages in Northern California this week can serve as a reminder that life without electricity could become a routine aspect of American life.
Experts say that climate change, an aging power grid and an ever-growing demand for electricity will create bigger and more frequent outages across in the nation in coming years. In fact, they have already begun.
To be sure, the planned outages by Pacific Gas and Electric Company (PG&E) in Northern California this week were a proactive measure meant to protect more than 800,000 residents from wildfire risks during a period of strong winds. The power should be back on by Thursday, but could take a few more days, according to PG&E.
But not all recent outages have been planned. Research by Climate Central, a nonpartisan organization that produces reports on climate science, indicates that blackouts brought on by storms, droughts, floods and wildfires—hallmarks of the warming planet—have doubled since 2003. Links between severe weather and human-induced heating of the earth's temperature has been widely established.
"The extremes get more intense," Paul Pastelok, a senior meteorologist for AccuWeather, told Newsweek. Wet areas get wetter and dry areas get dryer more frequently due to climate change, he said.
Between 2003 and 2012, weather-related outages not only increased, but did so at a disproportionate rate compared to blackouts caused by other reasons, according to Climate Central. Nearly 150 million customers were affected, costing the U.S. economy between $20 billion and $40 billion annually, according to the report.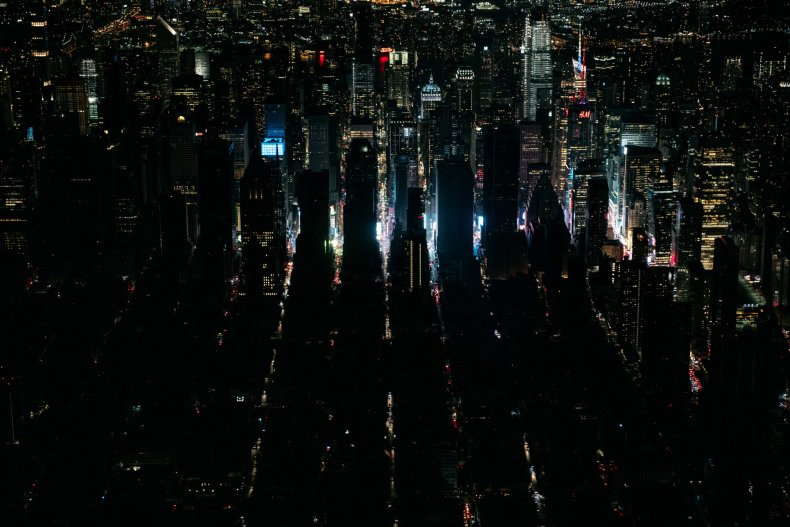 Demands for electricity for cooling homes and buildings are expected to increase in every U.S. region due to rising average and extreme temperatures, according to the National Climate Assessment, written by more than 300 experts and overseen by a federal committee.
The U.S. electric grid—the network of power stations and cables that delivers electricity across the United States—handles virtually all of the country's cooling demands. But the grid is getting old, and rising temperatures not only increase energy demand, they also reduce the grid's mechanical efficiency and make repairs more difficult.
Most of the grid's transmission lines and power plants are "decades into their lives," according to reporting by Business Insider, but modernizing and replacing the aging system would cost trillions of dollars.
When the power goes out, other infrastructures stop working, too, like telecommunications, transportation systems and water treatment. In the infamous blackout in 2003 that affected areas in the United States and Canada, nearly 100 people died of accidents, cardiovascular issues, respiratory problems and other health conditions, according to a study published in in the Journal of Epidemiology.
For most residents, the outage only lasted about 24 hours.
Pastelok agreed the grid needs serious work.
"The more we put things off, I think the worse things are going to get," he said.