In 2016, California Voters Are Seizing Their Moment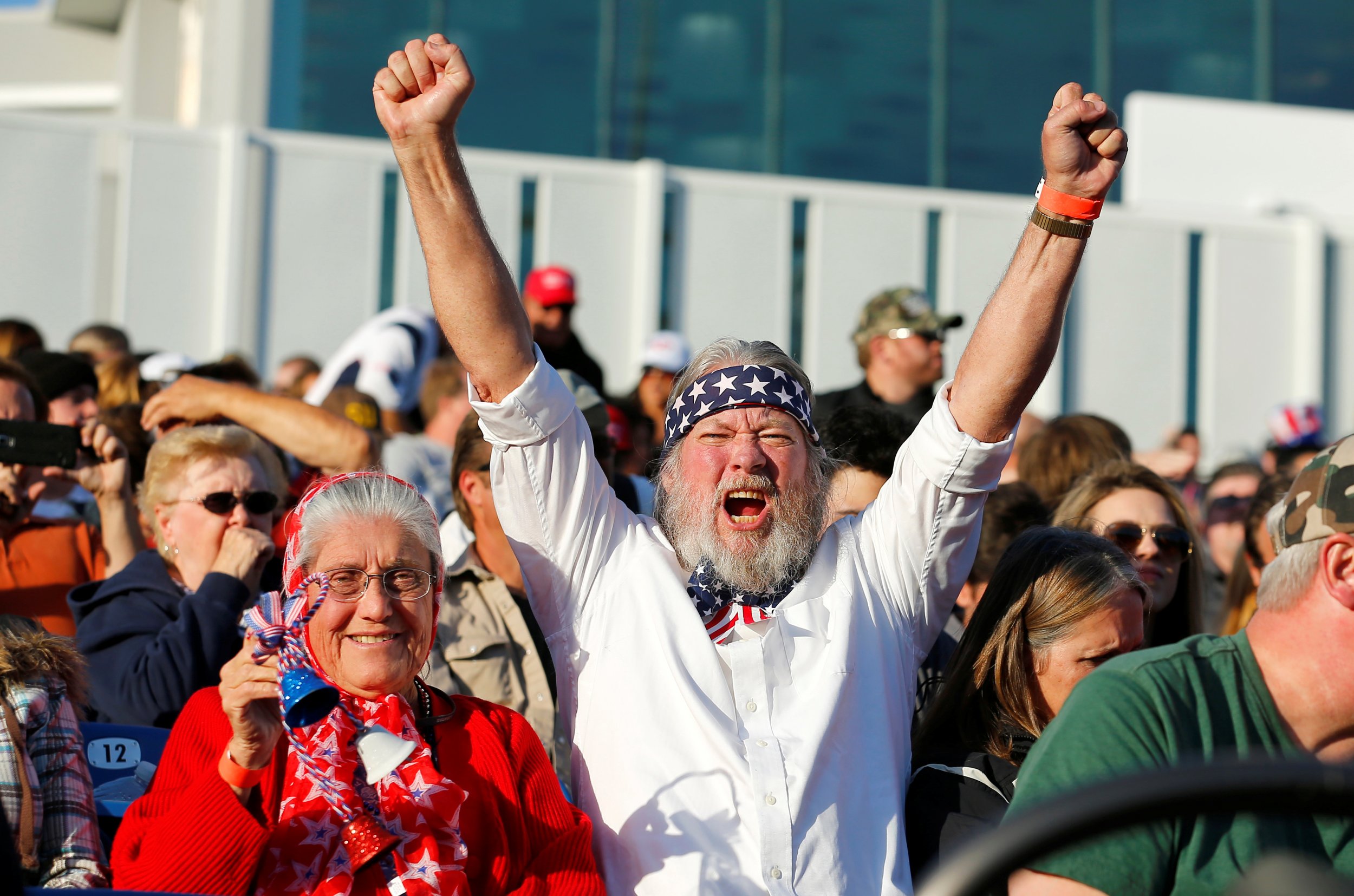 Home to the country's biggest economy and largest population, California in most years is more or less irrelevant in one arena: presidential elections. But not this year—in 2016, normally apathetic Californians are waking up to the fact that despite the state's late primary in early June, they actually matter in this presidential contest, which is kicking into high gear this weekend. That's prompting a surge in voter registration and wave of grassroots political activity that's unprecedented in the state's recent history.
California voter data expert Paul Mitchell wrote in a recent analysis that according to his voter files, registration has "skyrocketed" in the first three months of 2016, with more than 850,000 registrations. That's twice as many as in the same period in 2012. California Secretary of State Alex Padilla is set to release the official updated registration numbers for the first part of 2016 in the coming days. But Padilla is already anticipating heavy turnout in a state that traditionally ranks low on that measure. In early April, he requested an additional $32 million in state funding to handle the expected onslaught of voters on June 7.
Thus far, the presidential candidates on both sides have only made a few isolated forays into the Golden State for campaign events—and many more for fundraising. But the race for the delegates awarded at the June 7 primary really kicks off this weekend, when California Democrats hold statewide elections for their national delegates and the state Republican Party hosts its convention in Burlingame, just outside San Francisco. All three GOP presidential candidates are slated to speak, and lunches with front-runner Donald Trump and Senator Ted Cruz have sold out.
Tim Clark, Trump's newly installed California state director, says the state party had to change the venue several times to accommodate the swelling number of attendees interested in seeing Trump's Friday afternoon speech. Even in the largest venue available, the event still sold out in 48 hours.
"All these California voters have been sitting around for years wondering why they don't get to play in the presidential primaries, and all of a sudden, here comes the 'Trump Train' and it's going to be big," Clark tells Newsweek.
With its 172 delegates up for grabs on June 7—the final date on the primary calendar—California could be the state to seal the GOP nomination for Trump, who widened his lead on Cruz and Ohio Governor John Kasich with a sweep of mid-Atlantic state primaries on Tuesday. The crucial role the state will play is driving plenty of interest from California's Republicans, who are numerous in rural areas, across the agriculture-dominated Central Valley and in pockets of Southern California, even if they're heavily outnumbered by Democrats at the state level. Clark boasts that the official volunteer-driven group Californians for Trump already has a director "in every single congressional district" in the state—all 53 of them.
Polls show Trump in the lead in the GOP race, but anti-Trump forces are preparing for a last stand. Cruz drew hundreds to rallies in Irvine and San Diego earlier this month, while Kasich has picked up a number of state House endorsements and a group of local GOP strategists has launched a super PAC, Victory California, aimed at taking down the front-runner.
Democrat Enthusiasm High, Despite a Less Competitive Race
On the Democratic side, California is shaping up to be the coda on the insurgent campaign of Bernie Sanders, who now has virtually no path to victory in sight after his sizable losses on Tuesday. But the Vermont senator's long odds and Hillary Clinton's all-but-certain victory haven't dampened enthusiasm among the state's liberal voters. More than 4,600 residents have signed up to run to be a delegate representing the state party at the national convention, according to California Democratic Party spokesman Michael Soller, about equally divided between Clinton and Sanders supporters. They'll be elected on a district-by-district basis by participating Democratic voters around the state on Sunday.
"The interest in being a delegate is running way ahead of anything in recent memory," says Soller—well higher even than in 2008, when California moved its primary up to February to be part of that election year's Super Tuesday vote.
That energy among Democrats is visible among average voters as well.
"We've had much more success in voter registration than we've ever had in any election cycle this time out," veteran progressive activist Karen Bernal, one of the lead volunteers at the grassroots group Sacramento for Bernie, told Newsweek at a weekly phone-banking event in the state's capital. All seven people making calls during the midday session were first-time campaign volunteers. "Just knocking on doors that aren't on typical lists has yielded so many voter registrations and Democrats, because they want to vote for Bernie," Bernal says.
On a gorgeous California spring day in mid-April, a voter registration table set up outside the University of California, Davis, library was drawing a steady stream of interest. One of those who'd just registered was 25-year-old UC Davis employee Edward Martinez. His roommate in Davis—a college town surrounded by farmland about a 25-minute drive from Sacramento—is an avid Clinton supporter, but Martinez registered as a Republican, which he attributes to the influence of his GOP-aligned father back in Los Angeles. But he isn't sure he's going to cast a vote in the Republican presidential primary in June. He says he's ruled out Trump—"mostly, people just like to make fun of" the GOP front-runner, he says—and Cruz. "I might just vote for Kasich because those guys both suck, but I read that Kasich sucks just as much as those guys, so I don't know."
"There's a lot of apathy, except for Bernie," Martinez says of his peers.
It's hardly a scientific poll, but the UC Davis students snapping up the Sanders campaign–themed condoms being handed out by the campus Democrats club in front of the tree-lined student union indicated some keen support for the senator. The group also offered free Clinton- and Trump-inspired prophylactics, but those weren't nearly as popular, judging by the piles left on the table as the lunchtime rush ebbed.
Despite his setbacks on the Atlantic seaboard, Sanders insists he's staying in the Democratic race through June 7. Though he lacks a path to the nomination, a strong showing in the Golden State would help cement his influence on the party's platform, which is increasingly becoming his goal as the primary's mathematical reality sets in. Sanders could conceivably win California and take a majority of its 475 available delegations—which would be a large, if only symbolic, consolation prize in his loss to Clinton. Recent polls show him trailing Clinton by single digits in the state, and he stands to benefit from the support of California's independent voters, who are allowed to participate in the state's Democratic primary.
Trump, however, is gunning for many of the same voters, encouraging independents—in California, they're called "No Party Preference" or NPP voters—to re-register as Republicans by the May 23 deadline so they can vote in the party's closed Republican state primary. Last week, a million of the state's registered independents received a robocall featuring a recording of Trump with just that message.
"We're hearing from clerks in several counties that they're having a very heavy re-registration presence right now," Clark says. "We're tracking them very carefully; we're going to make sure they all get out to vote."
Mitchell noted recently that there has been a spike in voters re-registering as Republicans, but he called it "minuscule" compared to the overall population. Democrats still maintain a sizable—and growing—registration edge in the state. As of January 5, they made up 43 percent of registered voters to 27 percent for Republicans, a heavy tilt that is part of the reason California gets ignored in presidential general elections driven by Electoral College math. And Mitchell's data projects a tripling of Democratic registration growth in the first three months of the year compared with the same period in 2012. Republican registration, in comparison, is up 63 percent, according to his data.
The challenge for activists like Bernal is how to keep these new voters and volunteers engaged even beyond June. "The vast majority of them will move on," she acknowledges, "but they'll always remember that they were inspired and they voted and they hadn't voted in forever, that will stay with them.
"Then there's a handful, a bunch of people," Bernal continues, "that will get the bug, so to speak."