California Public Schools See Biggest Enrollment Drop in 20 Years
California just saw its largest decline in public school enrollment in 20 years, with a decrease of more than 160,000 students in the 2020-21 school year, compared to the previous year.
According to data released by the California Department of Education, overall enrollment across public schools in the state decreased from 6,163,001 in 2019-2020 to 6,002,523 in 2020-2021, which was a drop of more than 160,000 students, or 2.6 percent.
This 2.6-percent decrease in enrollment is the largest the state has seen over the past 20 years, according to data compiled by EdSource. The decline reported this year greatly surpassed a nearly 1-percent decline in enrollment from 2008 to 2009, as noted by EdSource. The state's education department noted in a press release that this latest enrollment data "follows a modest, steady decline in public school enrollment statewide since 2014–15."
Among different racial demographics, the data released by the California Department of Education shows that the enrollment among white students declined by .7 percent (from 22.4 to 21.7 percent) while enrollment among Black students declined by .1 percent (from 5.3 to 5.2 percent). On the other hand, public school enrollment among Asian and Hispanic/Latino students increased by .2 percent and .4 percent, respectively.
According to the state's education department, 88 percent of the decline in statewide public school enrollment occurred in kindergarten to sixth grade. The data also shows that the state has seen an increase of 22,542 students attending charter schools in California over the past year.
EdSource reported that roughly a sixth of the overall enrollment decline happened across four of the state's largest school districts, with a 4.76-percent decline in the Los Angeles Unified School District; a 2.8-percent decline in the Long Beach Unified School District; a 4.2-percent decline in San Diego; and a 1.3-percent decline in Fresno.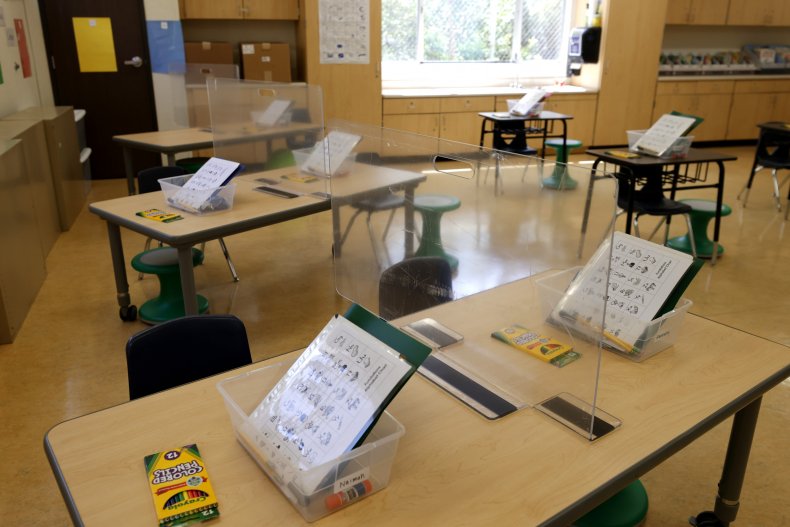 "In a year that has been so challenging for educators, students, and families, it is concerning to see this decrease, especially those in our youngest grades," State Superintendent of Public Instruction Tony Thurmond said.
"While there are many reasons to stay optimistic that enrollment will rebound as conditions improve, allowing more schools to safely return to in-person instruction, we also must help schools identify opportunities to engage with families who either sought new options for their students during the pandemic or need additional resources and support to connect with school and succeed," Thurmond added.
The report from the California Department of Education comes as more public school districts in California have reopened classrooms for in-person learning. Many public schools across the state started the school year in a virtual setting, due to the ongoing COVID-19 pandemic.
California Governor Gavin Newsom has continued to urge all schools in the state to reopen for in-person learning, as COVID-19 cases have declined. Teachers unions in the state have pushed back, though, citing the risks of COVID-19.
During a presentation earlier this month, the California Department of Health said, "If current trends and best practices continue, the next school year can begin with offering full in-person instruction to all students."
Newsweek reached out to the California Department of Education for comment but did not receive a response in time for publication.