California: Rare 'Super Bloom' Looks Promising, Could See Return of Wildflowers 'Thought to Be Extinct'
California is on the cusp of witnessing a rare flourish of wildflowers to rival the so-called "super bloom" of two springs ago, which could be seen from space.
In the right conditions, parks like the Carrizo Plain National Monument in the Central Valley—a few hours outside of Los Angeles—become awash with wildflowers in what the Bureau of Land Management described as an often "short-lived" but "breathtaking" sight.
The flowers could return this year if the precipitation levels in the area nudge up slightly, Richard Minnich, a professor of earth sciences at UC Riverside, told KPBS. Combined with a years-long drought that obliterates grasses and weeds that take up nutrients, wildflowers can thrive. That includes elusive varieties like the desert five-spot that appeared in Death Valley after decades in a recent super bloom, according to Minnich. Even flowers thought to be extinct can reappear, he said.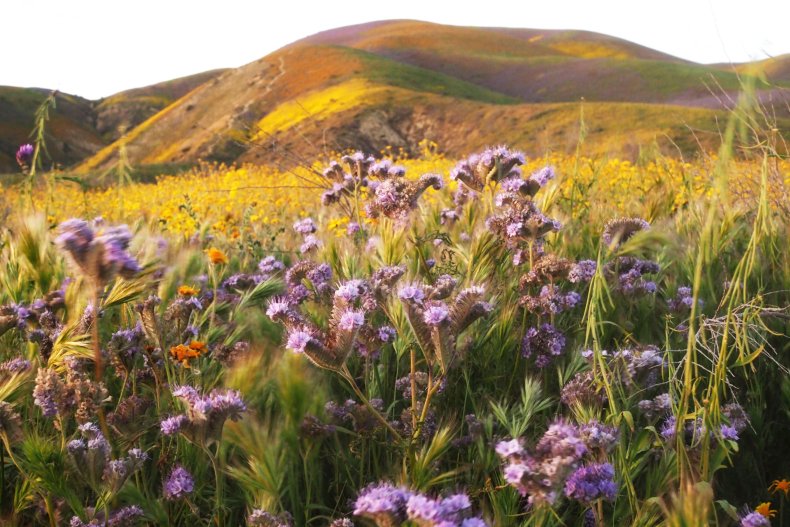 Minnich was cautiously optimistic that California's natural landscape would once again be kissed by multicolored blooms. He told KPBS: "Right now we're right at normal or slightly above. So it's looking promising, and we could really get up there in terms of total rainfall."
Bri Fordem, of the Anza-Borrego Desert State Park to the east of San Diego, told KPBS flower fans can already catch a "beautiful show" at the park, although the picture might not quite match a super bloom.
In 2017, spots across Southern California were carpeted with orange, yellow, and violet blooms, including the Carrizo Plain, as well as the California Poppy Reserve, Los Padres National Forest, and Bitter Creek National Wildlife Refuge, the Washington Post reported at the time.
Thousands of extra visitors headed to the parks to snap photos and drink in the sights before the plants vanished, according to KPBS. The blankets were so bright and thick they could be seen from space.
But after bloom-seekers were mesmerized in 2016 by the sight of flowers in the barren earth of Death Valley, the National Park Service has sought to deter would-be visitors unnecessarily heading to the spot in the hope of witnessing a super bloom.
The National Park Service said on its website, as of February 3, there has not been enough seasonal rain to have a spring super bloom in Death Valley and it was "very unlikely at this point to see a 2019 super bloom." Wildflowers are, however, almost guaranteed to pop up sparsely in lower elevations, the agency said.